Postmedia may earn an affiliate commission from purchases made through our links on this page.
Article content
Many new homes and condos feature basic, neutral bathrooms that beg for an injection of colour, texture and personality. Whether it's a tiny powder room or an expansive main bath, you can boost the glam factor without busting your budget. Two Montreal design experts share their top tips to go from bland to beautiful.
Article content
Liven up your walls with paint and wallpaper
"Builder-grade bathrooms can definitely use a bit of upgrade," says interior designer Nassim Bah of Lulugem Home.
"I always tell my clients that the wall paints are just primers and need to be painted. It's much easier to paint when the place is empty, and a good quality, washable and durable bathroom paint with a light tint of colour is a must-do." 
If you prefer leaving the walls light, choose a vibrant paint colour for the bathroom door, which provides a fun surprise, suggests decorator Annika Krausz of Annika Krausz Interiors.
"These days, builders seem to go with the same palette – grey tile floors, grey or white wall tiles, and oak or white vanities – and let's face it, neutral can be boring," says Krausz, who worked as a set decorator and art director on film sets for 12 years before transitioning into commercial and residential design.
Article content
Some hues that work well paired with grey include amber, emerald or hunter green, yellow or ochre and dusty pinks, adds Krausz. For powder rooms where humidity from the shower won't be an issue, wallpaper can pack a big punch.
"Powder rooms are a great place to make a bold statement with wallpaper. Make it bright and fun and let your imagination run wild, because it's a tiny space that won't cost you a ton in wallpaper or installation," she says.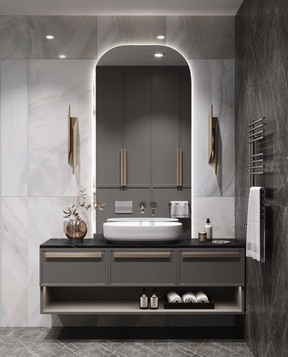 Upgrade the lighting and backsplash
Replacing a flush-mount ceiling fixture with a small chandelier can add a luxurious touch. And since many builder-grade bathrooms don't include a tiled backsplash, consider installing one, suggests Bah.
"A nice backsplash not only protects your wall from water damage, but can also bedazzle your bathroom to your taste," she says. 
Article content
If the faucets and fixtures are new and you like them, work around them rather than buying new ones to stay within your budget, adds Bah.
You can switch out the vanity pulls for black, brass or white hardware for a fresh, modern look, suggests Krausz.
Incorporate art and stylish accessories
One affordable way to jazz up your space – even if you live in a rented condo – is with accessories, such as a statement mirror, says Krausz.
"Getting a large mirror cut to cover the entire wall above the vanity can make you feel like you live in a boutique hotel," she notes.
Style your bathrooms like any other space in your home, but don't go overboard, suggests Bah.
"Less is more, so hang one art piece on the wall, swap out the mirror for a more stylish one and add a toilet paper holder, towel rack and hooks for bath towels, plus a nice bath mat and matching towels," she says.
Article content
"I normally don't like displaying toiletries on or around the sink area, except for a nice jar of hand soap and a fragrance diffuser. If you have a larger vanity, maybe add a decorative vase."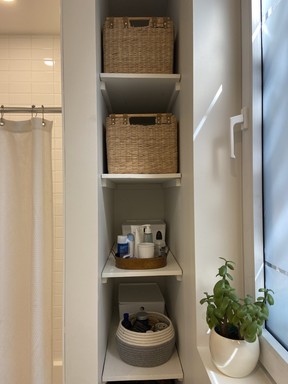 Bring in some natural elements
Some neutral builder-grade bathrooms can feel sterile or cold, so Krausz often adds woven baskets and waste bins to warm things up.
"If your vanity isn't wood, try some cute wood handles or knobs, or add wood shelves and a wood bench or stool," she says, adding that wood-framed art and houseplants can also make a bathroom feel inviting.
"Bring plants into your bathroom space, either hanging or on shelves or window sills, especially if you have a source of natural light coming in, either with a window or a skylight."
Article content
Splurge on a few high-end items
If your budget allows, Krausz suggests investing in a good-quality faucet and shower kit.
"Cheap versions break and end up costing you more in the long run to fix or replace, so buy once and buy well," she says.
"I like buying from Ramaccieri Soligo; they have beautiful bathroom fixtures and their tile is swoon-worthy."
Finally, your bathrooms should all flow with the style showcased in the rest of the house, says Bah.
"Keep them mostly simple and functional except for your powder room, where you can showcase your personality and go big and bold," she says. "It's the only bathroom your guests see, so make it worth their while."
This story was created by Content Works, Postmedia's commercial content division