When the clients of Mary Residence, Gill and Laura, came to me in 2005, times were different. There was no social media, websites had just become a thing and I can still remember receiving the signed fee agreement by fax.
At the time, I'd been in business for two years and most of our projects were interiors jobs, minor residential adaptations, and hospitality and fashion retail fitouts. Having recently returned from London, where I'd worked for interior designer David Collins, this was where my trajectory was headed. In fact, when I got back, I didn't yearn to work in a traditional architecture office. Instead, I preferred a multidisciplinary studio that worked across hospitality, fashion, furniture and interiors. The late 1990s had been a hugely exciting period of design in London and I had been inspired by entrepreneurial types such us Terence Conran and multimodal British architects and designers such as David Chipperfield, who was doing fashion stores at the time, and Thomas Heatherwick. When I returned to Melbourne, I worked for hospitality guru Rick Davis, who was doing hospitality interiors and residential design. Rick was a real character who unfortunately passed away far too early. When I finished working for Rick, I hadn't planned to go out on my own, but the confluence of a few projects for friends, as well as working on my own home, meant I soon had enough "PJs" to provide more than enough work for one person.
Gill and Laura found me through word of mouth. They were a similar age to me, were recently married (as was I) and were looking to renovate a Victorian terraced house. I adored renovating terraced houses – I still do – and had been inspired by the many incredible and character-filled homes in London. The opportunity to meld heritage and contemporary is an enticing combination for an architect.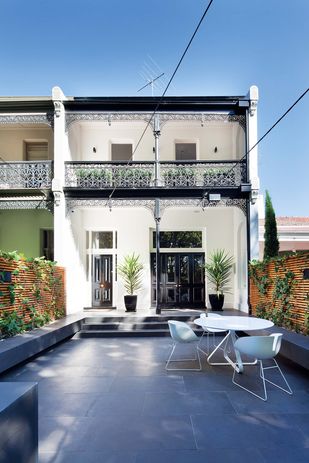 Our approach to the design of this home centred on establishing a connection between inside and outside, achieving continuity of material and form, focusing on the fine detail and streamlining of detail, forging a strong association with the garden and instilling the home with a sense of light and space. Internal courtyards brought green into the centre of the house, while roof glazing and mirrors were used discreetly to extend the sense of space. A respect for heritage and tradition was always at the core and a sensitive connection with and adaption of the heritage object remained central to the story of the home. Many of these components remain the tenets of our work today. The aesthetic, then a more purely minimalist approach inspired by late '90s/early '00s London, has developed into a richer and more broken down, textured and crafted version of the same.
Certainly our investment in a sound heritage approach, and our professional relationships with heritage architects such as Roger Beeston and with organizations including the Robin Boyd Foundation and Beaumaris Modern, assist in evolving our ongoing passion for components of the past and our position on placing our work today within an appropriate lineage of past, present and future.
As the house progressed through design and construction, our practice evolved, and we won our first award – the Emerging Interior Design Practice Award at the 2005 Australian Interior Design Awards – and I started to employ staff.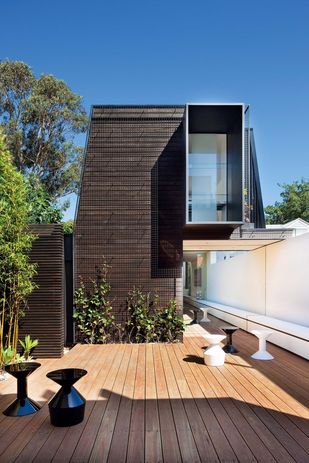 In 2007, Gill got a promotion. Laura was pregnant with their first child, and Gill and Laura decided to sell just as contract documentation had been completed. I remember the anguish of thinking that the house, by far our best at the time, would never see the light of day, but Gill promised me that they'd get a friend to buy it and build it. I even considered purchasing the property myself with a friend as a shared investment, to ensure the design was seen through. In the end, Gill's friend Jeff became the new client and, true to Gill's word, continued with essentially the same design, with some additions.
After two clients and two lengthy VCAT hearings (one with each client), the project was completed in late 2009. The house was a catalyst for the details explored in many future projects and became a bit of a benchmark for our terraced house typology. It was shortlisted in the Australian Institute of Architects' Victorian chapter awards and won the Belle Coco Republic Best Residential Interior Award in 2011.