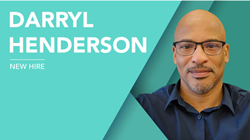 Darryl is a very solution-oriented person who believes in the goodness of people and the opportunity we each have to grow and improve.

VIRGINIA BEACH, Va. (PRWEB)
March 16, 2022
Woolpert has hired Managing Principal Darryl Henderson to guide the firm's local buildings practice in Virginia, while focusing on architecture and engineering pursuits in targeted regions across the country. An award-winning designer and established leader in the architecture and planning industry, Henderson's project experience extends across higher education, commercial, governmental, hospitality, athletic, and residential design and management.
Henderson is based in Virginia Beach, Va., where Waller, Todd & Sadler Architects was formed in 1956. Woolpert acquired the architecture firm in 2019 due to its excellent reputation for quality design, leadership and customer service. Henderson said this merger was part of the natural evolution of both firms.
"Waller, Todd & Sadler has had a long and illustrious history in Hampton Roads and the surrounding communities," Henderson said. "Their work has positively influenced our communities and has enhanced the built environment with projects that celebrate how people live, work, educate, pray and play. Woolpert's acquisition brought immense bench strength, as well as broader resources and services to help the unified firm extend that influence in Virginia and across the country."
Henderson said his role at Woolpert will be to communicate the firm's values, strengths and capabilities, reinforce its commitment to the Hampton Roads community, and connect Woolpert with opportunities to support local and national clients through the firm's full-service architecture, engineering and geospatial (AEG) design services. He said educating clients about who Woolpert is and sharing how its innovative and integrated services benefit communities are the keys to successful growth.
"Every project is a local project. It's not just about what you do, it's how you do it. It's about the community, and it's about values," Henderson said. "The key to the work we do is trust, both internally and externally. My first responsibility is to share our values, represent those values and deliver on what we promise. Our mission is to do great work with great people for wonderful clients. That can't be a statement on the wall—we have to live it. I don't see that as a challenge, I see that as a responsibility and an opportunity for success. I see that as my job."
Woolpert Buildings Sector Leader Suzette Stoler said Henderson will initially focus on augmenting Woolpert's integrated design presence throughout Virginia and the mid-Atlantic, while supporting national connectivity and collaboration. She said she admires Henderson's motivational leadership, industry experience and positive outlook.
"Darryl is a very solution-oriented person who believes in the goodness of people and the opportunity we each have to grow and improve," Stoler said. "Darryl wants to elevate Woolpert's staff to ensure they achieve the greatest success for themselves and for our clients. He will be successful if we are successful, and that mentality will help us all win. We are thrilled to have Darryl join our firm."
About Woolpert

Woolpert is the premier architecture, engineering, geospatial (AEG) and strategic consulting firm, with a vision to become one of the best companies in the world. We innovate within and across markets to effectively serve public, private and government clients worldwide. Woolpert is an ENR Top 150 Global Design Firm, recently earned its sixth-straight Great Place to Work certification and actively nurtures a culture of growth, inclusion, diversity and respect. Founded in 1911 in Dayton, Ohio, Woolpert has been America's fastest-growing AEG firm since 2015. The firm has more than 1,600 employees and 60 offices on four continents. For more, visit woolpert.com.
Share article on social media or email: