SHANGHAI — For five consecutive months, Cai Hongjia hasn't closed a single deal, an "unprecedently dismal" period in her decade-long career as a real estate agent.
For a veteran like her, no deals means no income. "No company provides senior agents with base salaries. If the business continues to remain sluggish, I'll leave for another job," she told Sixth Tone.
Real estate agents in Shanghai say that it's been a terrible year. Amid a cooling housing market, and government actions to discourage speculation on real estate, sales of existing houses have plummeted. On top of that, the local government is moving to help buyers and sellers avoid agents entirely by launching an online deal-matching platform. It's enough to make someone think about giving up.
Cai is just one of millions of real estate agents in China. From the establishment of China's first property agencies in 1998, the field grew to over 1.58 million registered agents by 2018. In 2020, trade volume in the property agency sector totaled 11.5 trillion yuan ($1.8 trillion).
When the property market was booming in 2015 and 2016, leading agents were reported to be making over 1 million yuan a year. It's widely seen as an easy way to get rich, and the business has drawn an increasing number of university graduates, including from top schools.
Cai works for Tospur, a property agency headquartered in Shanghai. The company said in an internal hiring advertisement in April that it was aiming to open 2,000 centers by the end of this year. By October, it had just 300.
Tospur's expansion plans ran headfirst into the local government's efforts to cool the property market. After prices soared in 2020, regulators moved this year to stabilize the market. In January, they cracked down on "tactical divorces" that let people evade a cap on second homes, and in July and August added price limits and limits on how property could be valued for mortgages.
This combination of measures has all but frozen the market — in October, only 13,000 existing homes sold in Shanghai, a year-on-year drop of 53%. Sales of new homes have not been affected since supply is extremely short owing to building restrictions.
Slowing sales aren't agents' only concern. In late October, Shanghai's real estate authorities launched an online service to help prepare contracts. The Shanghai Real Estate Trading Center's "Hand-in-Hand Contract Signing Net" gives buyers and sellers tools to make a deal without relying on an agent. At the moment, this platform in Shanghai only provides a standard form contract signing service. But in the neighboring city of Hangzhou, a similar platform launched in August offers free house listings, notarization, and access to mortgage providers.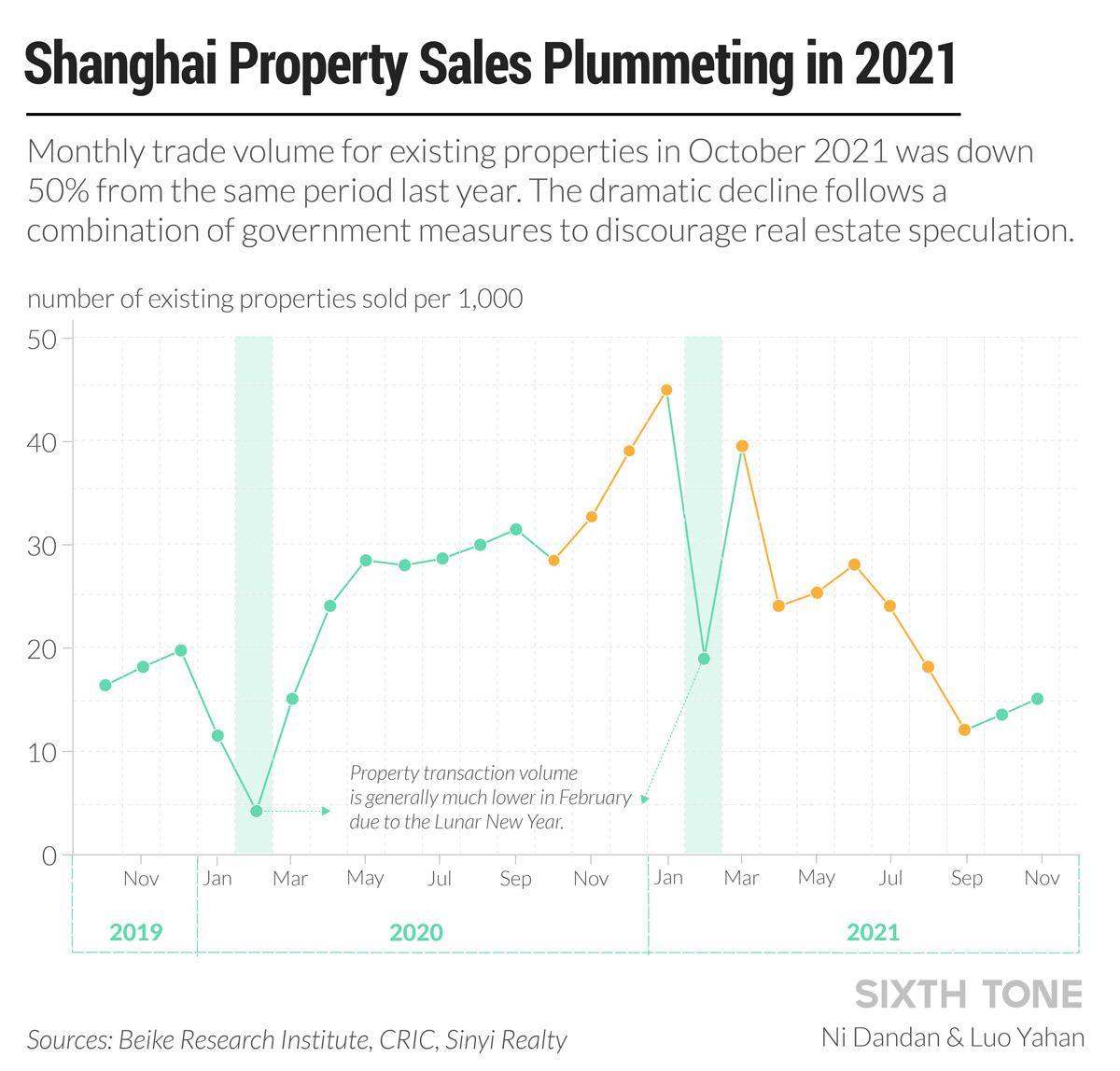 Cutting out the middleman
In an already pessimistic sector, it's got some agents drawing comparisons to the academic tutoring sector, which was largely banned earlier this year in an effort to reduce pressure on children. "Many people have been discussing if our business would be the next academic training sector. Nothing is impossible if the authorities have made up their mind," Cai said. "But I personally think our services are still indispensable for many."
"Although we provide much more apartment information, we offer very limited room for negotiations on commission fees. The new online service means buyers and sellers could avoid us in their future trading if they reach an agreement," she added.
Huang Zhonghua, a professor specializing in real estate studies at East China Normal University, told Sixth Tone that the new service is a response to perceptions that the real estate sector provides poor service while taking excessively high commissions.
"Leading agencies charge sellers 1% of the price and charge buyers another 2%. The combined 3% fee is usually paid by the buyers in practice — this is not a small sum for average households, given the prices of houses."
When you're buying a Shanghai apartment, 3% is a lot. In 2019, 36-year-old Cheng Yuwei heard about a three-bedroom apartment for sale in downtown Shanghai for 9 million yuan, and tried to convince the owner to make a deal without an agent. It would have saved him more than a quarter of a million yuan.
Cheng said he showed proof that he's a civil servant and has legal studies background, trying to convince the owner that he was trustworthy and had the expertise to arrange a sale.
The owner initially turned him down, saying she was afraid he'd use his legal knowledge to take advantage of her. Finally, Cheng found a small agency that agreed to help with the paperwork for just 20,000 yuan.
"Given the common practice that buyers need to pay the entire commission fees, as a buyer, I was definitely more motivated to get the transactions done without using an agent's services," he told Sixth Tone. "But the seller is less interested in doing so as they don't need to pay extra, and they have a better feeling of security if an agency takes the lead in the whole process."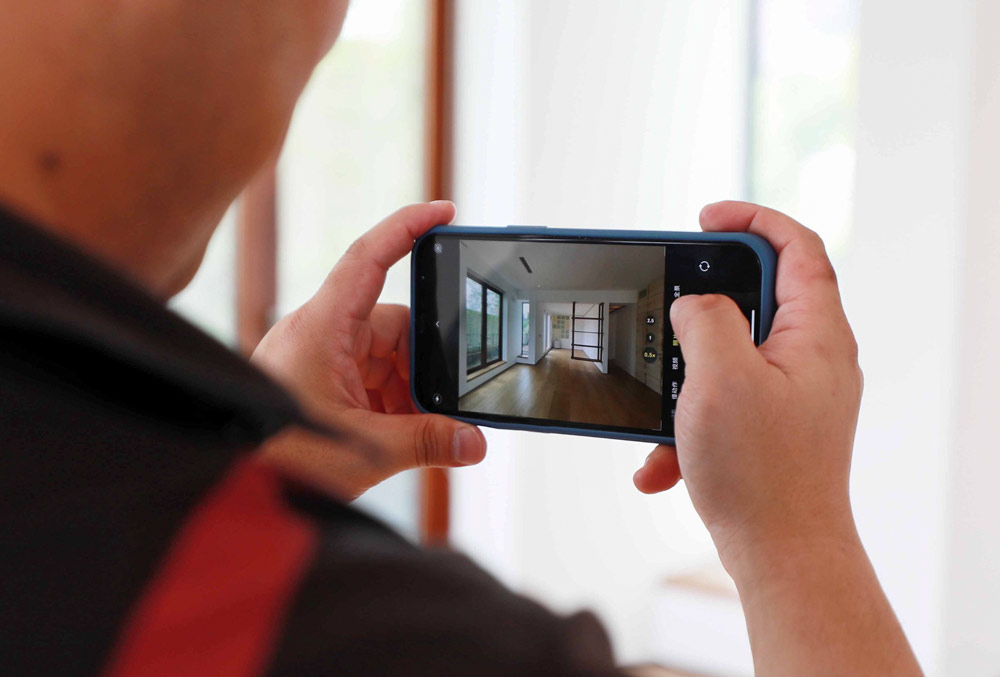 A real agent takes a photo of a house for sale for his clients, in Shanghai, Sept. 7, 2021. IC
Also in 2019, Shanghai resident Yao Qin managed to buy an apartment directly from the seller. "I'm lucky because it wasn't a great year for the property sector. And the landlord was in a hurry to sell her apartment," she recalled.
Yao and the seller spent hours waiting in line at government offices for their contract signing, taxation reviews, and other paperwork. "We went together at least twice as well as alone two or three times each. It was not complicated, but it's very time-consuming because there are always long lines there."
Yao saved up to 90,000 yuan on her 3-million-yuan apartment by forgoing an agent. "It's unreasonable for agencies to charge that much for their services. Their advantage is the information they collect, but it's not worth that much money."
"Besides, it's not news that many agents lack credibility — it's not rare to see agents from different companies fight for the right to represent a seller; they fabricate potential buyers' information, trying to figure out the lowest price that a seller is willing to offer, or something similar," Yao added.
The industry's reputation has also been hurt by scandal. Most recently, in October, a home buyer in Shenzhen went viral with a complaint that an agent had inflated the price of a luxury home by 2.5 million yuan — money that never reached the buyer. The agency, Centaline Property, denied responsibility, saying that the agent in the deal had already quit at the time of the complaint.
Professor Huang said such scams happen because agents in China don't represent either the apartment seller or the buyer's interests. "They only represent their own interests. And their purpose is to profit from the commission fees. So, for them, the only thing they keep in mind is how they can fix a deal as quickly as possible," he told Sixth Tone.
The professor said for now, direct transactions between sellers and buyers can account for between 20% and 30% of the entire secondhand trade market in Shanghai. "The Hand-in-Hand platform is far from completely replacing agents. People, especially sellers, are not accustomed to it. But such an innovation by the government can provide a guarantee for such transactions and assure hesitant sellers," he added.
Analyst Lu Wenxi from Centaline Property said around 25% of all secondhand property trade in Shanghai was completed without agencies. "Most of these trades were done by relatives or friends, or people who know each other well," he explained. "The key to such a trade is trust, which is not easy between strangers in this society."
Lu added that as a buyer, you have to figure out the property ownership status, whether it has been mortgaged. "Also, there could be problems with the apartment itself. For example, it could be haunted."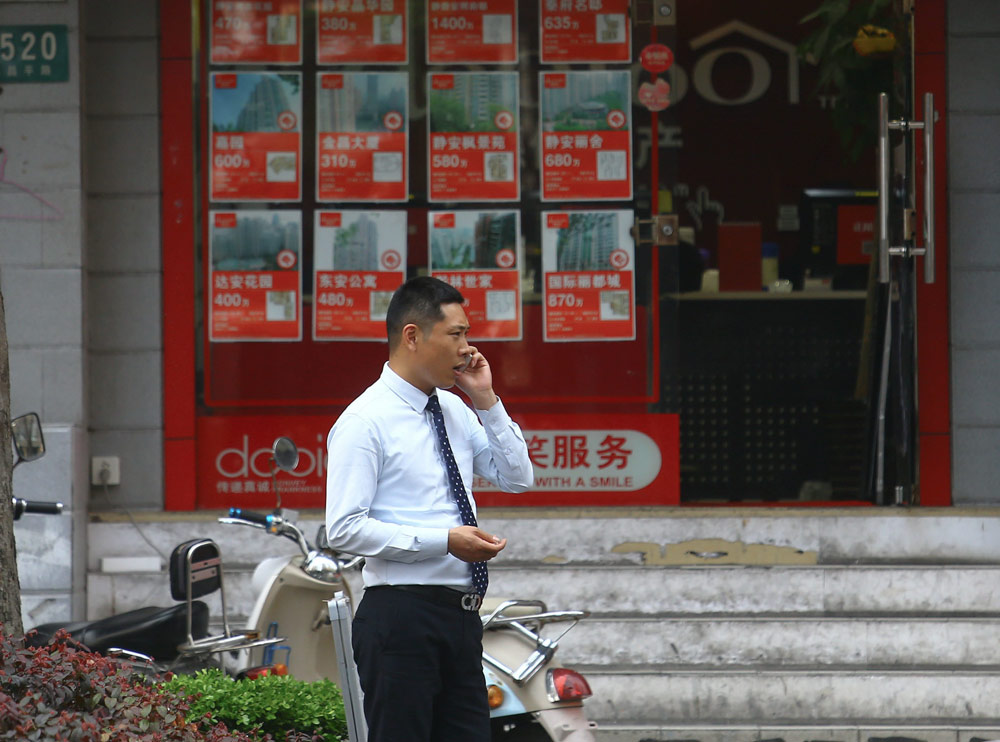 A real estate agent talks on the phone in Shanghai, 2015. IC
Agents jumping ship
Cai Hongjia is pessimistic about the impact the new platform may have on her own business. "We provide apartments' information, and we frequently take our clients to visit these properties on sale. But eventually they could choose 'hand-in-hand' transactions and avoid paying us a penny," she said.
A relatively young agent, Tian Weiwei is less worried after nearly two years at major property agency Lianjia in Shanghai. She said that her company has shut around 100 stores in Shanghai so far this year, out of over 1,500 in the city.
Tian works in an office located in the eastern part of Pudong New Area. She told Sixth Tone that nine stores in the region, employing hundreds of staff, earned around 4 million yuan in November, a significant proportion of which came from the rental business.
"We're lucky to be based here in an active area for rental services. If you manage to secure two rental deals in a month, you've basically met your quota," said Tian, in reference to the requirements for new staff at her center. "And you'll be rewarded 35-50% of the commission fees for the additional deals you manage to secure. This ratio varies depending on your length of service and your title at the company." Tian is now making 10,000 yuan a month, specializing in rental services.
Veteran agent Sun Haonan told Sixth Tone that in 2015 and 2016, it was common to get a deal done within a few days or even hours. Sun moved to Shanghai in 2009 to work as an agent, and saved enough to buy his own three-bedroom apartment in 2017.
Like some of his peers, Sun recently left Lianjia after failing to secure a single deal over eight months. "I could no longer support my life." He joined a smaller property company, which offers more lenient and favorable salary policies for experienced agents.
"We do have client contacts than young agents, but the market has been extremely slow this year." Sun said in the area he worked, it was common to see between 30 and 50 transactions a month as recently as March this year, but that there were only around five transactions a month lately.
He's looking forward to a turnaround. "Many home owners are holding out. They're waiting until prices start to pick up again."
Veteran agent Cai, however, says the salad days for real estate agents might be over. She's considering changing to work with developers on new buildings, whose sales are holding up better than existing homes.
Additional reporting: Zhu Jingyi; editor: David Cohen.
(Header image: Real estate agents stretch outside an agency in Shanghai, April 2020. Wang Rongjiang/People Visual)