highlighting the tension between tradition and contemporaneity
within the popular neighborhood of 'campo de la verdad' in córdoba, spain, architects ignacio laguillo díaz, paco marqués vilaplana and harald schönegger built a residential complex that puts a contemporary twist on traditional andalusian architecture. the project seeks to reinterpret the recently implemented regulation of typological protection ordinance —which has led to a new formal typology characterized by massive façades— by translating the newly introduced elements into familiar spatial situations. 
adopting a protective character, the exterior takes shape as a continuous volume punctuated by a series of vertical openings. the interior presents itself much differently, integrating fluid spaces, planted patios, water elements, and ornamental detailing. overall, the design forms a distinctive language that highlights the contrast between the public and private realm,  and the tension between tradition and contemporaneity.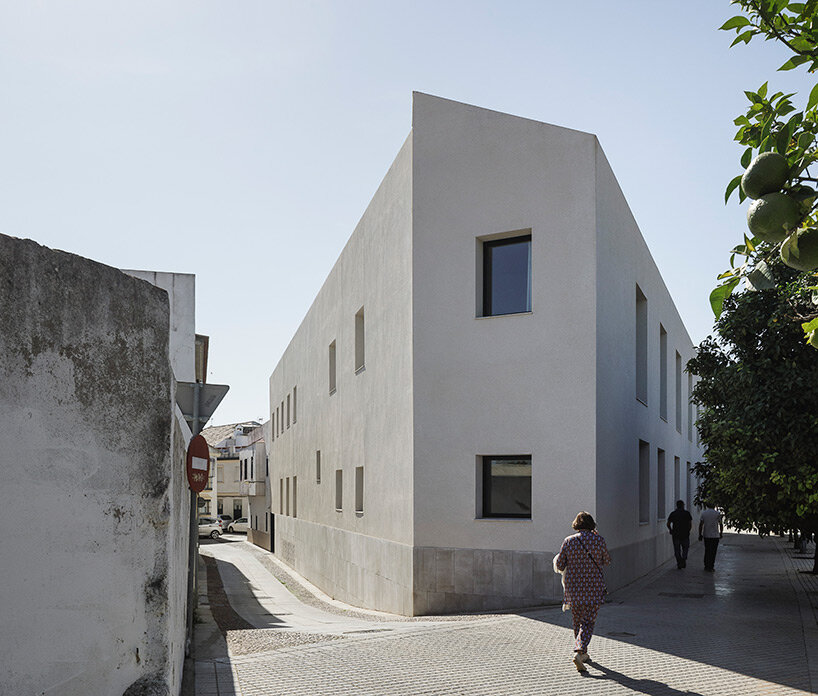 all images by fernando alda
organized around a warm, calm lobby
despite emphasizing the contrast between public and private, the residential complex by ignacio laguillo díaz, paco marqués vilaplana and harald schönegger, uses the lobby as an open waiting threshold establishing a seamless continuity between street and building. upon entering the residence, occupants are welcomed by a warm and calm patio. the building is entirely organized around this area which is characterized by the presence of vegetation and water — a passive control system for environmental conditions typical of traditional architecture.
the structure houses 14 apartments as well as a garage, while most units open exclusively to the outside to preserve privacy from the gallery. the program is common to all of them: toilet, living room-kitchen, and bedroom. the connection between the bedroom and the living area is made through large sliding doors that are embedded in the partition, favoring continuity between the two. 'it is about creating a fluid space that compensates for its reduced surface,' the architects explain.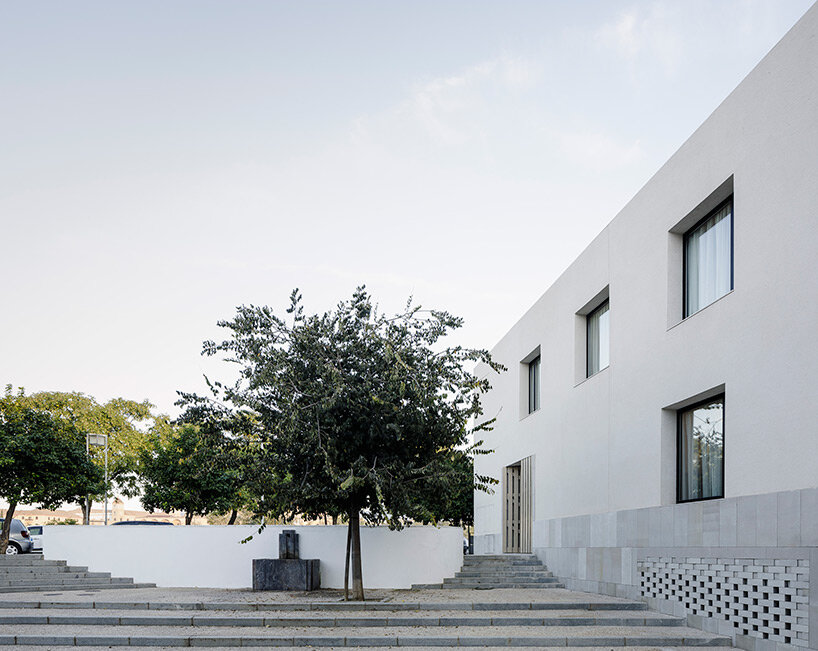 the building appears massive and protective to the outside, a continuous body that modulates its presence by adjusting the scale of each façade. towards the river, the openings are larger, emphasizing their verticality, as a response to the landscape of the riverbank, while towards the interior of the neighborhood they reduce their size, establishing a relationship of continuity with it. as a general criterion, it is intended that there be no clear reading of which apartment or use each one belongs to.
an ornamental railing, almost textile in quality, resonates with images of popular culture and plant motifs. chinese wash, natural stone, lime mortar, wood, water and plants complete the material palette of the courtyard, toned to produce a pleasant atmosphere, both familiar and strange. this tension between tradition and contemporaneity informs all the decisions made in the project.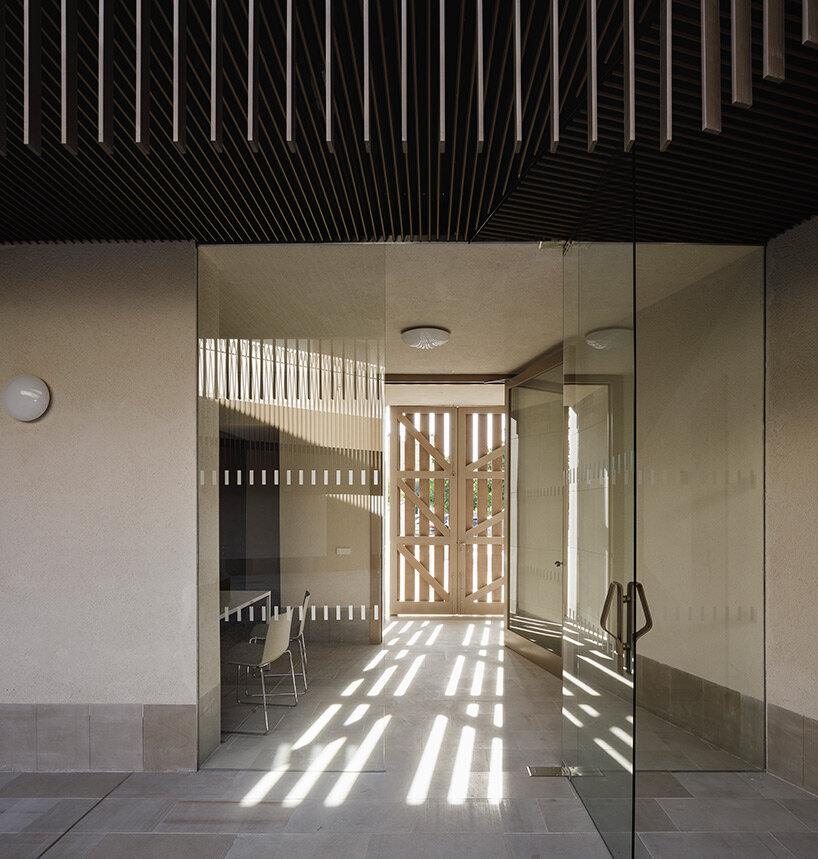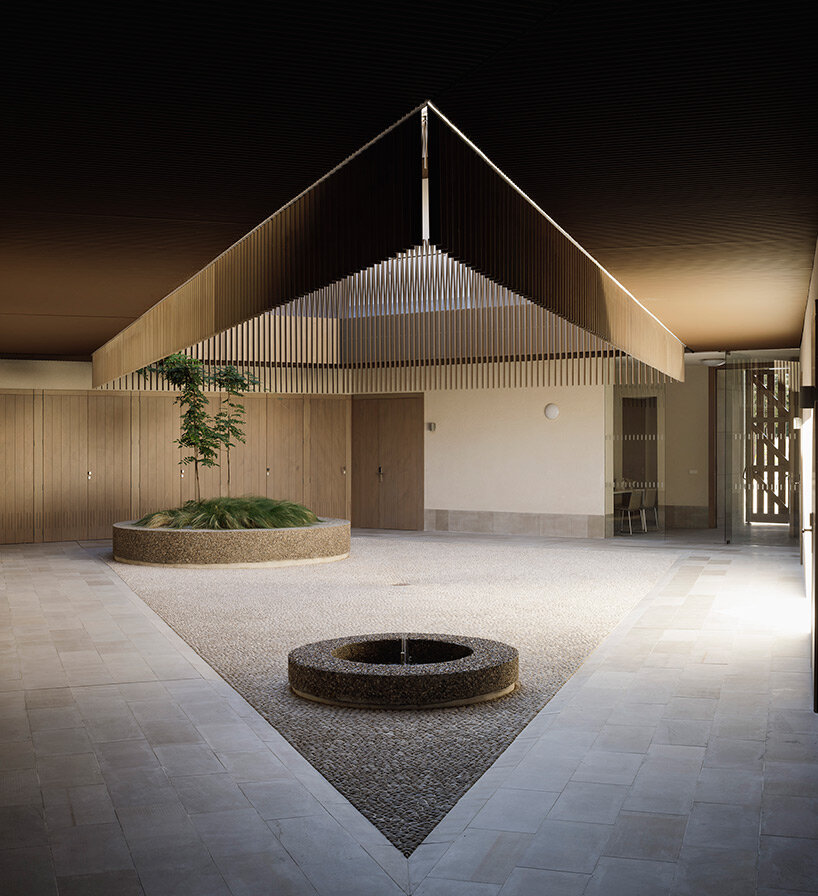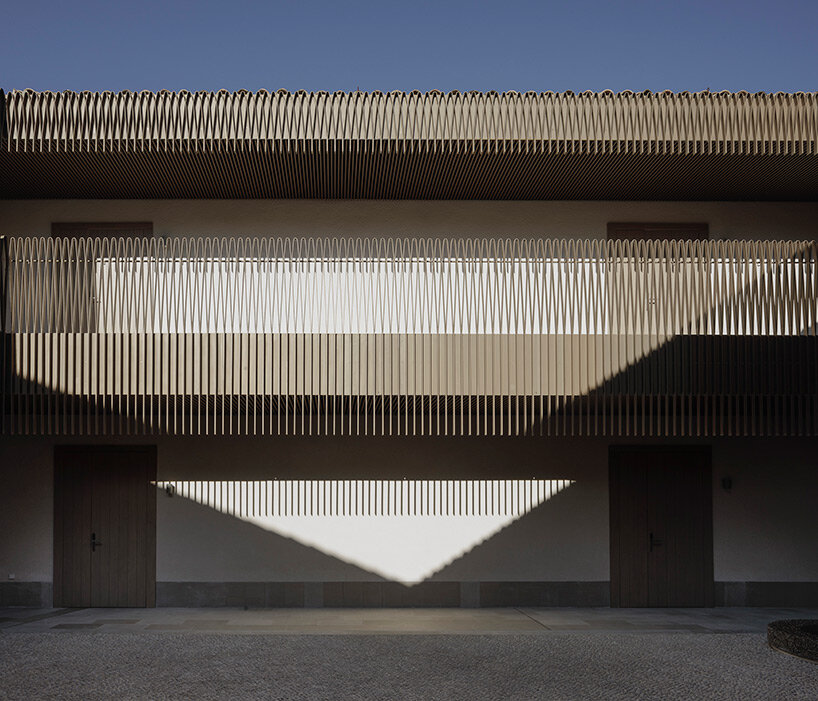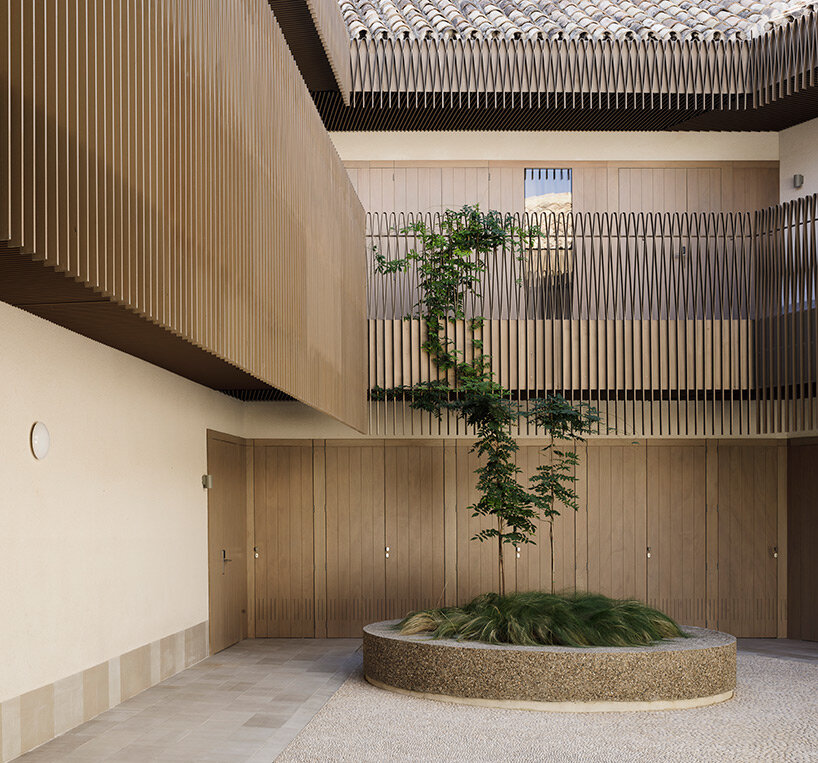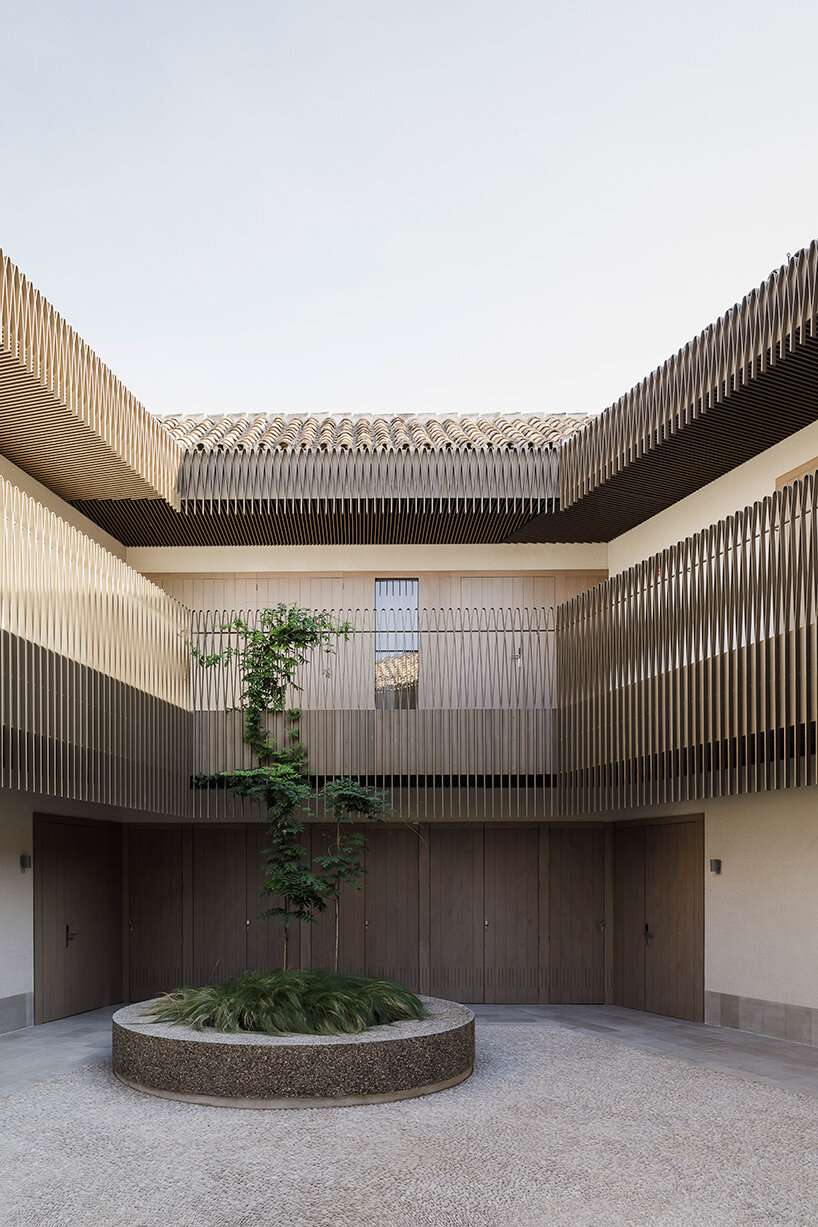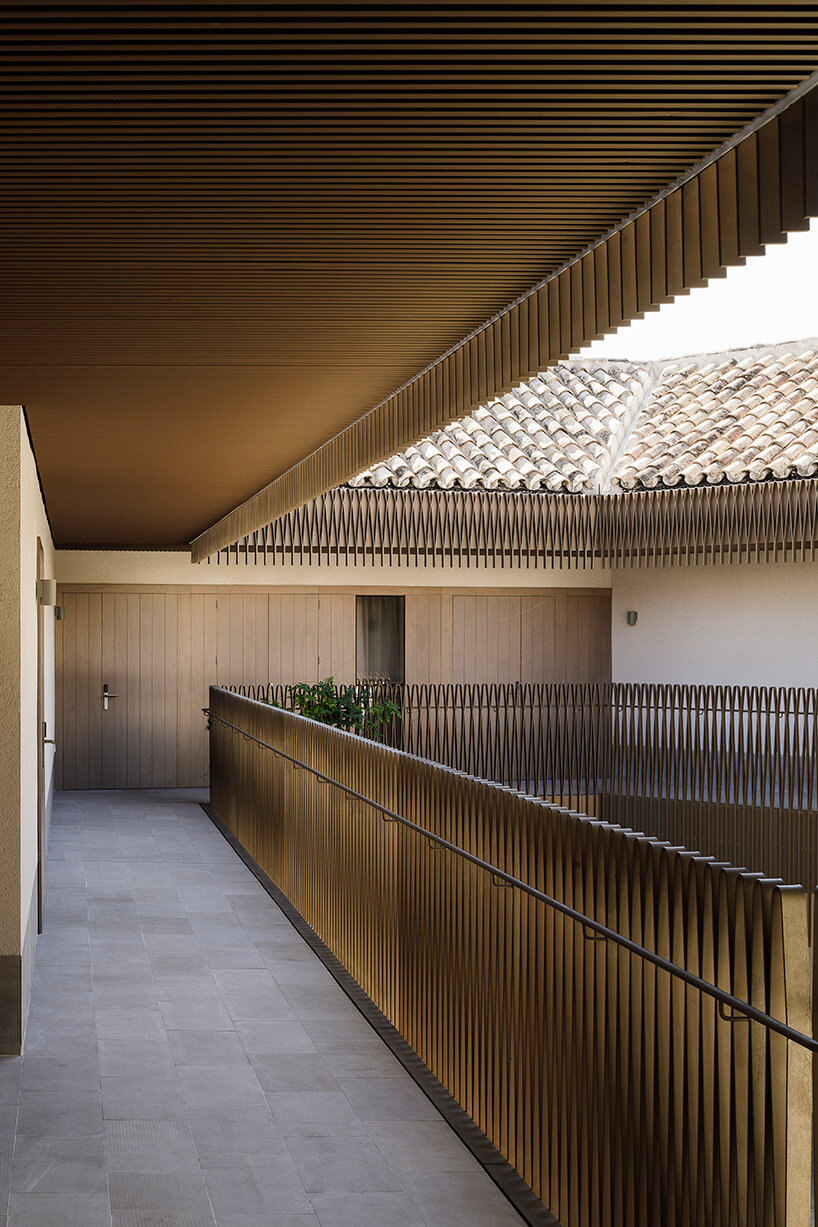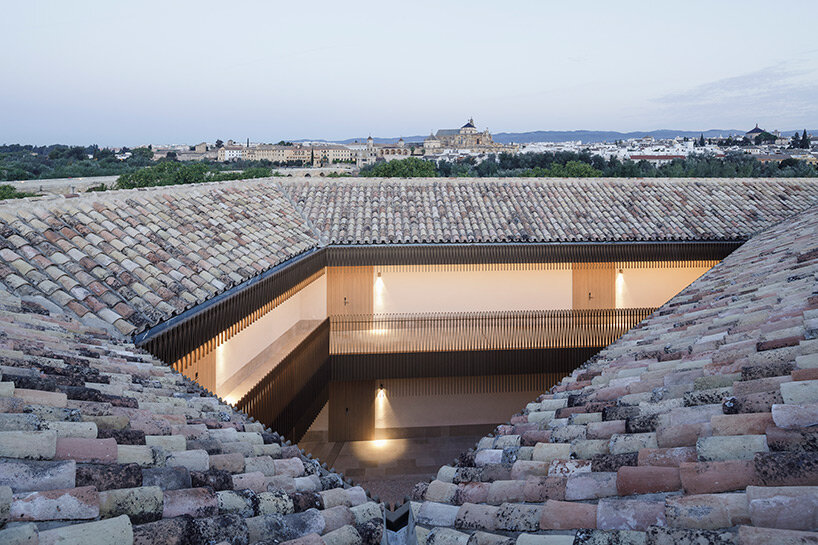 myrto katsikopoulou I designboom
jan 29, 2022