concrete, glass, and corten-steel form contemporary rural house
on top of a sun-kissed dyke within the area of green hearts, in the netherlands, mirck architecture has built a country house as an integral part of the natural surroundings. showcasing a sleek and contemporary character, the concrete residence incorporates corten-steel cladding and expansive glazing to offer panoramic views of the polder landscape. dubbed 'daylighthouse', the project prioritizes natural lighting and has won the dutch daylight award, an architectural prize that rewards outstanding daylight architecture.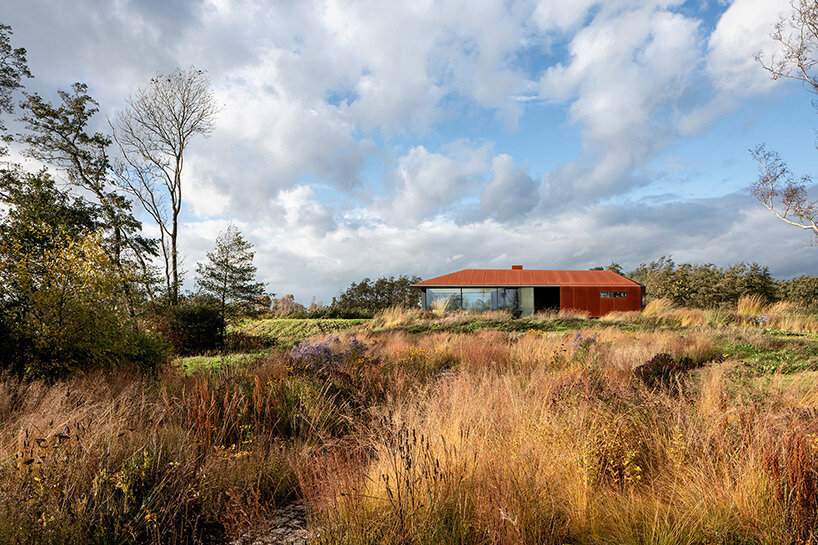 all images by katja effting, unless stated otherwise
putting emphasis on the quality of light
mirck architecture has shaped the house as a contemporary concrete structure, with large glass surfaces providing transparency and red corten-steel elements adding color and warmth. inside, panoramic window fronts, windows, and skylights in the open plan living area reveal spectacular views of water, sky, meadows, and trees.
'the quality of light is an important feature in the house; you get a sense of actually being in the middle of everything that is happening outside.' the architects share. various innovative,  custom solutions control any glare or heat during the day. in addition, when it gets dark, voile curtains can be drawn to create a more private and warm atmosphere.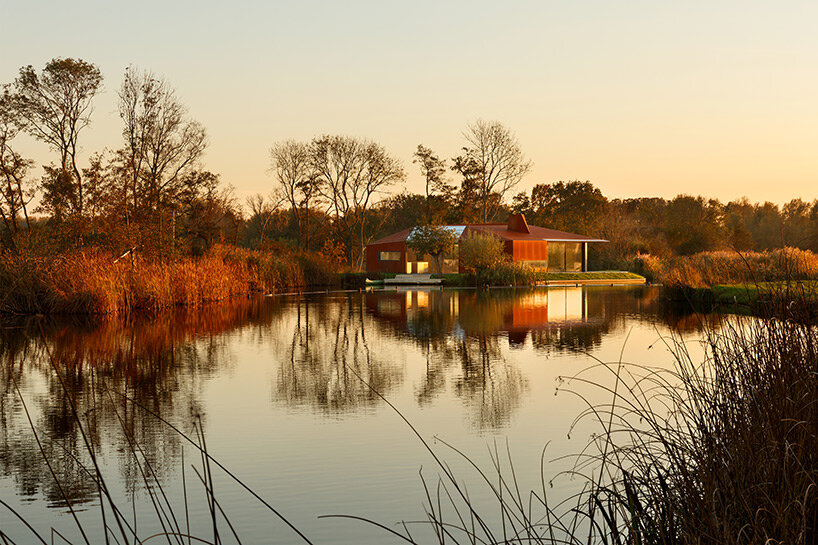 a color scheme that changes along with the daylight 
the interior features smooth concrete floors, as well as an exposed concrete wall next to the flight of stairs leading to the basement. in the basement, unexpected openings reveal the sky and low natural light still defines the different spaces, giving a sense of being underwater. the color scheme is simple, almost austere: white, grey, black, and the light oak of the kitchen cabinets. daylight streaming in brings all kinds of different tones to the colors.
the garden has been designed by dutch landscape architect piet oudolf and connects the house to its surroundings and vice versa. the outbuildings with their black shou sugi ban wood cladding, fit organically into the whole picture of house and garden.