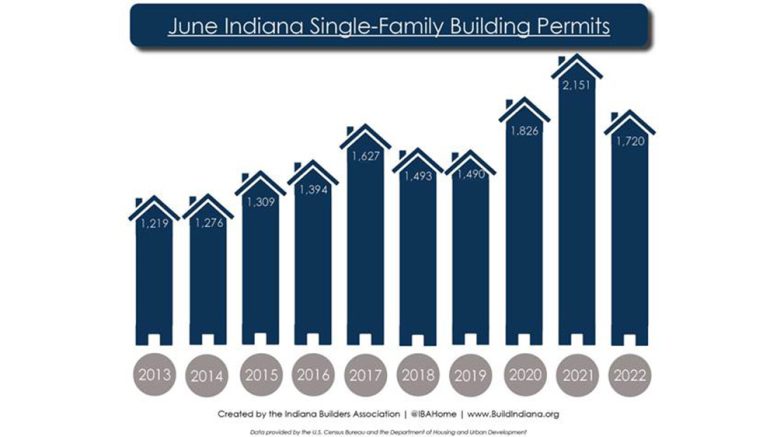 Still higher than pre-pandemic levels
The Indiana Builders Association (IBA) has responded to a report that the single-family housing permit number is down 20 percent from last June and down 19 percent from May.
"The dip in permits was expected as increased interest rates and continued price escalations have slowed demand for new homes," IBA President Paul Schwinghammer said. "While the recent retreat in lumber prices is welcome, we are still facing headwinds as the overall economy slows down. Builders have enjoyed robust sales over the past two years so the recent decline in permits was anticipated as the housing market is particularly interest rate sensitive."
Background
The U.S. Census Bureau recently released statewide totals for building permits issued in June and shows 1,720 single-family permits were pulled. The 1,720 permits pulled in June 2022 are down 20 percent from the 2,151 permits pulled in June 2021. This number is down 19 percent from May 2022, when 2,117 permits were pulled. The single-family permit numbers (10,663) for 2022 are down 8 percent compared to the first six months of 2021.
About the Indiana Builders Association
The Indiana Builders Association (IBA) is a statewide trade organization representing Indiana's home building, remodeling and light commercial construction industry. Established in 1952, IBA has 21 local affiliates across Indiana and is associated with the National Association of Home Builders in Washington, D.C. IBA educates and advocates for the construction industry to positively impact legislative, regulatory and legal issues that affect housing affordability. More information can be found at buildindiana.org.