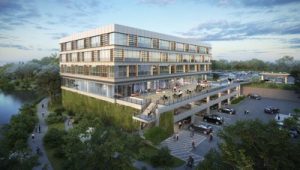 The Howard Hughes Corporation (HHC) will spearhead a $325 million development in the Lakefront District of Downtown Columbia, Maryland. The incoming complex will launch the next phase of the city's rejuvenation. 
The new development will include a state-of-the-art medical office building, housing options, retail offerings, and enhanced connectivity to the natural environment.  
The first project in the investment is the $45.8 million, four-story, 7990 m2 (86,000 sf) South Lake medical office building. HHC has worked closely with Studio Red Architects to make wellness a hallmark of the new building. With a focus on environmental impact and the health of occupants, the building features a boardwalk-style public terrace with views of the lake, as well as space for exercise classes and other health and fitness activities. The building is expected to achieve LEED Platinum status, as well as Fitwel certification. 
Adding to the Lakefront District is the debut of The Collective, a dining and entertainment concept coming later this year, pairing Offshore restaurant and Encore music venue. Also opening soon is 'The 3rd', a nonprofit incubator supporting women-of-color entrepreneurs. 
Future development plans include three new residential buildings, offering a total of 675 units plus supporting street retail; pedestrian and cycling connections; and green spaces to transform the current surface parking lot at the north end of the Lakefront District.  
The high-rise apartments will be constructed atop an underground parking structure and will be surrounded by outdoor amenity areas, including a promenade connecting to the areas bordering Lake Kittamaqundi, as well as a public square.