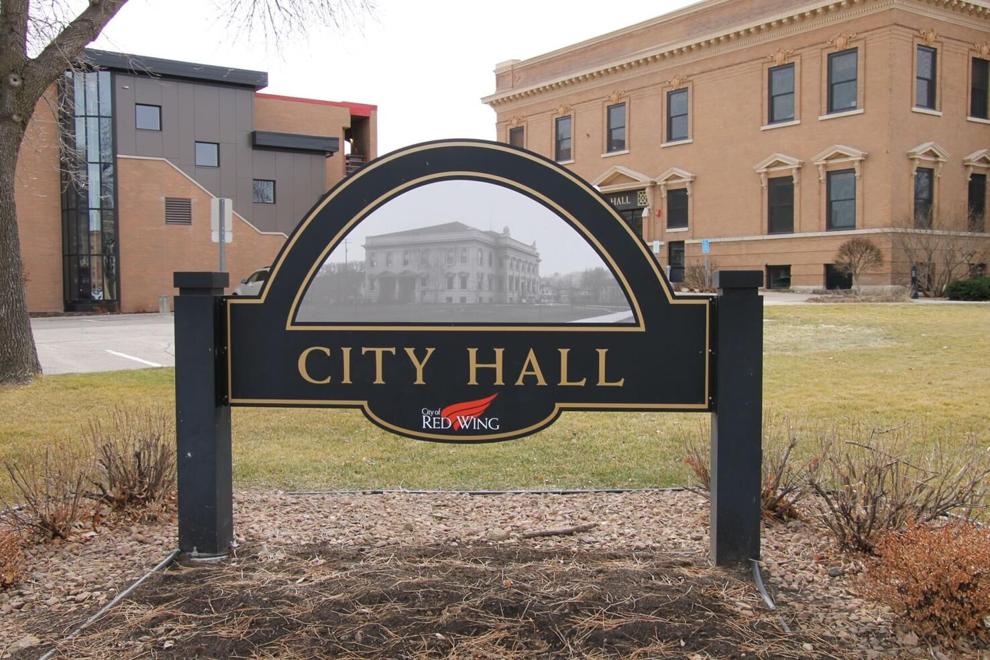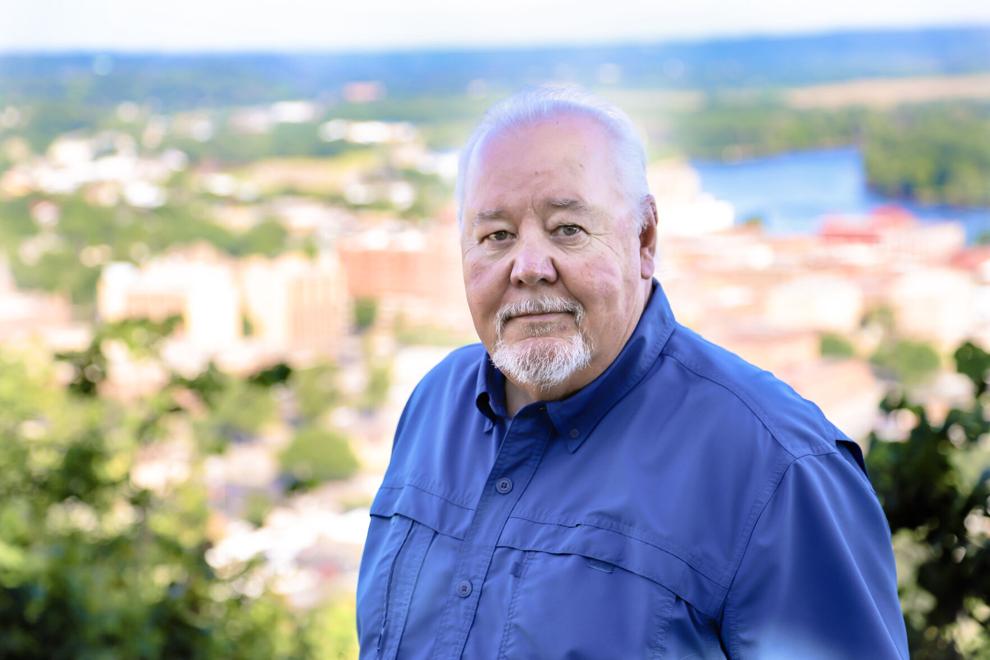 Donald Kliewer
Address: 1851 Woodland Drive Email: ddkliewer@gmail.com Age: 70
Family: Wife Judy of 47 years; three adult children, four grandchildren under 4
Occupation: Semi-Retired – Owner of TVO Enterprises, LLC
Political Experience: Elected to Fairmont Area Schools School Board
What do you want to accomplish if you are elected to City Council?
Bring a business perspective to the council. I call it "Common Sense approach to governing." Integrity, transparency and hopefully a consensus amongst the council.
What strengths would you bring to the City Council? 
Business management, community leadership, good listener, analytical person.
What drove you to run for City Council?
Now that I am semi-retired, affords me the time to serve and encouragement by many community members to run.
What are some areas that you think the city needs to improve in?
More responsive to the needs and concerns of its citizens as well as more efficient with the budgeting process.
How can more affordable housing be brought into the community?
There are many questions that would need to be answered before addressing this question.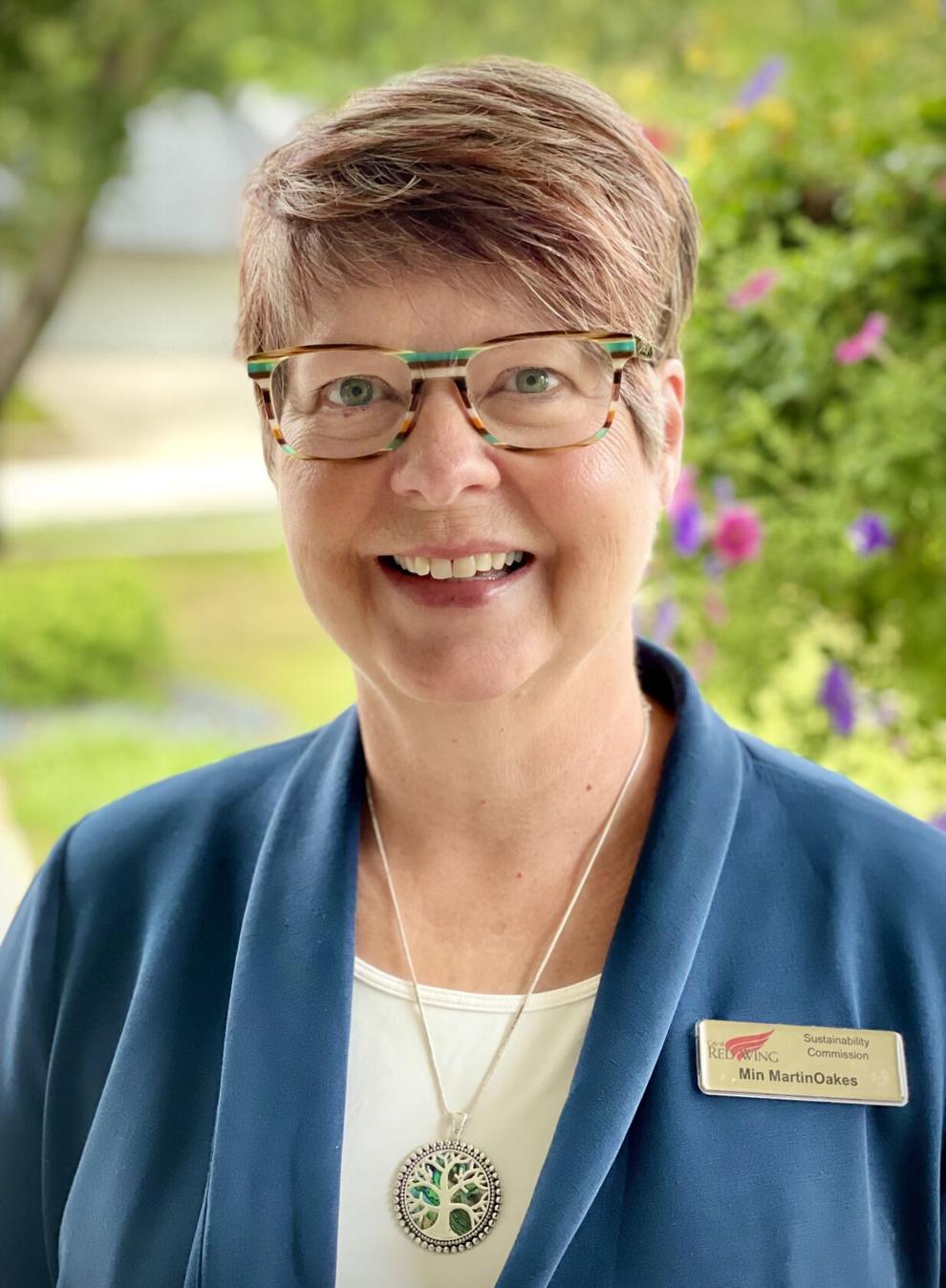 Min MartinOakes
Address:1567 Alvina St. Email: moakes1567@gmail.com Age: 69
Family: Husband, David; four adult children and five grandchildren
Occupation: Early intervention coordinator with Goodhue County Education District; formerly worked for Red Wing Public Schools as a teacher and principal.
Political Experience: Never held elected office. Served on the Red Wing Charter Commission and Red Wing Sustainability Commission; significant leadership experience in professional life.
What do you want to accomplish if you are elected to City Council?
I believe that it is the duty of public servants, not to impose their own plans, but to represent the people. I will bring their ideas forward and work toward the completion of their goals. I will listen, learn, and act inclusively and with integrity. My goals are positive representation, good financial stewardship and creating a sustainable future. Some residents fear for their economic future. That input has guided me toward taking a hard look at the budget to find new ways to save. Others want new recreational opportunities for families. I will get to work on that as well.
What strengths would you bring to the City Council?
My background in education required leadership, problem solving, clear communication and working to reach equitable solutions. I needed to be flexible, independent and a good listener to understand people on opposing sides of an issue and find an agreeable solution. I will focus on what we do want, rather than what we don't want. Ward 2 residents will benefit from my experience serving on both the Sustainability and the Charter Commissions. My knowledge of city government will allow me to focus on getting things done for the people I serve on my first day as a City Council member. 
What drove you to run for City Council?
I have lived a life of service. I believe public service ought to be about helping people, not pushing a particular agenda. My neighbors are concerned that Red Wing may become divided by focusing on our disagreements. We have seen how at the national level; this puts leaders out of step with those they represent. I will stay in touch and in step with the people of Ward 2. I will listen and bring their voices to our City Council. I will work for a shared, positive vision for our future that reflects our universal American values of self-determination, equality, and integrity.
What are some areas that you think the city needs to improve in?
People are generally happy with life in Red Wing. The overall top three concerns seem to be continued economic growth, safe neighborhoods and taxes. They are seeing the progress in public safety, and they know that the council is focusing on low taxes, but I want to try to relieve some of resident's financial pressure. I will get citizen input on the things that are important to keep, then look at eliminating those that are not as popular. I will work for no tax increase in 2023. I will also work to increase options of inexpensive activities for families.
How can more affordable housing be brought into the community?
I will focus on reusing and renovation existing buildings, developing more incentives, expanding the housing trust fund, and aggressively promoting available building sites. More downtown housing will help, like the apartments recently developed above the former Josephson's building. More developments like Park Place, the new apartments near the hospital, will help fill the need for workers looking to move here for plentiful Red Wing jobs. We may need 900-1000 new units in the next five years because of strong growth. Filling that need will depend on the tenacity of our leaders. I intend to be a part of the solution.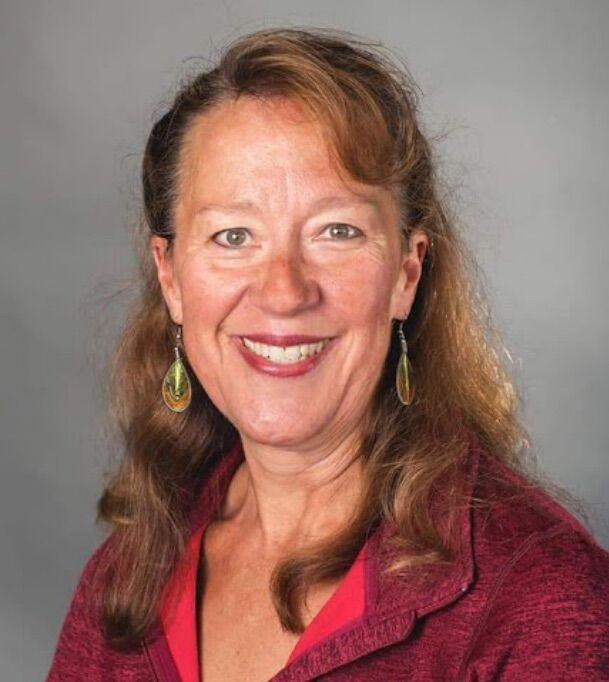 Vicki Jo Lambert
Address: 215 E. Seventh St. Email: lambertvicki73@gmail.com Age: 57
Family: I am the youngest of three girls and grew up in Arkansaw, Wisconsin. I have one son and three daughters.
Occupation(s): Retired correctional educator and at-risk youth teacher, Y water fitness instructor, youth and young adult coordinator
Political Experience: This is my first time running for office.
What do you want to accomplish if you are elected to the City Council?
I plan to be a strong advocate for all Ward 4 residents. I am passionate about the need to invest in our youth. I will focus on opportunities for young people as a long-term strategy to reduce unemployment and crime. I will ensure our seniors feel safe and heard. My top priority is the health and safety of our residents. I will partner with citizens to confront problems and create solutions. For example, the city is repairing a drainage problem in a public building because I asked a downtown resident with a disability what he would change about Red Wing.
What strength would you bring to the City Council?
Working in a correctional facility, I learned how to find common ground with people who had divergent agendas in a very challenging environment. I plan to give Ward 4 citizens power at City Hall. I will build strong, positive relationships with residents and community leaders by listening and getting to work right away on their concerns. I want citizens to know there is someone they can always call for help. Residents have shared multiple concerns, especially mentioning City Council should not be about pursuing personal agenda. My decisions will always reflect the values of the people of Ward 4.
What drove you to run for City Council?
I believe public service is a noble calling that is about improving people's lives; elections are a time for a community conversation about our priorities for the future. My background dealing with people in difficult life situations, including incarceration, will be especially helpful now. I will foster fairness, compassion and integrity, focusing on values that unite us: strong families, hard work and personal responsibility. I intend to bring people together to work toward shared goals by sincerely listening and having an honest dialog. Our future success will require leaders with positive vision who are willing to innovate and work hard.
What are some areas you think the city needs to improve in?
I have begun an extensive listening campaign with my neighbors. They appreciate the city's attention to beauty. They want continued progress on fairness, especially in public safety. Our citizens recognize that the City Council is working hard to keep taxes low. I will look for ways the city can cut spending. I'll be the people's "boots on the ground" in each city department, making sure we are getting the best value from our tax dollars. People like the current level of services. They want more development downtown and more parking. I plan to provide incentives to attract new business.
How can more affordable housing be brought into the community?
Real progress has been made toward increased housing. The Community Plan Report issued this spring indicates the need for more homes to match economic growth. This is going to require a bold, creative, multifaceted approach that will continue to include more incentives. I will lobby for more state revitalization funds for additional projects like the proposed renovation of the former Associated Bank Building. I support a renewed emphasis on marketing Red Wing as a great place for private developers to invest. The challenge will be met by committed community leaders working together toward the same goal.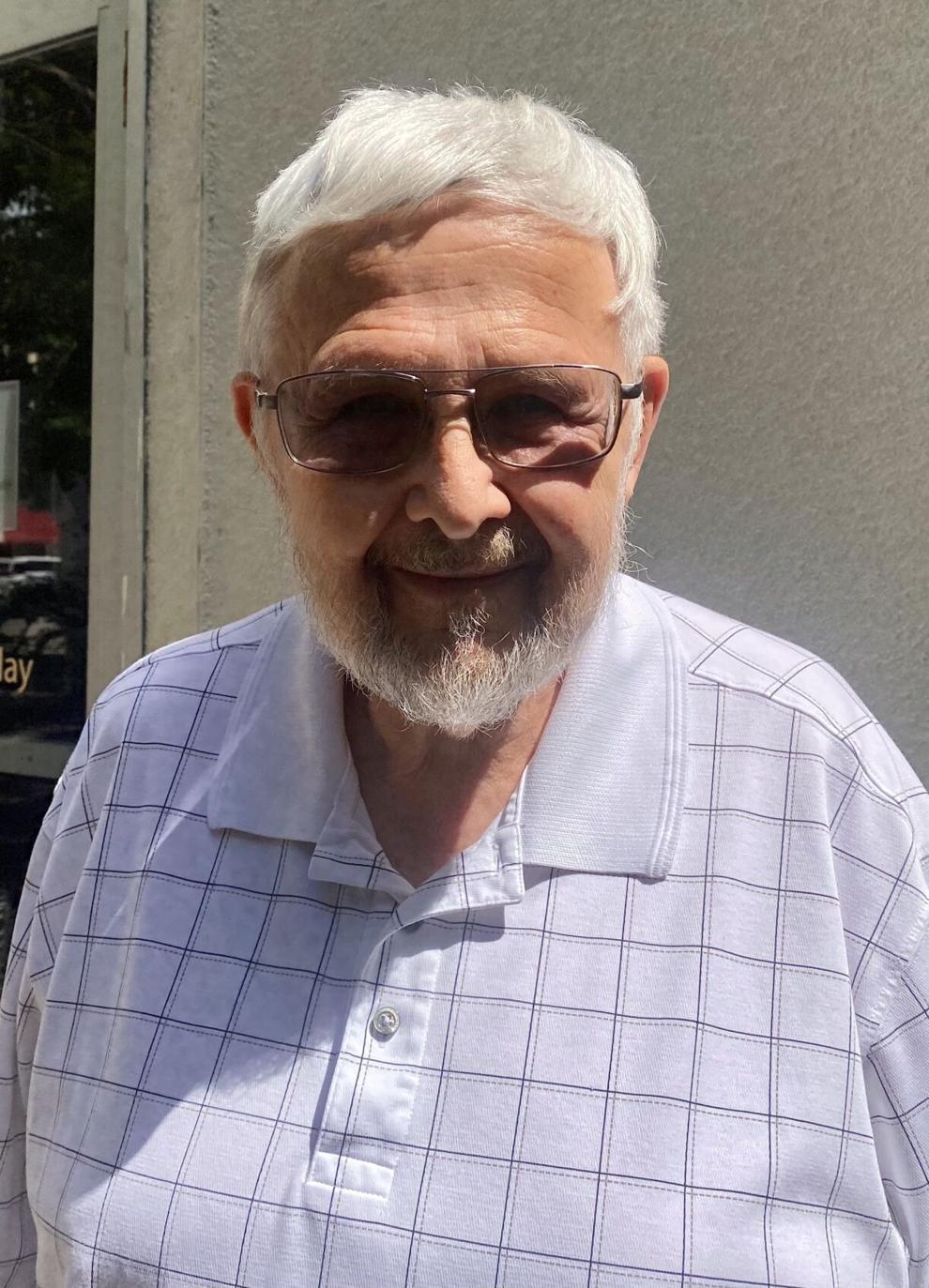 Stan Nerhaugen II
Address: 775 Freeman Ave. Email: nerhaugencitycouncil@gmail.com Age: 78
Family: Wife Ruth and son Stanley III
Occupation: Retired director of special education, teacher, coach
Political Experience: Served on multiple city committees (Sustainability, Human Rights, Sister City and Biking-Hiking and Ski Trails); District Governor 5M1 Lions
What do you want to accomplish if you are elected to City Council?
I will work with the council and city residents to establish a five-year plan to address affordable housing, public health and safety, business development, employment opportunities, and reliable infrastructure at a cost that taxpayers and businesses can afford. I will work to continue to build on our relationships and opportunities with our city's heritage and diverse populations. 
What strengths would you bring to the City Council?
I have learned about our community's needs and hopes by serving on Red Wing's Sustainability Commission, Human Rights Commission, the city's biking/hiking and golf course committees and the Sister Cities commission. As Red Wing Schools' special education director, I learned how to work with a variety of staff and need to develop and implement necessary programs for children with disabilities, staying within a budget. This meant listening to parents and teachers and working with the school board and administrators. As an eight-year Air Force veteran, I experienced what it meant to serve a country and community. Service means serving others and giving them your best effort. I will pledge that to the citizens of Red Wing.
What drove you to run for City Council?
The city has undertaken many projects and plans in the past to meet a variety of needs. What has been missing is how the city will measure the impacts of those efforts and share the results with its citizens. A second area of concern that influenced me is the continued increase in city budgets, the impact on local businesses and citizens. In less than a decade, the Xcel Energy power plant will cease operations. What is the fiscal plan to deal with the loss of tax revenue and employment?
What are some areas that you think the city needs to improve in?
City budgets that stay within businesses' and citizens' ability to support them. A clear picture of infrastructure needs, projected expenses and measurable outcomes. City Council should discuss cost options, seek community input and consider cost impacts and options. Past mayors have indicated that affordable housing is a priority. How have we met that priority and what will be our plan for the future?
How can more affordable housing be brought into the community? 
Look at how other communities are able to provide affordable housing. Understand how the lack of affordable housing affects our businesses and schools. Identify locations where the housing can be built, seek developers to provide building options for housing and seek financial support/resources to make the housing affordable. Promote the philosophy that affordable housing is good for the city's growth, businesses, workers and schools and for the neighborhoods where they are located.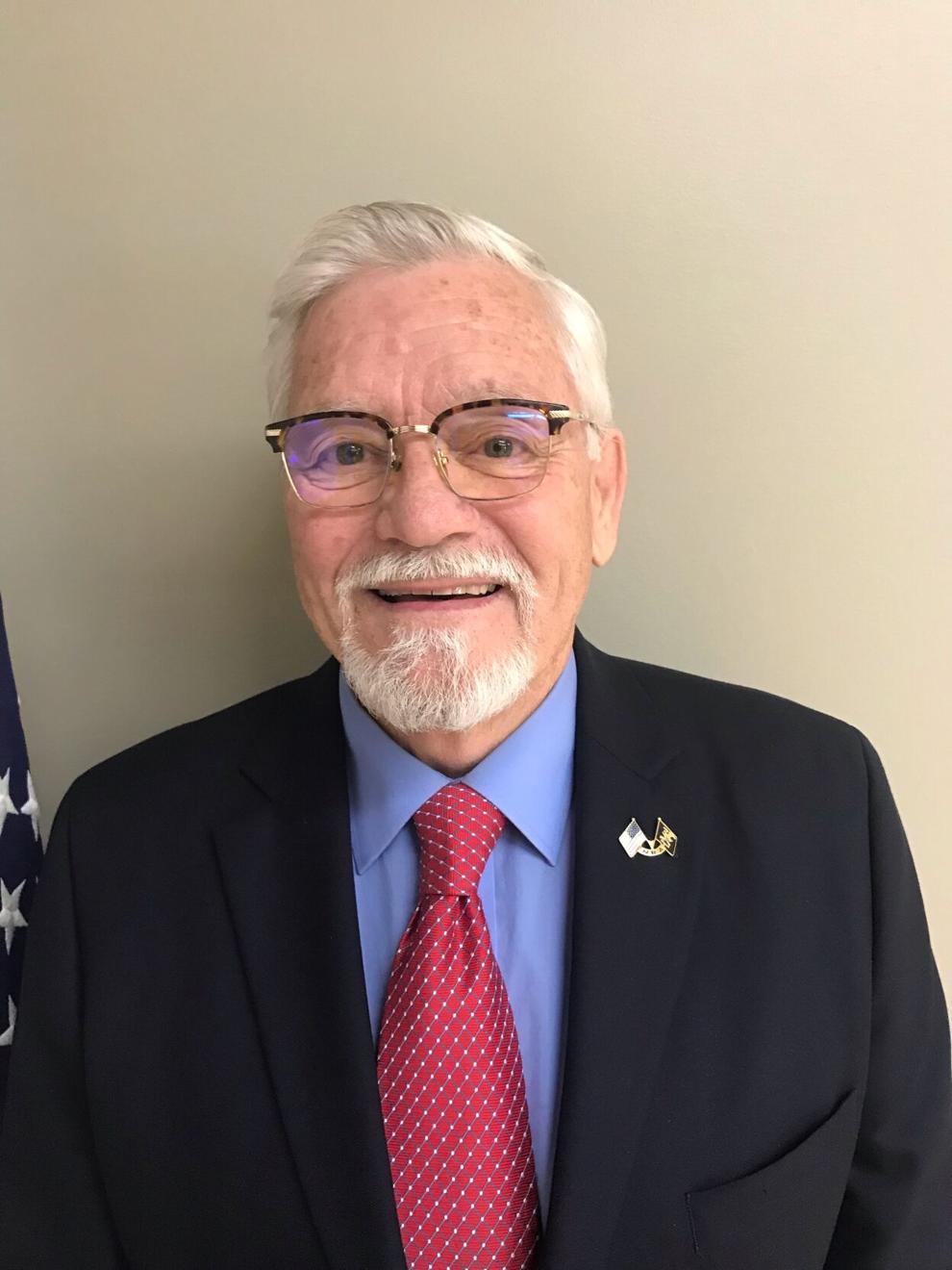 Ted Seifert
Address: 521 17th St. Email: teds@hiawathamedical.com  Age: 76
Family: Wife Karen; daughters Lisa, 50, and Dina, 48; sons Jason, 46, and Michael, 37.
Occupation: Retired from Hiawatha HomeCare. Manage investments and rental property.
Political Experience: Served as Goodhue County commissioner from January 2003 to 2017 representing Red Wing Ward 3, Ward 4 and Wacouta Township.
What do you want to accomplish if you are elected to City Council?
Improve public safety including schools. Safety, security and emergency response is the first responsibility of every government that is accountable to its citizens. Facilitate expansion of small business and jobs by reduction of tax and regulations. Small businesses have contracted in the COVID lockdown and have the greatest potential for a rapid recovery. Reduce the negative social, emotional and physical effects that still linger for many of our citizens resulting from the COVID lockdown and mandates.
What strengths would you bring to the City Council?
The council must have spending discipline to reduce property tax. I have a proven record of budge reductions as a County Board commissioner. I am well acquainted with the neighborhoods as I was honored to represent the 4th Ward as their county commissioner for 14 years. I will use that experience to move the council on issues that really matter to our families and will produce real benefits for seniors and children alike.
What drove you to run for City Council?
I want to make everyone more secure by improving our neighborhood law enforcement. I want to keep the cost of family housing more affordable. I want to reduce the negative social, emotional and physical effects that still linger for many of our citizens that resulted from the COVID lockdown and mandates. 
What are some areas that you think the city needs to improve in?
Tax reduction is the precursor to more housing starts. Tax reduction is the precursor to more jobs and small business expansion. Tax reduction is the precursor for more families coming to Red Wing or staying in Red Wing to raise a family and enjoy life. When citizen's finances are being squeezed by higher taxes and inflation, they have little choice but to reduce their spending. But the city government seldom shares economic reality with its citizens. The council can do better at sharing hard times.
How can more affordable housing be brought into the community?
Lower property tax for residential and commercial housing. It is the cornerstone for sustaining a working/professional middle class.The option of ever higher taxes will result in a city population composed largely of citizens struggling for home ownership but always dependent on government programs and subsidies and never achieving their dreams.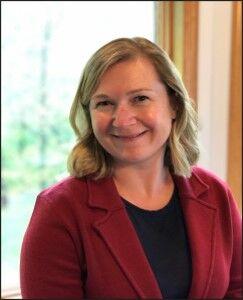 Janie Farrar
Address: 2663 Ridge View Court Email: farrarforcouncil@gmail.com Age: 43
Family: Husband Dave, Children: Nathan-19, Andrew-18, Luke-14, Elizabeth-12
Occupation: Full-time mom, community volunteer, volleyball coach
Political Experience: Current Chair of Goodhue County Parks Board, served since 2017. Served eight years on the Red Wing School Board between 2013-2020, three years as chair. Ran for Red Wing Mayor in 2020. I have past work experience with a congressman, state senators and state representatives.
What do you want to accomplish if you are elected to City Council?
I would work toward making sure Red Wing continues as a vibrant city. We need to prioritize many opportunities that are directly connected with this goal: business, public safety, our riverfront and parks, engaged residents, and attracting families to live here. My three priorities would be to address tax relief, community development and respectful leadership. I would also work toward increased representation of all voices and residents in Red Wing.
What strengths would you bring to the City Council?
I am qualified, prepared and ready to serve. I have extensive leadership experience in my past governmental and nonprofit work. I have specific leadership training through my work with the Blandin Leadership Program and being chosen as a University of Minnesota Humphrey Policy Fellow. I choose programs that purposely engage people that are incredibly different and bring them together to discuss and converse about civic innovation. I have a record as a community volunteer and an elected School Board member of working with others, building trust and transparency, and serving with respect towards my constituents and fellow board members. Change is needed on the City Council.
What drove you to run for City Council?
I am someone that has always been involved with my neighbors and in working to make the city I live in stronger. Red Wing needs a change and a refocus on proven strategies and programs to establish our city in the long term. We need a return to civility and common sense, and I have the experience and personality to help with that. I enjoy serving residents, and take being a public servant seriously. We need to have civil discourse and respect for each other, even when we may disagree on subject matter.
What are some areas that you think the city needs to improve in?
My concerns continue to be tax relief, community development, and respectful leadership. These are also many of the sentiments that I hear as I door knock and visit with community members. I continually hear that our residents are frustrated with their taxes. Red Wing property taxes are continually at oneof the highest rates per person in Minnesota. I know of many residents choosing to leave to Wisconsin and the townships specifically because of this. This hurts our base. Again, I need to emphasize respectful leadership. We need to show respect and civility-all Red Wing residents are aware of this. It starts with community leaders.
How can more affordable housing be brought into the community?
I have been encouraged by many of the new developments and housing projects in Red Wing. We have more we can attract and discuss, and I would love for the city departments to think outside the box and be creative with private developers. Government can make sure that we are supportive, and our policies don't make things harder than they need to be. I would also be interested in the data supporting Senior Living developments, possibly opening more starter homes for first time home buyers. I would like to see Red Wing work with Hastings and Lake City.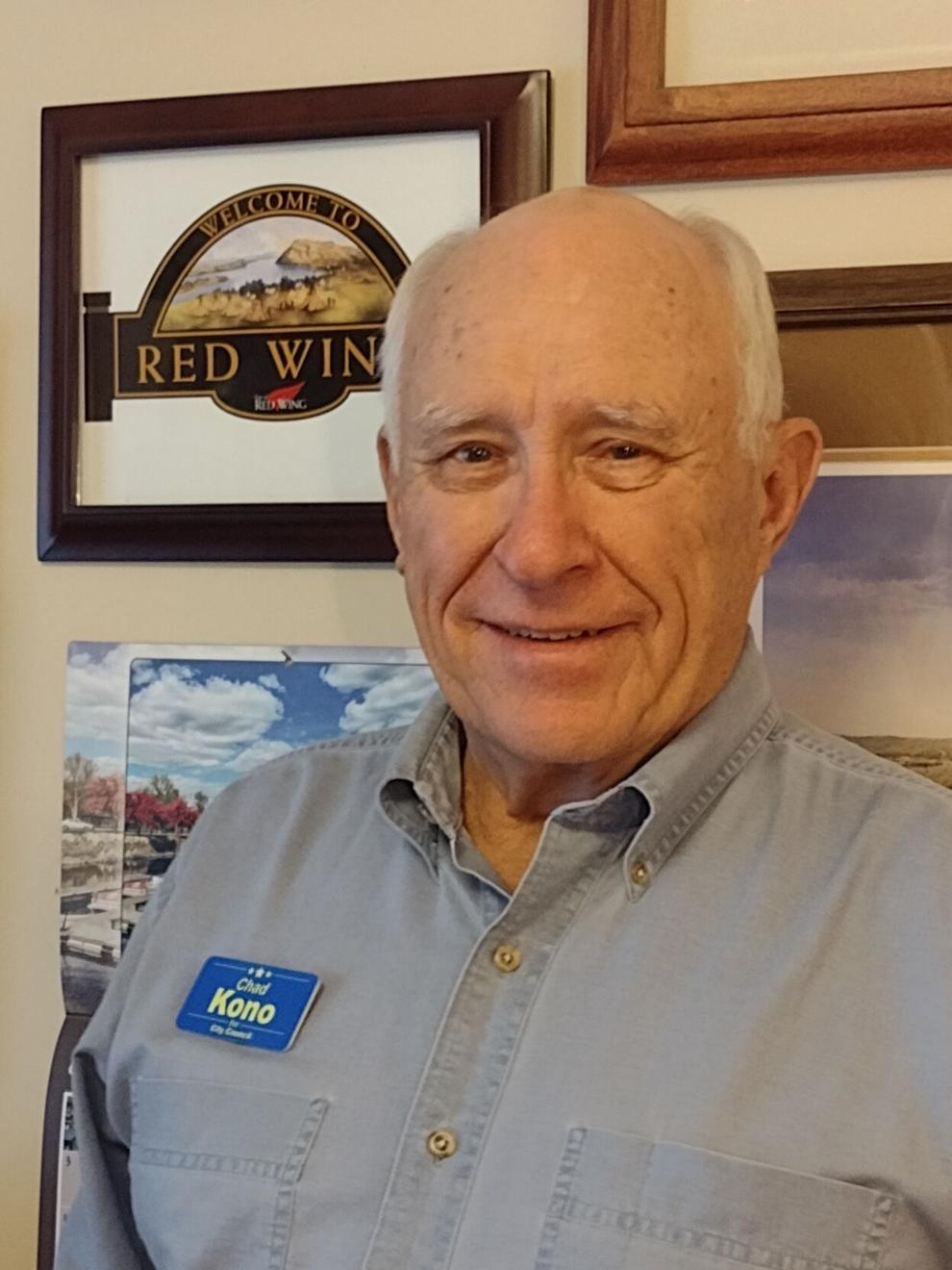 Chad Kono
Address: 1478 Hillside Dr. Email: konox001@umn.edu Age: 75
Family: My wife Jane and I have been married 52 years. We have two children: and rive grandchildren.
Occupation: Retired, worked 10 years in regional planning, 32 years in university advancement; served 22 years in the Army Reserve, retired as lieutenant Colonel.
Political Experience: Served six years on the Town Board for Baltic, South Dakota, three years as President.
What do you want to accomplish if you are elected to City Council? 
My goal is to enhance the lives of all residents. The at-large City Council member has the unique responsibility to consider the needs of everyone. I plan to focus on fiscal issues like making our city as attractive as possible to visitors and investors. Any candidate can shout "taxes are too high" and get 100% agreement. They seldom tell us what services they want us to live without. Our current City Council deserves credit for prudently addressing the unforeseen fiscal challenges of the pandemic. I plan to be the people's advocate for frugality and fiscal responsibility.
What strengths would you bring to the City Council? 
I worked in local and regional planning for 10 years, first as criminal justice planner, later as assistant director of South Eastern Council of Governments in the six-county area of southeast South Dakota. That experience involved working with a whole host of government officials – police, judges, local elected officials and state administrators. My past elected office involved finding efficiencies and areas of cooperation in the delivery of local government services. I learned the skills needed to present my ideas in the process of respectful negotiations with those who might not always agree. We found common ground for the common good.
What drove you to run for City Council?
My wife and I were attracted to this community by its physical beauty and its kind, caring people. We love living here. I felt compelled to get involved when I witnessed incivility beginning to happen here. I believe that civility and reason are key tenets for a functioning democracy. They provide the basis for establishing common sense policies. Mutual respect is necessary for having a thoughtful, factual conversation about issues that will impact our community. I want to be a force to prevent erosion of civility and help prevent the offensive discourse at the national level from getting a foothold here.
What are some areas that you think the city needs to improve in?
Citizens tell me they are pleased with the current council's fast action on public safety concerns. They like the new approach and helpful tone of our police. One person said: "We are a quiet little town again." I will support continuing the current strategy and continued improvements. I also plan to promote more attractions for local families, as well as for visitors who will support our restaurant and retail businesses. For example, a regional center like Red Wing opened a Children's Museum. It became a major attraction and led to the addition of other family friendly venues and restaurants.
How can more affordable housing be brought into the community?
The housing shortage is a negative result of positive economic growth. Our local economy is thriving and there are far more jobs than workers to fill them. I would continue the current council's policy of actively seeking public/private partnerships with developers. The first phase of the Park Place development has eased the burden with about 100 new units and phase two will begin soon. That's a successful model for the future. Talks are underway with a developer for retail space and housing in the downtown Associated Bank building. Success there could become the model for developing more upstairs units downtown.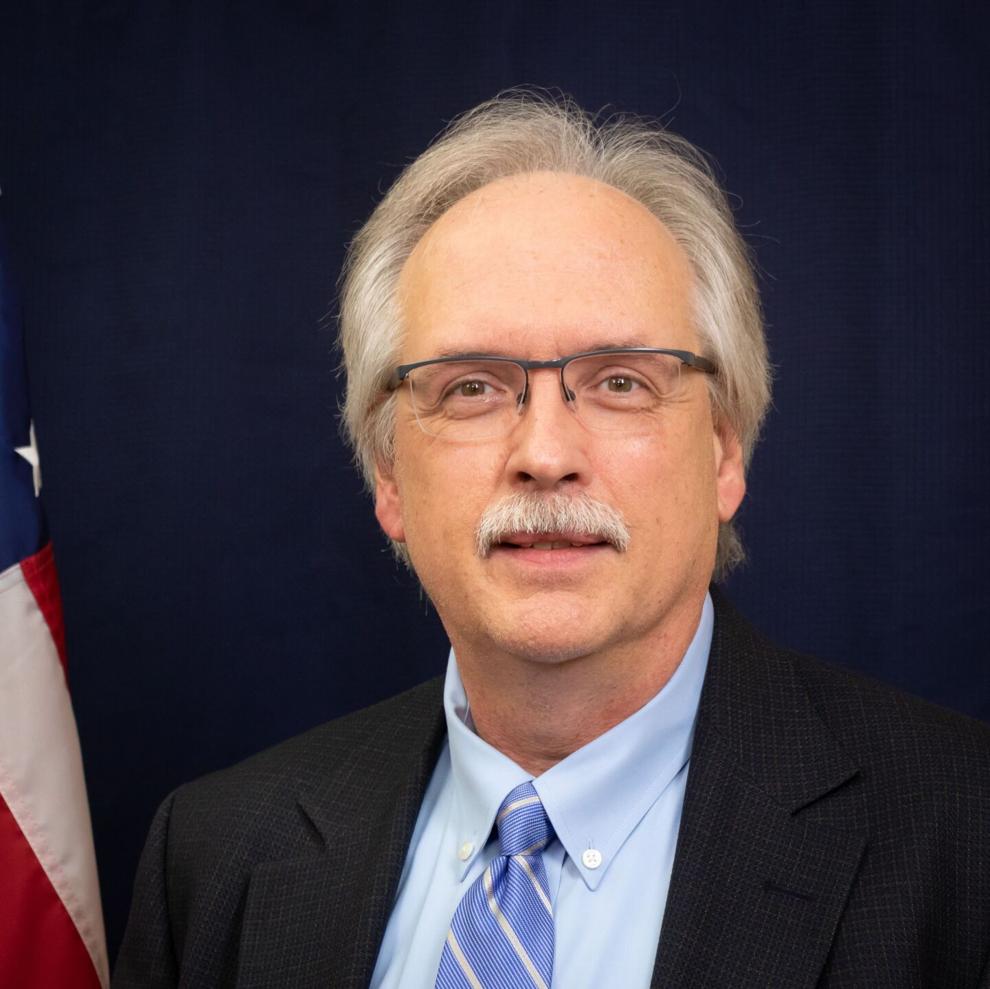 Ralph Rauterkus 
Address: 454 W. Seventh St. Email: ralph.rauterkus@charter.net Age: 62
Family: Married to Mary Watson Rauterkus for 42 years. We have resided in Red Wing for 36 years. Mary is a Red Wing native and is a retired speech language pathologist. We have two grown children and five grandchildren, all living in Red Wing.
Occupation: Forty-two years experience in high-tech manufacturing. Currently senior director of supply chain at Polar Semiconductor, a firm in Bloomington, Minnesota. Previously was director of information systems.
Political Experience: My non-partisan civic involvement of 18 years includes: Red Wing Port Authority, 2009-2011, 2019-present; Red Wing City Council, 2009-2017, council president 2011-2013; council vice president 2013-2015; Red Wing City Advisory Planning Commission, 2004–2008; commission chair 2006-2007; Red Wing Riverfront Trail Committee, 2008-2010; Sheldon Theater volunteer, 2004-2008; Leadership Red Wing, 2002-2003. 
What do you want to accomplish if you are elected to City Council? 
My priorities include: Making fiscally prudent decisions to minimize tax bills for current and future generations. Assuring the police and fire departments are well-equipped and well-staffed. Strengthening our city by revitalizing the downtown core with vibrant storefronts and housing options, the key to this is implementing a railroad quiet zone. Work with Xcel and the Prairie Island Indian Community to hold the state and federal agencies accountable for the removal of nuclear waste. Ensuring residents have access to safe and affordable housing. Partnering with public and private entities to reduce costs. Fostering entrepreneurship and career opportunities for our residents. 
What strengths would you bring to the City Council? 
Along with my 42 years business experience I have 18 years of volunteering in Red Wing, including Planning Commission, Port Authority and my prior service on City Council. Through my experience I have a unique understanding of our city government and a proven record of using the open public process for the best decisions and outcomes for our residents. As a member of my company's executive management team, I have a thorough understanding of finance, budgeting and personnel issues that are important for a council member to know. I will put my experiences to work for the citizens of Red Wing.
What drove you to run for City Council?
I love Red Wing. We moved to Mary's hometown 36 years ago. It was the ideal community to raise our children and now we are fortunate to be able to watch our grandchildren grow up here too. It's important to give back to my community through volunteering my time. These are challenging times as we struggle to find the new normal in our changing world of inflation and supply chain issues. I will provide the leadership to help Red Wing residents receive the services and support that they need today and to position Red Wing for healthy growth and prosperity.
What are some areas that you think the city needs to improve in?
With inflation and labor shortages the city must wisely manage their budget. I provided leadership in 2009/2010 when I helped steer the city through the Great Recession when the state imposed drastic revenue cuts on us. Sound financial stewardship was accomplished by collaborating with employees to cut costs, eliminate positions and cut back on infrastructure investment, a short-term way to assist in managing the crisis. With Xcel's tax base increase, in 2011 the city started increased capital spending, while keeping our city's operational expenses flat. The city started winding down that capital spending in 2018 given the uncertainty at Xcel.
How can more affordable housing be brought into the community?
With demographics showing an aging population, we need to ensure that our employers have enough employees with the appropriate skills to staff their businesses for the long term. Housing is key to having a great workforce. Through the HRA and Port Authority we should collaborate with developers and property owners to build or upgrade properties for affordable housing. The HRA should provide rehab incentives so families can stay in their owned homes. We need to better promote the HRA first-time homebuyer assistance program. We should work with the city planning department to adjust zoning requirements to better promote affordable housing.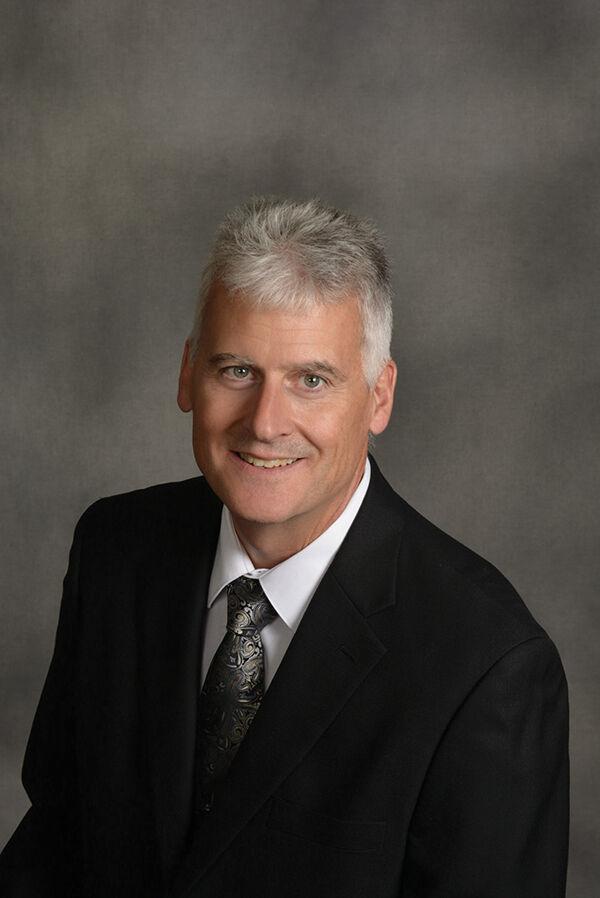 Ron Goggin 
Address: 4263 Hickory St. Email: RonGogginForRW@gmail.com Age: 60
Family: Married to Cathy for nearly 36 years. Two grown children. Four grandboys.
Occupation: I/T Project Architect
Political Experience: None
What do you want to accomplish if you are elected to City Council? 
My goal is to provide the same safe, affordable community full of opportunities to all families and individuals that I have had living in Red Wing. I will fully fund and fully staff our police, and will support their law enforcement decisions. I will right-size city government to provide the essential services in the most cost-effective manner possible and cut nonessential spending. I will de-emphasize social divisiveness as the city cannot resolve it. I will reduce the property holdings of the city and return them to the private sector to expand the tax base.
What strengths would you bring to the City Council? 
My business and technical background provide me with the ability to analyze complex problems and provide solutions. I say what I mean and I mean what I say. My frugality will allow me to say no to ineffective or nonessential spending. I am persistent and consistent.
What drove you to run for City Council?
1. The rash and dangerous decision by our current council to fire an excellent police chief at a time that the riots in the Twin Cities were threatening to come here.
2. Continued wasteful spending and higher taxes, fees and rates.
3. We need a council that listens to residents.
4. In discussions with many people who share my above concerns, many have encouraged me to run for this City Council seat. It has been held by the same person for 20 years, and we all agree change is needed.
What are some areas that you think the city needs to improve in?
The city needs to ensure our police know they are supported by the city. The current council's decision to fire the police chief has contributed to the inability to recruit candidates to fully staff our department. The city has a spending problem that is causing high taxes, utility rates and fees for residents and businesses. This in turn is causing stagnant economic growth as evidenced by our empty storefronts downtown. Instead of continually raising taxes, the city needs to become more efficient and reduce nonessential spending. The city needs to listen to all residents, not just those they want to hear.
How can more affordable housing be brought into the community?
Cost and the ability to pay are the two main factors that contribute to affordable housing. On the cost side, we need to reduce property taxes, permit and inspection fees and utility rates by increasing efficiency in all city departments and reducing non-essential spending. To increase the ability to pay, we need to create a thriving economic environment such that existing businesses can grow and new businesses are attracted to Red Wing to increase wages. It is not in the best interest of the city to layer on additional subsidies already provided by the county, state, and federal government.
Dean Hove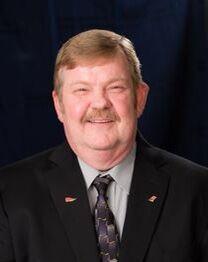 Address: 4149 Highway 61 Email: deanhove@charter.net Age: 62
Family: Married to Teresa for 41 years. Three grown children and two grandchildren.
Occupation: First Student, Red Wing, past Red Wing Small Business Owner, served 10 years in the Minnesota National Guard.
Political Experience: Red Wing City Council member
What do you want to accomplish if you are elected to the City Council?
Low Taxes: The average rate increase has been just 1.5%. In 2023, the City Council can help fight inflation by keeping the levy flat, as we did in 2020 to help families during the pandemic. Wise Spending: Each expense must receive a "yes" answer to the question: Will this make life better for families? Each new project must also come with a plan to pay for it that does not raise taxes. Strong Public Safety: We have "reset" public safety and peace has returned. I will make sure our police and fire professionals have the tools and training they need.
What strength would you bring to the City Council?
Two decades of experience working with citizens to create a city that works for everyone. We envisioned a better city to raise a family, build a business, and enjoy retirement, and we worked together to make it happen. The result is a more beautiful city with record low unemployment. We cannot build housing fast enough to keep up with the demand our booming local economy has created. Good stewardship of our historic buildings and natural resources attracted gifts and grants that transformed our riverfront, downtown, and now Old West Main Street. Improved public safety has made our families more secure.
What drove you to run for City Council?
I ran to represent my neighbors on our City Council with a vision for change and a mission to work with citizens to make their lives better. My goal was to bring back citizen choice by truly listening. Our partnership has produced amazing results. Together, we introduced a culture of cooperative, responsive government guided by principles of fairness, respect, and responsibility. Our recent public safety reset was sparked by a departure from those values. We put Red Wing on a common-sense path of low taxes and wise spending that became the foundation of today's resilient local economy.
What are some areas you think the city needs to improve in?
Citizen input always makes our choices clear. I am most concerned about keeping us on the track that created today's prosperity. We came out of the pandemic on firm financial footing because long-range financial planning prepared us. We currently prioritize budget expenditures based on serving the greatest good and truly filling a need. I want to see the people's plan for our riverfront completed. Downtown storefronts are once again nearly full, and a revitalized Old West Main is attracting growth. Red Wing is a Great American Success story, but we need to be vigilant about the needs of business owners.
How can more affordable housing be brought into the community?
I want more partnerships between the city and private developers like the one that will add 186 new units,78 of them designed for seniors, and another that will bring 36 new units. There are new single-family homes under construction as well. We need to keep building about 200 new homes each year to keep up with predicted demand. The historic bank building downtown is being considered for a renovation that will put retail downstairs and housing upstairs. The upper floors of all downtown buildings are a hidden gem which, when fully developed, will grow our downtown economy, and help ease the housing crunch.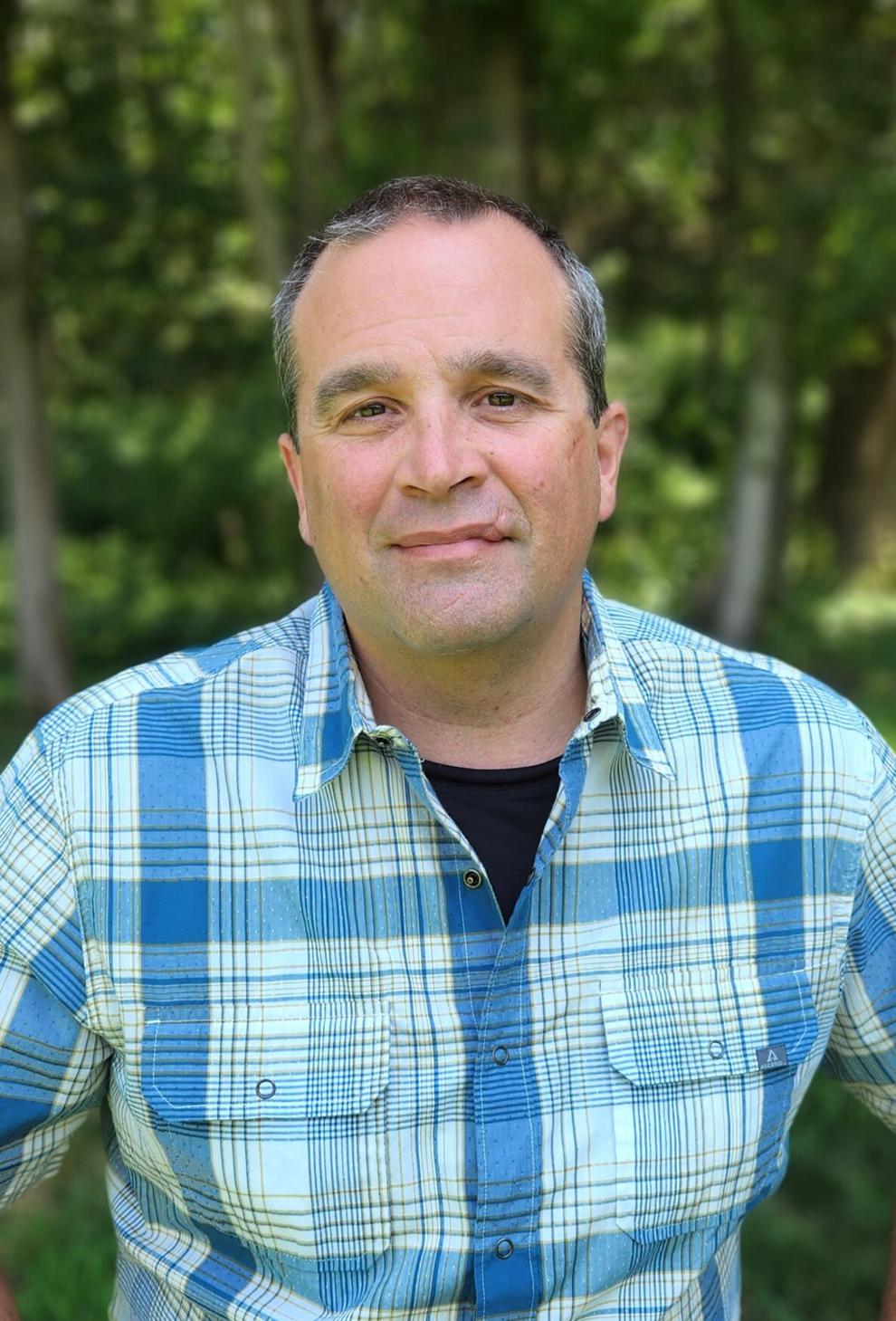 Jason J. Snyder 
Address: P.O. Box 153 Email: snyderforredwingcc@gmail.com Age: 50
Family: My wife and I have been married 27 years and we have three grown children.
Occupation: Senior reactor operator
Political Experience: This is my first time running for an elected position. Of the people I've talked to so far, no one has asked me about my experience. They care more that I'm going to listen to them and do what they ask than they do about my resume.
What do you want to accomplish if you are elected to City Council? 
I want to restore city government in accordance with our city's organizational chart that has the citizens of Red Wing at the top, and the City Council accountable and responsive to all the citizens. Governance "by the people" is more than just an election every four years and hope for the best. Government by the people is meant to be interactive. People will stop contacting the City Council if they feel the contact is in vain. I will work to achieve the demands of the people I represent while maintaining the laws of our U.S. and state Constitution and City Charter.
What strengths would you bring to the City Council? 
I am a creative, outside of the box thinker that can troubleshoot complex situations. I listen with an impartial and true open mind, which allows me to come up with solutions that include compromise from all sides, not favor to one. I can envision the big picture and enjoy putting all the pieces together to make something work. I am an observant, careful listener with the ability to make decisions based on facts, not conjecture.
What drove you to run for City Council?
Several members of the community asked me to run, knowing I would operate in accordance with our laws, using a neutral and fiscally responsible mentality instead of a politicized agenda and strategically chosen facts. With that in mind, I decided to do my civic duty and put my hat in the race.
What are some areas that you think the city needs to improve in?
The people I've talked to thus far want me to lower their cost of living in Red Wing, create a more business-friendly environment, streamline city government, and have accountable spending while maintaining environmentally sound decision-making. A business-friendly environment encourages companies to build/expand. Tourism is a strong part of this city; however, the residents of Red Wing cannot survive on tourism alone. City government surpluses should be kept at a minimum. While social, religious, and political activism is important, it's not appropriate to be tied to city government. There are avenues for change that when done correctly, will benefit all citizens.
How can more affordable housing be brought into the community?
Prior to concentrating on building affordable housing, we need to concentrate on raising people's ability to afford houses. A more business friendly environment means growth, which provides higher paying jobs. Lowering current resident's cost of living through streamlining government and government spending leaves more usable income in the pockets of the individual. Once the cost of living is reduced, then tax incentives to the builder and to the home buyer, specifically first-time home buyers, can be used to encourage new home building/remodeling. These efforts combined will encourage new people to make Red Wing their home, providing a larger, stronger workforce.
Becky Norton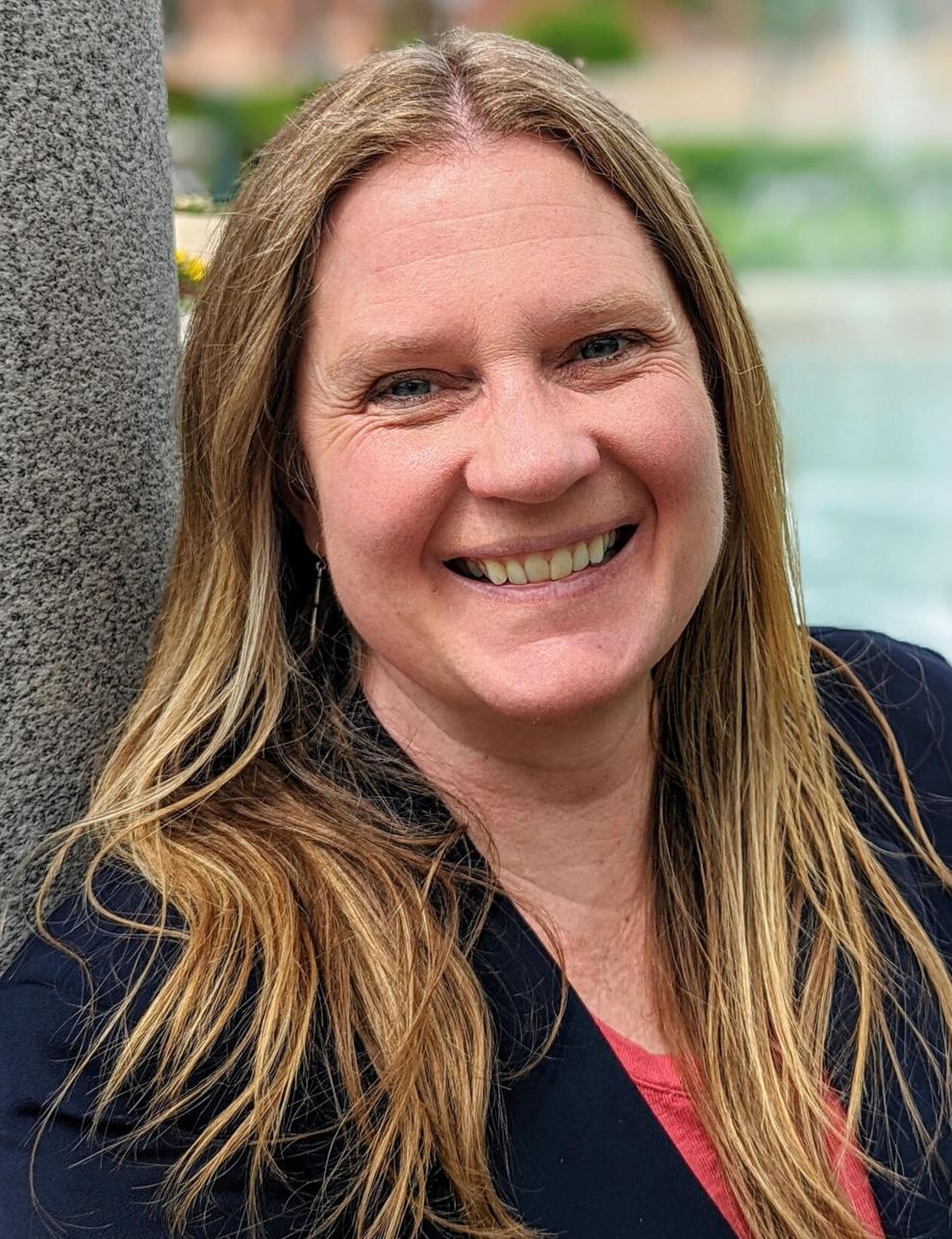 Address: 515 Stanley St. Email: nortonforredwing@gmail.com Age: 47
Family: single with one son (16 years old)
Occupation: 8-12 grade science teacher at River Bluff Education Center
Political Experience: Elected to City Council August 2018 for special election and elected again to full term November 2018; Elected by peers to City Council President 2021 and 2022. Former Sustainability Commission member.
What do you want to accomplish if you are elected to City Council? 
I want to foster Red Wing into the future. I want to continue to support strong public safety by supporting our current employees health and wellness while we work to be fully staffed. I support a strong diverse economy throughout the city. We need to continue to care for and maintain our infrastructure and provide for the services our community depends on to thrive. I want to make more progress in racial and social equity and sustainability. 
What strengths would you bring to the City Council? 
I am interested in collaboration as a leader in this community. I am constantly learning about issues from every angle and working to make the best decisions for Red Wing. Listening is more than nodding and agreeing (or just disagreeing), listening is hearing what is being said and considering the new thought, idea or criticism. This type of openness often requires additional research to learn even more and to think about how those ideas can be incorporated to make a strong ordinance, policy, or practice. No one of us knows as much as all of us. 
What drove you to run for City Council?
When we take care of each other, of the environment, of our children, we are investing in ourselves and our future. I wanted to be a part of that legacy, to move Red Wing forward. A strong leader who sees opportunities to do the right thing and do it. I am interested in listening, doing the research, and working collaboratively with residents, staff, and council members to get things done. I wanted to bring other voices forward and open doors for everyone.
What are some areas that you think the city needs to improve in?
Economics, equity, sustainability and housing are all interconnected, and we must work on them simultaneously. For example, increasing sustainable practices reduces the costs of services to the city and residents in the short and long term. The high costs of housing and economic instability often disproportionately affect individuals already living on the edge. Supporting equitable policies and practices in housing and business makes our community stronger and safer. Residents who are safe, connected, and living affordably return that investment back into a thriving, diverse economy.
How can more affordable housing be brought into the community?
I have been very active with the city and Port Authority, working to address the housing issues that nearly every city across the country is facing. Not only do we use tax increment financing (TIF) to help accomplish housing projects, we've also recently been partnering with Three Rivers Community Action on a truly affordable multifamily housing project with the Minnesota Housing Finance Agency. Affordable housing cannot be addressed in isolation. The housing shortage in Red Wing drives up market rates and people aren't able to meet their housing needs. Adequate housing is necessary to stabilize our economics, safety, and equity.