Photos by Chelsie Lopez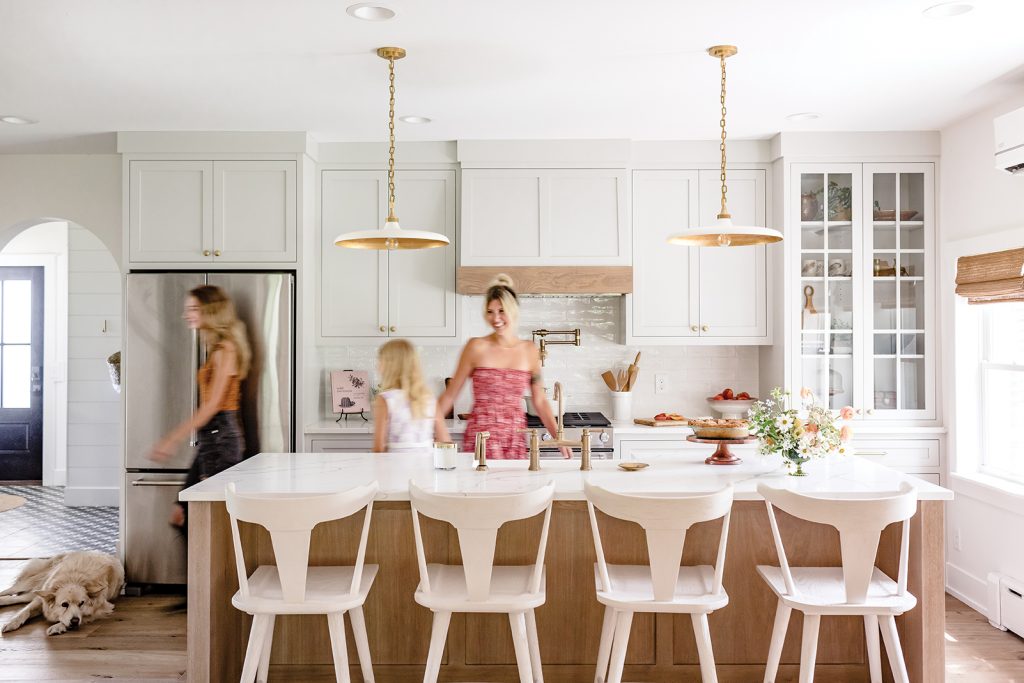 As soon as Marcelle Timonen stepped foot on this Delano property, she could picture her three daughters running through the apple orchard and enjoying the surrounding nature. Framed by a white picket fence, a quaint 1901 farmhouse in dire need of a renovation stood nearby. As the leaves of the mature trees rustled in the breeze, she knew right then and there that she was in love.
As co-founder and principal designer of Minneapolis' Haus of Rowe Interiors, Timonen is no stranger to major transformations. She believes in "form meets function" and relishes spaces inspired by nature and filled to the brim with curated décor. It's an approach she has applied to her own home, the very farmhouse she saw that day and knew was meant to be hers. Today, it's a place she shares with her husband, Jeff, their daughters, and a bevy of dogs and cats.
What the farmhouse—now dubbed Finlanders Farm—lacked in modern amenities, it made up for in the plentiful charm found on the 12-acre property. Although she and her husband weren't looking for that many acres or over 500 apple trees (they were simply hoping for some acreage where they could build or renovate a home to fit their family and style), they couldn't walk away after they saw the land.
"The first time we saw the home, my husband and I both [knew] it wasn't our style and would be a large project," she reflects, "but we knew it had good bones." For the past five years, Timonen has been pouring her heart into the 120-year-old abode. Even though the home had several homeowners and underwent addition after addition over the years, it was Timonen who went in with a full overhaul in mind. (In fact, she acted as the renovation's general contractor with expert guidance from Dan Gallus of Mike Gallus Construction.) 
She also knew she would have more ideas than resources. The opportunities were endless, she says, but she and her husband decided they could be patient. That patience resulted in a completely reconfigured kitchen, featuring a layout with a back kitchen and pantry that provides "extra space for all the entertaining we do at the farm," Timonen explains. She owes the ingenuity to her Haus of Rowe partner, Kate Adamcsek, who was a huge help when it came to solving the problem of the kitchen layout, along with assistance from Gallus. The kitchen was punctuated with custom cabinets by Northland Woodworks. 
The home now boasts a new exterior, mudroom, laundry room, main-level bath, living room, fireplace, flooring, and lighting. Additionally, the couple added a water filtration system, air conditioning, new boiler, and brought many items in the home up to code, Timonen says. 
It's also a place you'll find hidden gems throughout, such as small, cozy nooks where you can curl up with a good book. Since she believes it's important to preserve the integrity of the home, Timonen says she and Jeff added some traditional farmhouse elements as well, like the shiplap seen on several walls and farmhouse-inspired lighting. The calming color palette acts as a backdrop for Timonen's signature décor pieces, which create a look she calls "modern farmhouse with a twist of boho." 
But as a designer, Timonen knows the renovations will never be complete. She has areas on the second level she would still like to personalize and believes there are tons of possibilities and ideas for the home's exterior and barn. She's currently renovating the bunkhouse at the back of the property, which will eventually have an exterior to match the main house. "The goal is to make it a fun and eclectic playhouse for the girls and their friends to go glamping," Timonen adds. 
It certainly is easy to have fun on this property, and since Timonen and her family felt it was important to share it with others, they host an annual apple-themed event on the farm, complete with live music, wine, cider, food trucks, and all the apples you can possibly carry.
Although the farm shines its brightest in the fall when leaves are turning, Timonen equally loves the frosty trees of winter, white blossoms of spring, and greenery of summer. She feels right at home in a place that's stunning in all seasons.