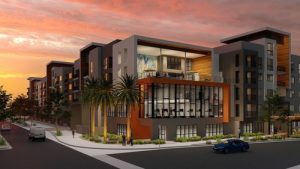 A new mixed-use development project in Phoenix, Arizona, has broken ground on its first phase.
The initial 272-unit multi-family community was designed by architecture firm Todd + Associates, in collaboration with Laurence Lake Interiors. It is the first vertical element in the City North project, located at the intersection of 55th Street and City North Drive.
This first phase will offer 12 floorplan options with one, two, or three bedrooms. Amenities will include a private pool, a fitness center, a co-workspace, an open courtyard, a bike storage room, a dog spa, and a fourth-floor multipurpose deck built with sustainable and recyclable materials.
Upon completion, the 40.47 ha (100 acre) project will include an additional 3000 residential units, 167,225 m2 (1.8 million sf) of Class-A corporate office space, 620 hotel rooms, and up to 9290 m2 (100,000 sf) of retail and restaurants.
The first round of residences is expected to become available in summer 2023.