Video narrated by Fred Mills.
HEAD OVER to Manhattan's far west side, and you'll spot a new skyscraper on the block.
Twisting more than 300 metres into the sky, The Spiral is the latest supertall building taking shape on New York City's ever evolving skyline.
But this isn't just any old skyscraper.
In a sea of glass, The Spiral will add a small touch of green through its cascading landscaped terraces that will, yes, spiral around the building.
The project is out to set a new standard for office design and finds itself completing at a time when the office tower is having a bit of an identity crisis. After sitting empty for nearly two years, there's now a battle underway to lure workers back to their offices.
The Spiral pulls out all the stops: sustainable building practices, indoor-outdoor spaces and a glimpse of nature several hundred metres in the air. But will it mark the start of a new look for the New York skyscraper, or end up as an exception in the concrete jungle?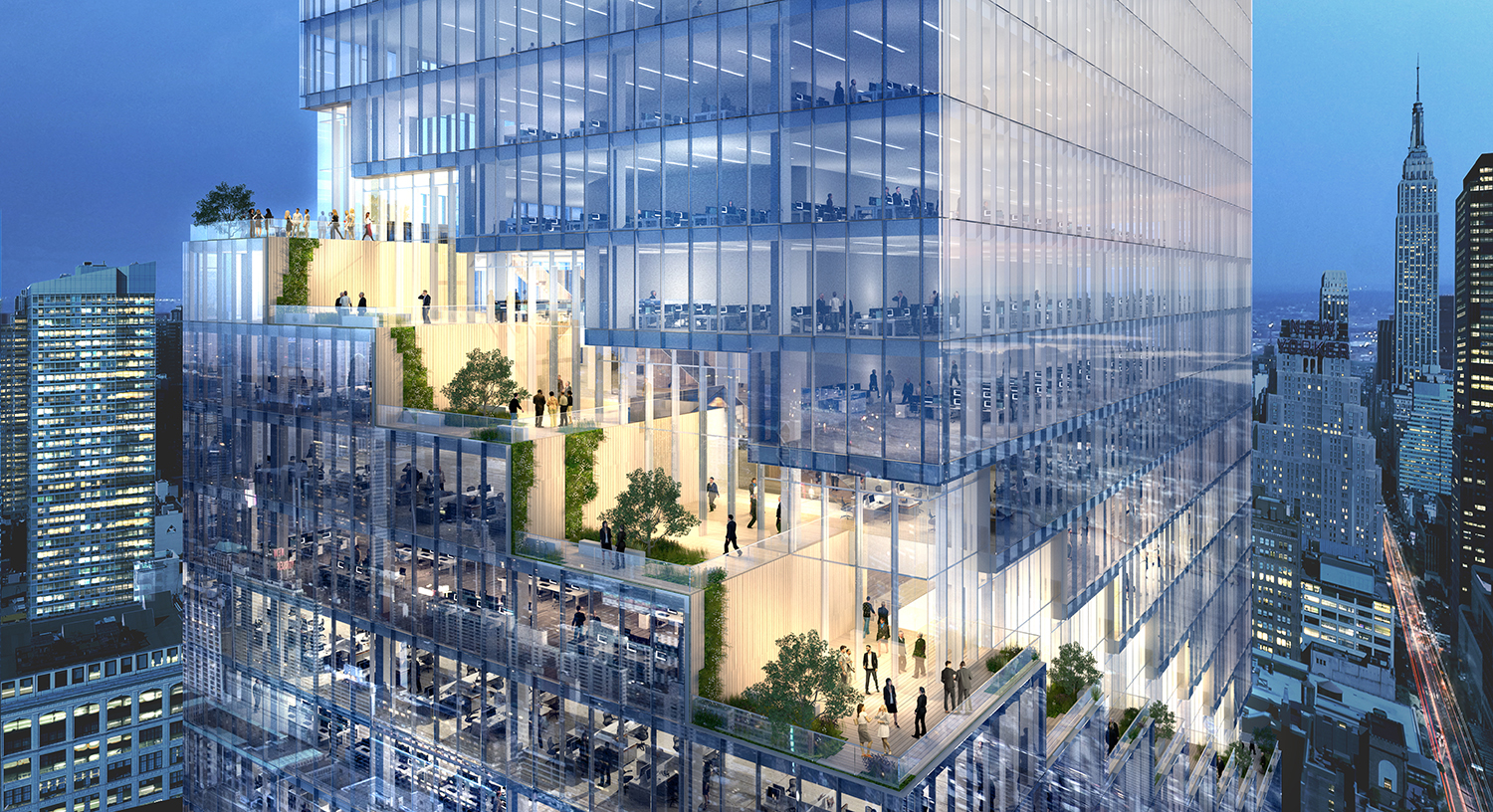 Above: The Spiral will add some green to the concrete jungle. Image courtesy of Tischman Speyer.
When it completes later in 2022, The Spiral will be the fourth supertall building to come out of the Hudson Yards neighbourhood. That's a new area, platformed over a live rail yard which – following a massive rezoning effort throughout the 2000s – has seen an explosion of construction projects in recent years.
The new zoning codes have led to hotels, shops, and new public space all opening-up in the district.
In 2016, Bjarke Ingels Group (BIG) unveiled plans for a $3.7BN skyscraper at 66 Hudson Yards with Tishman Speyer as developers.
Its design took inspiration from the spiral forms commonly found in the natural world and attempted to combine them with New York's classic skyscraper architecture.
Wind back to the early 1900s and there was very little regulation on building size and use in New York. As towers became taller and more densely packed, the streets of Lower Manhattan were getting darkened by their harsh shadows and city planners began to get concerned. In 1916, they passed a detailed zoning resolution.
Unlike other cities, its code didn't impose any specific height limitations. Instead, high-rises had to remain within a diagonal plane from the base so that light and air could still stretch to the streets below.
This regulation shaped buildings into stepped-pyramids or 'wedding-cake' designs. You might recognize this feature as part of the Art Deco style or for those of you less up to speed with your architectural eras: it's the building shape in all the Batman movies and comics.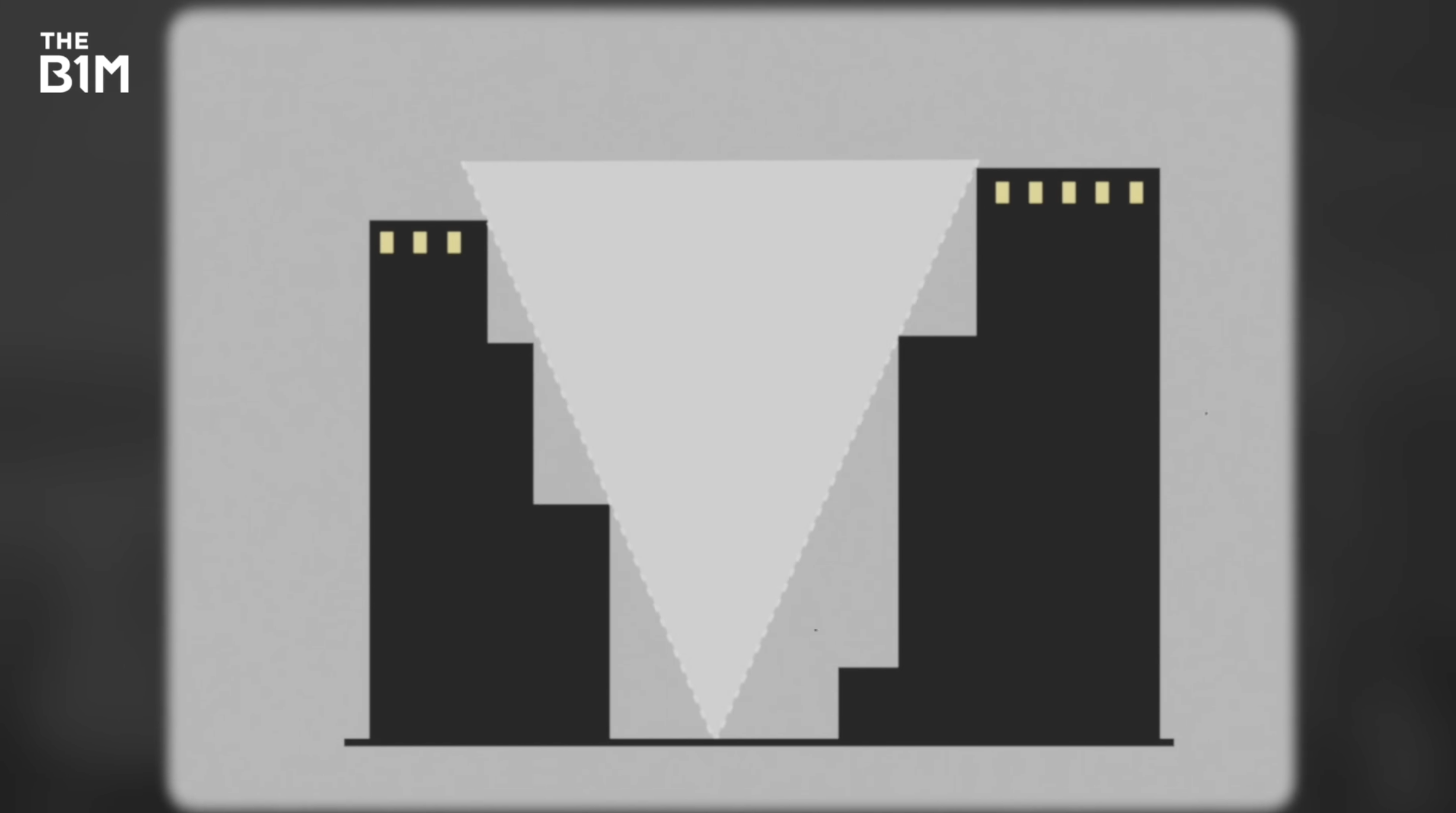 Above: New York City's 1916 zoning resolution led to stepped-back building designs.
Throughout these decades, the famous New York skyline was revolutionised as distinctive skyscrapers sprung up right across Manhattan. Think Rockefeller Centre and The Empire State.
It wasn't until 1961 when the law was revised to account for more modern infrastructure like parking for cars and open office space. That law is still in effect for New York City buildings today.
Despite the outdated 1916 code, The Spiral still tries to embrace the classic New York form while recognising that more than 100 years have now gone by.
There are more modern materials, floor to ceiling glass panels that enclose over the stepped back architecture and what the developers call "sustainable construction practices".
As The Spiral was going up, it used two main hoisting towers so that workers and materials could be transported quickly and efficiently, up and down the tower. Unlike traditional construction methods, workers were in an enclosed platform made up of mesh panels. The material minimised wind and meant they could work faster and more safely.
"The Spiral is a remediation of a former brownfield site" explains Dominyka Voelkle, an associate architect at Bjarke Ingels Group. "There was a lot of work done to actually recover the soil where the building stands"
"Turner Construction developed a very deep understanding on the efficiency of material sourcing so that we can improve on the distances they travel. They also have a very rigorous construction waste management and construction waste recycling programme"
In a city known as 'the concrete jungle' The Spiral introduces a splash of greenery.
Around the building's exterior is a descending twist of landscaped terraces filled with vegetation. The building's "spiral" connects all the way down to the High Line – New York's incredibly popular two-kilometre-long elevated linear park.
The idea is for these terraces to give people outdoor access from every floor, creating the chance for some fresh air and a break from sitting at a desk all day – something not all other office buildings do.
In early 2022, plants were just beginning to appear on The Spiral's facade – and more are set to be added in the warmer months of the year, including shrubbery, vines, and trees.
Once greenery fills each terrace, The Spiral will introduce an automated irrigation system, so that every plant is properly watered.
The Spiral's exterior certainly brings something fresh to the city's architecture, but head inside and that fresh vibe continues.
In most skyscrapers, floors typically operate in isolation from one another. But inside The Spiral, the outside terraces become double atriums. These are all interconnected between one another in hopes to spur interaction between workers and offer an alternative to elevators.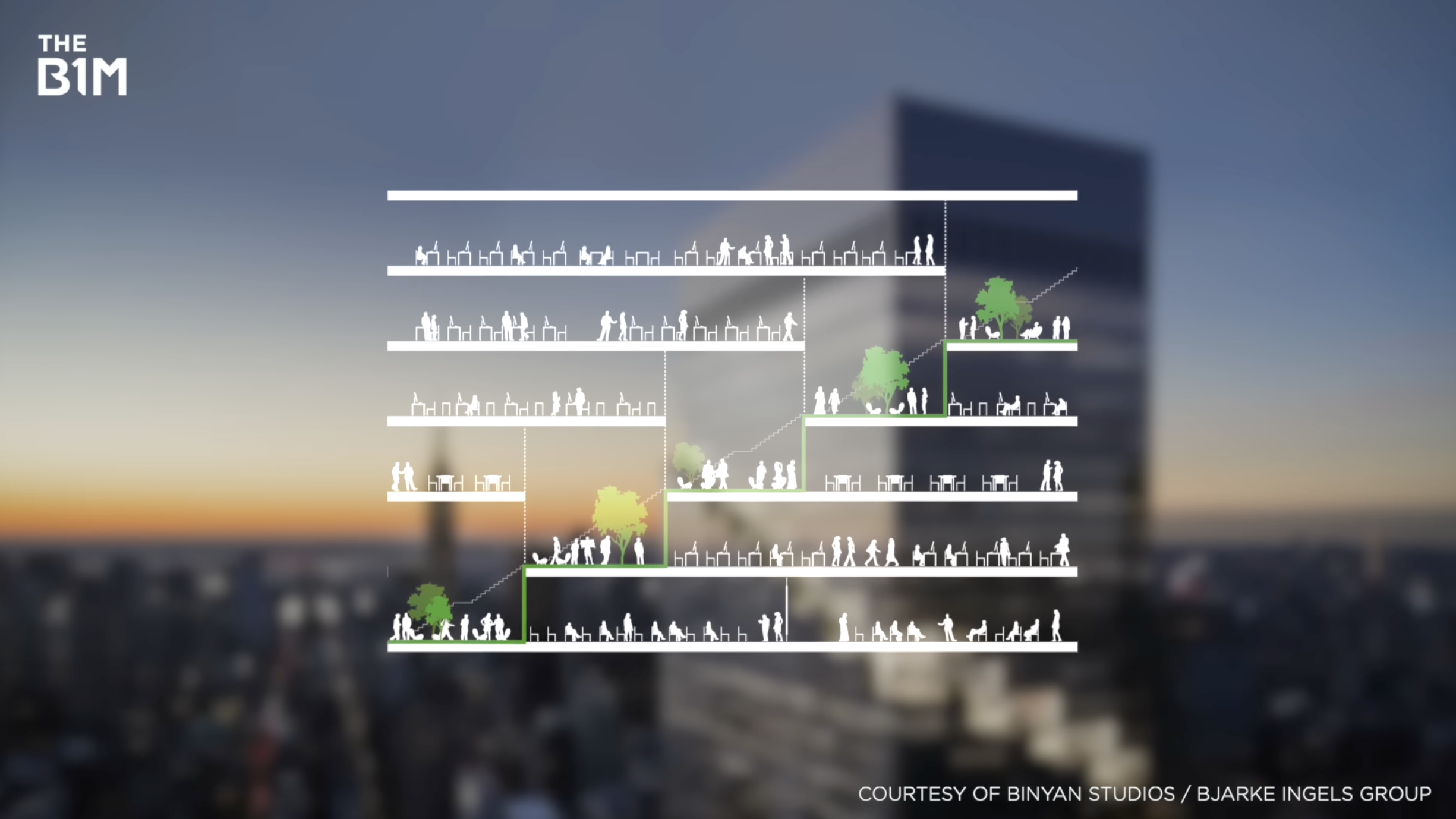 Above: The Spiral's floors will be connected by internal stepped atria. Images courtesy Binyan Studios and Bjarke Ingels Group.
Green in design and colour, these features all contribute to the building's effort to achieve LEED Gold Standard – that's the global framework for structures to be environmentally friendly.
The architects at BIG also hope that the integration between nature and the office will set the standard for future workplaces.
"In addition to seeing plants in vertical elevations, we're excited about seeing people at vertical elevations" adds Voelkle. "I would to encourage my colleagues to consider that it's not only about giving the view, but it's actually, in a sense, giving back to the city by occupying its vertical space".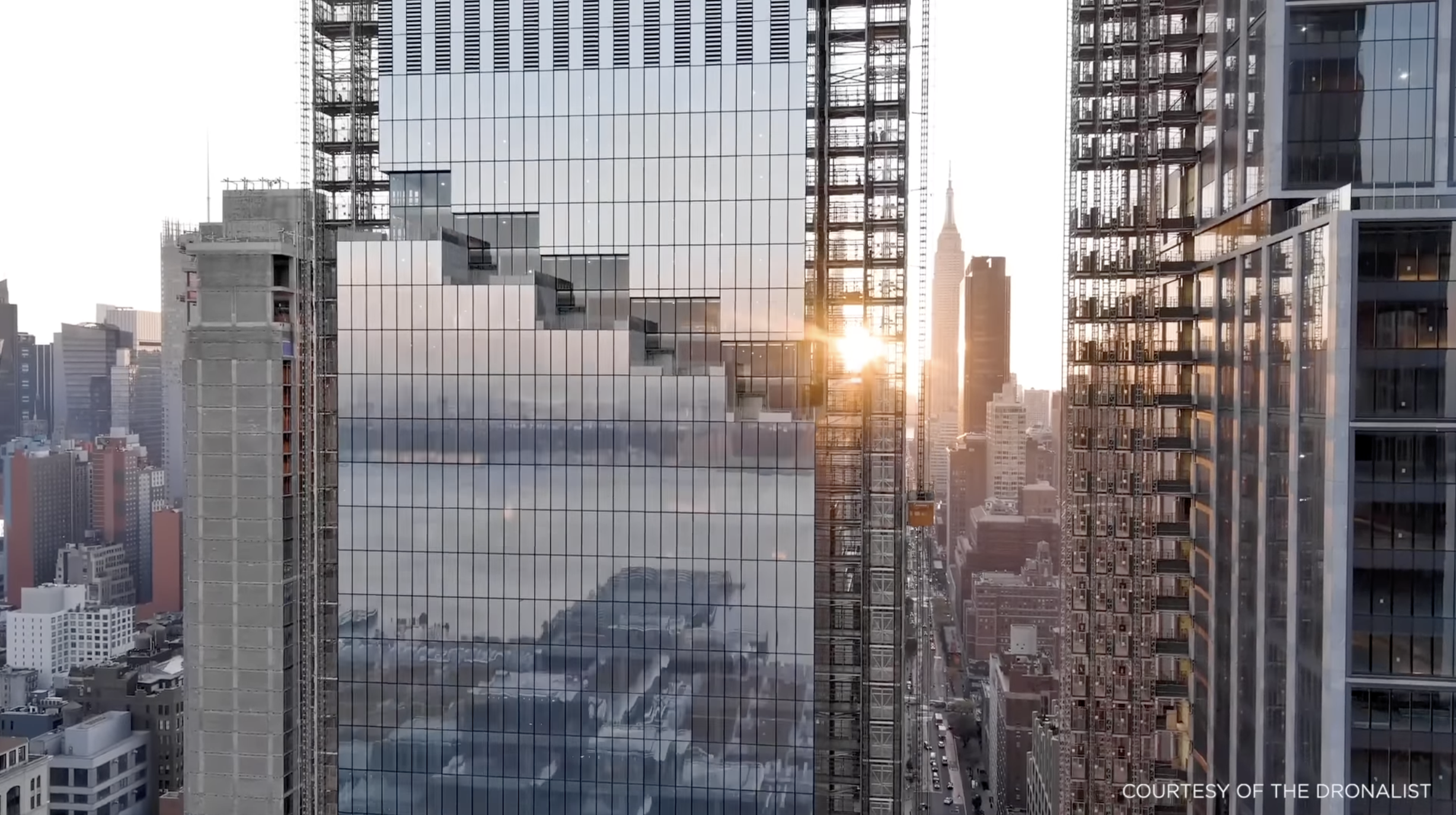 Above: The Spiral nearing completion. Images courtesy of The Dronalist.
As the time of publishing about 70 percent of the property is leased. The largest tenant signed on is Pfizer – the firm behind many of our COVID-19 vaccines – but other notable companies include Turner Construction and Alliance Bernstein.
Of course, it remains to be seen just how green this tower's spiralling garden will become and whether its design features will be enough to lure office workers back, but judging from its appearance as it nears completion, it's likely to make a colourful mark on New York's skyline of concrete, steel, and glass.
Vertical urban greenery has been on the rise in recent decades, but mostly outside the US. Bosco Verticale in Milan and One Central Park in Sydney are just a couple of examples.
The Spiral hopes to drive the idea of sustainable design for New York's future skyscrapers – especially its office buildings. Yes, it's one of the first of its kind in this city, but perhaps the concrete jungle might have a whole new look in years to come.
Video presented and narrated by Fred Mills. Additional footage and images courtesy of The Dronalist, Squint / Opera, Binyan Studios, Bjarke Ingels Group, NY Mayor's Office, Tishman Speyer and Joe Thomas.
We welcome you sharing our content to inspire others, but please be nice and play by our rules.