A legal dispute involving retail giant Amazon and Indigenous South Africans has highlighted a global dilemma: Are sacred sites more important than job creation? Indigenous groups have been fighting back, writes Silja Fröhlich for Deutsche Welle.
Indigenous Khoi and San people went to court to block the construction of the planned African headquarters for online retail giant Amazon. Opponents say the project will ruin a historically significant riverside site in Cape Town and harm the environment. The development was under construction on sacred land, the spiritual home to the Khoi and San ethnic groups. 
South African President Cyril Ramaphosa has been seeking to woo foreign investment to create job opportunities. However, Genevieve Rose, head of the African Commission on Human and Peoples' Rights (ACHPR) has said that it "should not happen at the expense of Indigenous peoples." The only thing Indigenous peoples would ask for, Rose said, is for their rights to the land where the development is taking place to be recognized and that they are given proper consideration.
Similar scenarios have happened elsewhere in Africa. For example, in the 1970s, the Kenyan government evicted hundreds of Endorois families from their land to create a wildlife sanctuary for tourists.
In a historic ruling in 2021, the Kenyan Environment and Land Court in Meru declared the title deeds to the land on which the LTWP stands "irregular and unlawful." Indigenous people had complained that the wind energy project did not obtain consent, did not pay adequate compensation and violated applicable land laws.
Batwa land has also been converted into national parks and forest reserves against their will in Burundi and Uganda. And in Ethiopia, pastoralist peoples were forced off their land so foreign and national companies could lease it.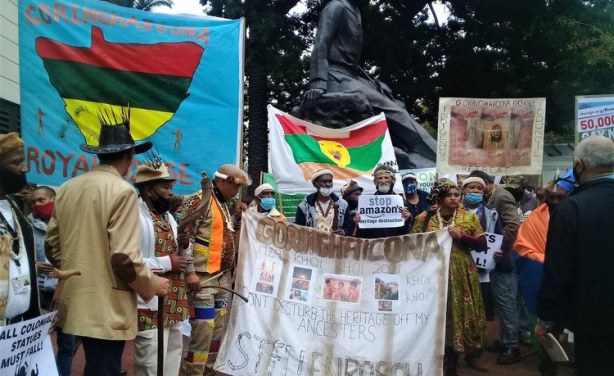 About 100 people marched through Cape Town city centre to deliver a petition with 50,000 signatures objecting to the proposed Amazon development at the Two Rivers Urban Park.