RESIDENCE IN EUBOEA BY tense architecture network
Overlooking the Euboean Gulf in Greece, this concrete residence by Tense Architecture Network (TAN) takes shape as a two-story, triangular construction. The building stretches along the diagonal, and it's designed to make the most out of the site's landscape and the view while maintaining enough distance from the adjacent plots. The curve-shaped, outdoor space serves as an expansion of the house's living area and features a sculptural, circular pool made also from reinforced concrete. 'Its circular shape works in addition to the triangular prism – freely placed into the surrounding countryside,' explains the greek architecture studio.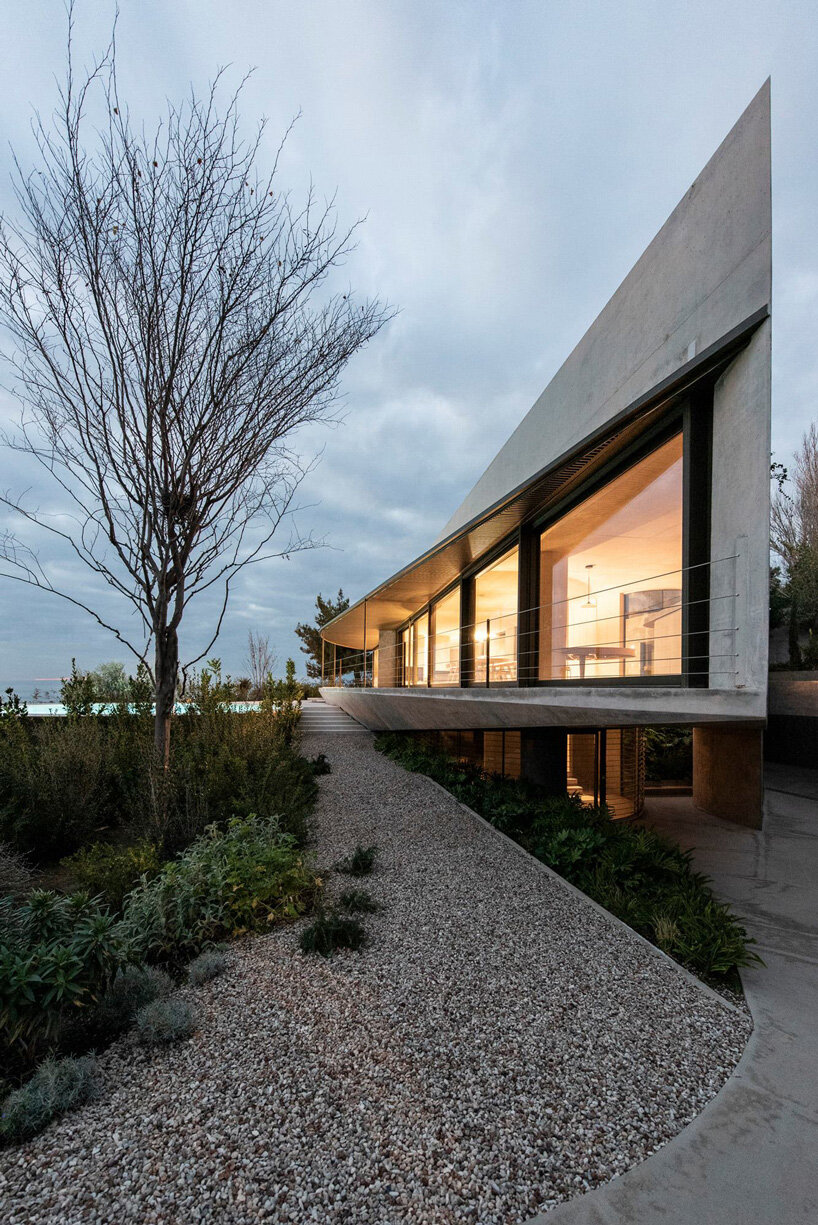 all images by Tilemachos Andrianopoulos
A triangle house with a circular swimming pool
Tense Architecture Network has set the residence in Euboea on an inclined plot that offers expansive views of the nearby sea. The main areas of the home are located on the perimeter of an atrium that houses an internal courtyard.
Spaces unfold on two levels, with the first level enclosing the entrance, the parking and other underground supportive spaces such as a cellar, the swimming pool infrastructure, and storage. Meanwhile, the greek architects have placed the living room to the southwest of the upper level, as well as the sleeping quarters, and connected the two via internal corridors. 
Built in reinforced concrete, the residence is painted with earthy, absorbent paint that remains untreated on roofs, insulated and covered with dry-laid panels on the inside, accompanied by brick-walls. The double glazed window frames are made of bronze-colored aluminum, with an outer roller, along a few fixed glass panels. The curved outdoor space hosts a pergola of metallic elements of the same shape, while the circular swimming pool acts as the focal space of the home's exterior design. Uncovered space is formed by surfaces of pressed or natural soil, which is appropriately planted with dry-heat shrubs and trees.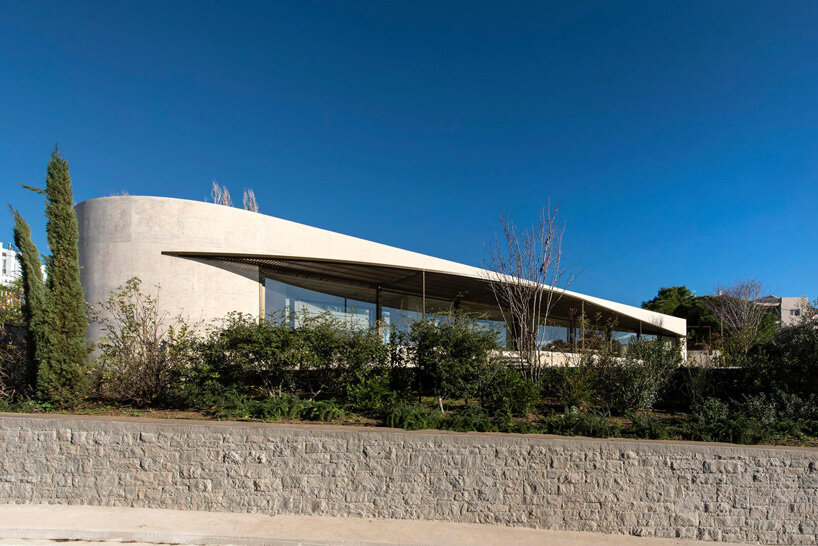 the home's outdoor pergola is made of metallic elements

the home overlooks the Euboean Gulf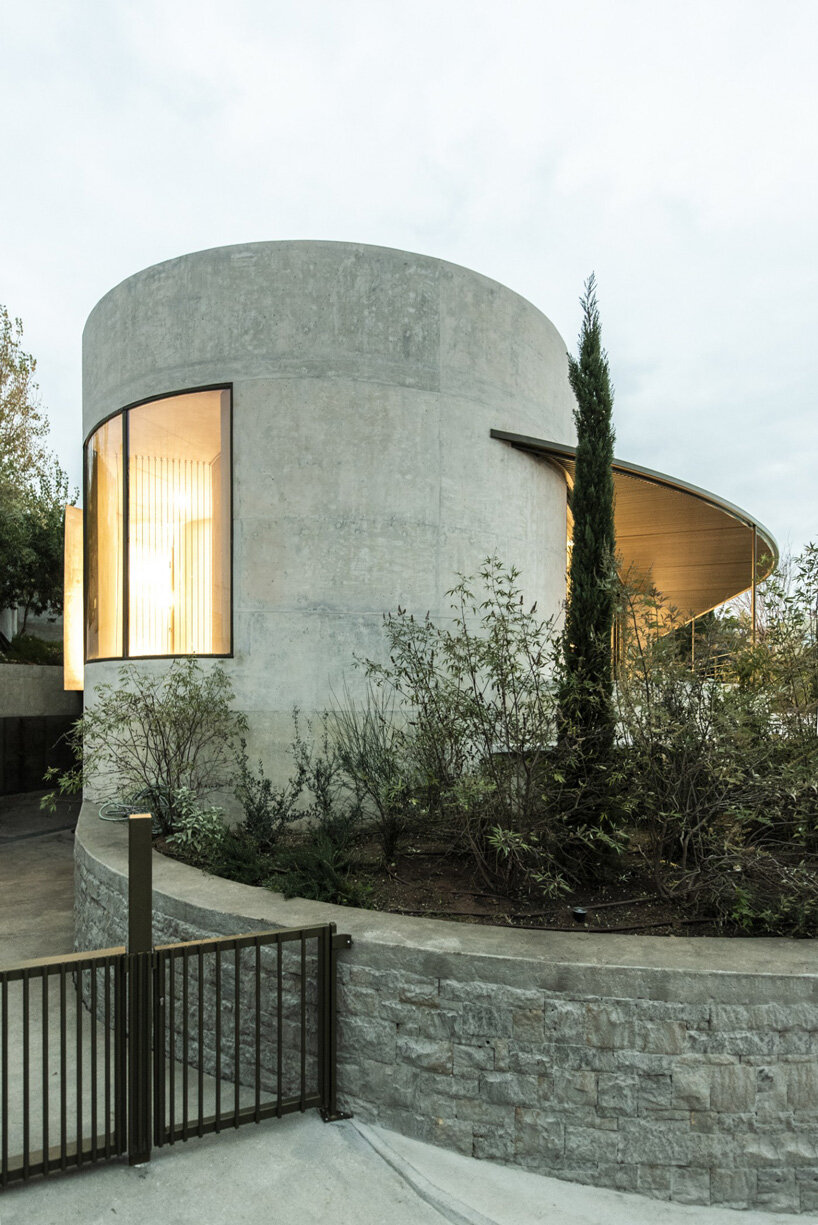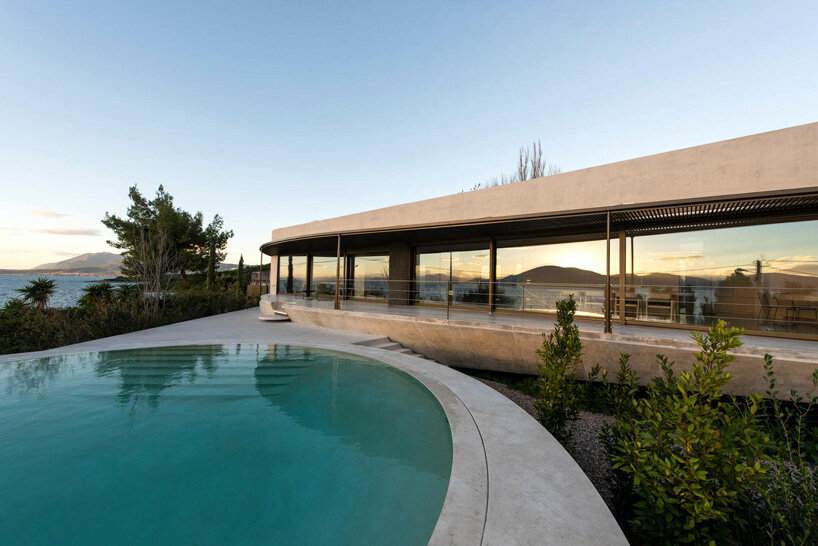 the circular swimming pool acts as the focal space of the exterior