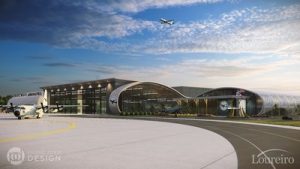 A new air cargo and aviation complex (ACX) project has taken off at New Hampshire's Portsmouth International Airport at Pease.
Loureiro Building Construction will design the 43,200 m2 (465,000 sf) facility with a commitment to environmentally clean technology, including rainwater recycling, solar energy capture, and the utilization of green building materials. Funded by East West Aeronautical (EWA) and Valorev Capital, the proposed ACX project will be bigger than the existing airline terminal.
Loureiro Building Construction will use innovative eco-technology to construct the buildings. In addition to building the complex, EWA is considering the purchase of two Airbus A320 airplanes to start a cargo airline to carry both passengers and cargo.
"We are working with EWA aviation experts to assure a low carbon footprint that is energy-efficient and sustainable," says Thomas Roy, senior vice-president of Loureiro Building Construction. "The ACX project is unique, offering the public multiple aeronautical uses, including air cargo, hangar, Air Force-Navy Museum, and aviation offices."