The National Gallery of Victoria's current architecture commission – the sixth in a program that is now an annual event – is a pink-lined pool with an adjacent garden bed of indigenous wildflowers. A low ramp – also paved pink – separates these elements. At the end of the pool, a wide pink terrace is furnished with a wide pink bench from which the pink pool can be contemplated. The setting is the green space at the back of the gallery – the Grollo Equiset Garden, if I must give it the name of its corporate sponsor – which has various sculptures permanently installed among its trees, and the perennial borders fashionable in gardens these days. Pond[er] is somewhat awkwardly built around one of the garden's key sculptures – Henry Moore's Draped Seated Woman (1957–58), which is rather transformed by its new but temporary framing.
The NGV's media release suggests that the pink pool is "evocative of Australia's inland salt lakes." Having learned of this reference before I saw the installation, I wondered how the sludgy saline mix of the salt lakes would be re-created at the site; I imagined some confronting artificial ecology that emulated the environmental conditions in Australia's interior to produce a pool of pink algal bloom. How to introduce such a stinking mess to an art gallery? I was a little disappointed that Pond[er] turned out to be much more benign – a shallow pool in which children can play and weary exhibition visitors are invited to cool their feet. Its references, then, may seem more connected to childhood memories of municipal parks and their paddling pools than to inland Australia.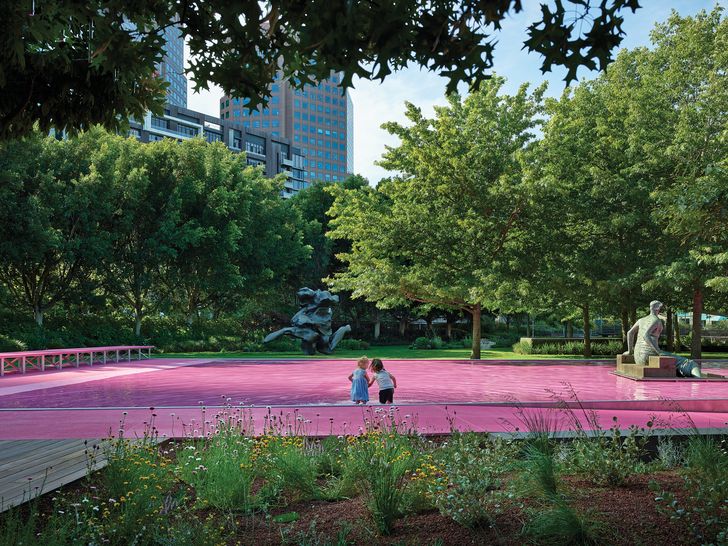 The pink complicates these memories. It's artificial, assertive, saccharine. A colour architects hardly use. It brings to mind Luis Barragán – the pink of Pond[er] appears to be the same pink Barragán used for walls in his own house in Mexico City, and at the famous Cuadra San Cristóbal equestrian centre, with its shallow pool in which horses can exercise. Barragán's chromatic daring is found in the work of other Mexican architects – notably Ricardo Legorreta – such that it has almost become a cliché of Mexican design. When I visited the Grollo Equiset Garden, some purple jacaranda trees in full flower rather underscored such an exotic reading. The innovation here is that at Pond[er], the pink is in the pool.
Barragán aside, on one hand, the pink seems to underline joyful innocence; but on the other, in its designerly consistency and plenitude, it seems very "knowing." The playfulness conjured up by Pond[er] is apparent on social media, where the NGV's feed features lots of images of happy kids frolicking in the pink glow. More to come as summer proceeds, no doubt. Given Melbourne's temperate climate, these frolics will presumably cease by April and Pond[er]'s happy summer colour will start to read rather poignantly as the greyness of the city's winter approaches. Will the management regime tolerate drifts of decaying leaves from the oak trees adjacent, or will the pool be kept pristine? Either way, the pink will be an energetic jolt in Melbourne's sombre wintertime mood. I can't wait!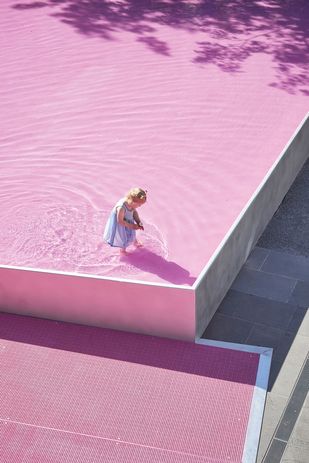 But pink is not only innocent. Exactly what does Pond[er] know? What should it know? I suppose the PR references to inland salt lakes invite us to contemplate the project through an environmental lens, to recall Australia's slow-burn water crisis. But I think this invitation will be mostly missed – the pond is just not saline lake-like enough. Pink has various other contemporary connotations, mostly shimmying between the feminine and feminism. "Think pink" may be the slogan currently used by an Australian breast cancer charity, but it probably has its origin in the "Think Pink" number in the 1957 film Funny Face ("Think pink! Think pink! When you shop for summer clothes / Think pink! Think pink! If you want that quelque chose…"). Assertive and energetic, the Funny Face "Think Pink" could be read as a proto-feminist subversion of the cultural genre to which it belonged – pink as power, not as subordination. Contemporary feminist appropriations of pink seem to play with this. Perhaps this is what Pond[er] asks us to contemplate, even if it's not quite what the designers had in mind.
Does any of this matter? I think it does. What differentiates Pond[er] from the average paddling pool is 99 percent its hue. Sure, the indigenous planting in the flowerbed is exquisite, the pond is more elegantly made than its average municipal paddling pool brethren, the detailing of the bench is Donald Judd-ish. But it is the pink that takes your breath away. And I have no doubt it is the daring of the pink, its sheer audacity, that won Taylor Knights and James Carey the commission. It comes down to pink. What do you think?