.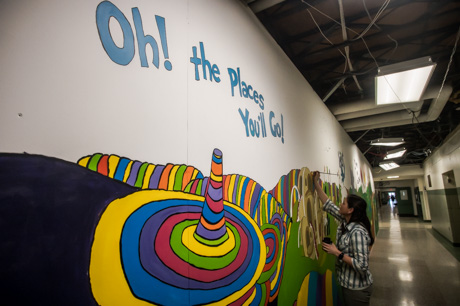 Out of all the exciting upgrades and renovations happening at Oakfield-Alabama School District, it's perhaps the middle-high school revamp that will be of most importance.
The Lewiston Road school hasn't exactly stood out to folks up to now, Superintendent John Fisgus says.
"We really need a front entrance at the middle-high school. We're going to have a huge lighted sign out front that says Home of the Hornets, so it'll be branded, where you can't miss it. If you've never been to our campus, it's hard to find. So we wanted to really make it welcoming and obvious to people when they pull in here, where the front entrance of the Middle-High School is," Fisgus said Thursday to The Batavian. "We're excited about all this work —- Currently, right now they're in the process of demo'ing the front entrance to our Middle-High School. It is a mess, but it's progress."
That "progress" is part of a $15.3 million capital project approved by district voters in 2020. After nailing down the blueprints, contractors and plan of action, the work has been evolving at both the elementary and middle-high schools, with a completion date of this August.
The district's goals were to improve safety and security at the schools, meet building codes and Americans with Disabilities Act requirements, complete mechanical and electrical infrastructure, and landscape upgrades. 
District officials presented the plan as a "tax neutral" project, due in large part to state aid, with remaining costs paid for with capital reserves money. All of the dirt, commotion and periodic disruption from equipment will be worth it in the end, Fisgus said. 
"We are redoing our Middle-High School main office, the guidance and mental health suites, we're redoing the front entrance here, to make it a more secure vestibule. All of the windows in the middle-high school building are being replaced with tinted windows and brand new frames and colors. So it's not the old green 1950s stuff.
"A majority of the work has been completed at the elementary school," he said, including cafeteria, stage and kitchen redesign and reconstruction and a new main office area with a secure vestibule and entrance so that visitors will remain behind a locked door once buzzed into the building. 
"There are still some minor things that, whether we're waiting on warm temperatures to finish the front entrance, or that we redid the elementary cafeteria and some of the flooring needs to wait to be done over the summer because it's a major project," he said.
Bleacher replacements, a gym divider and acoustic improvements in the gym and reconstructed toilets in the fifth-grade wing, a repositioned playground with newly graded mulch, borders and rubber mattings, a reconfigured front campus parking lot and a new student drop-off and bus loop will complete the elementary school's phase one scope of work.
How about some brand new, resurfaced and repainted tennis courts? They're outback, with a new basketball court. An atrium wall of windows with skylights and district branding will complement a safer entranceway for the middle-high school as well. In addition to the new welcome sign will be labeled for other community sites, such as the entrance to the aquatics area. 
Much of the work wasn't about want, but about need, Fisgus said.
"The big thing was to increase the security," he said. "It's construction and there's a lot of vehicles here and a lot of supplies and materials, but, it's moving right along. And we're happy with the work being done. It's intrusive, but, you know, it'll be great once it's completed."
Top photo:  Art Teacher Kim Leupold puts the finishing touches on a mural created by students at Oakfield-Alabama Central School on Lewiston Road (Route 63).  The mural is on a temporary wall in a hallway next to the new main office for the Middle-High school. 
Photos by Howard Owens.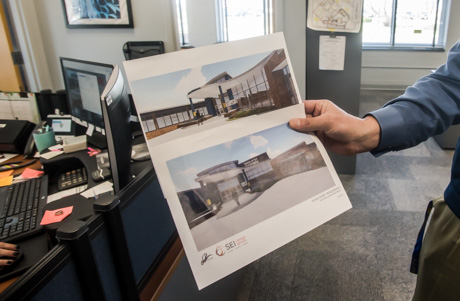 District Superintendent John Fisgus holds renderings of exterior building designs.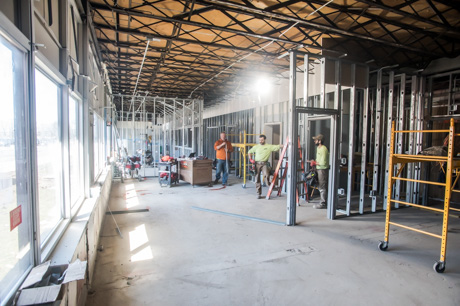 Construction in progress for the Middle-High school's new main office.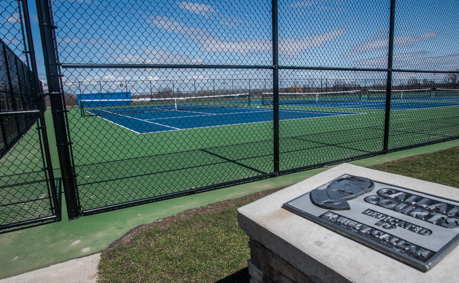 Newly resurfaced and painted tennis courts are part of O-A's capital project.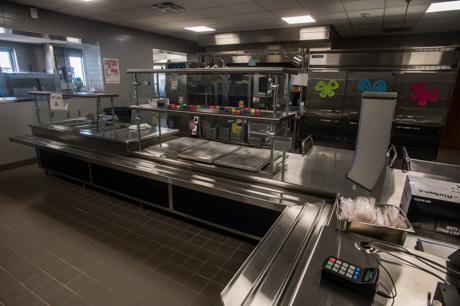 The remodeled elementary school cafeteria is ready for hungry youngsters.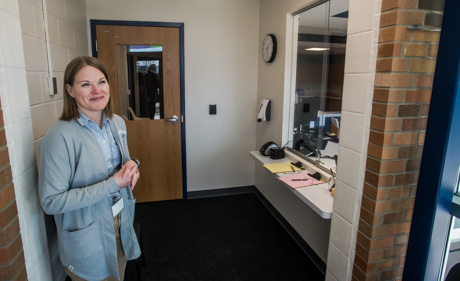 Oakfield-Alabama Elementary School Principal Lynn Gehlert shows the new — and more secure — entryway for the elementary school.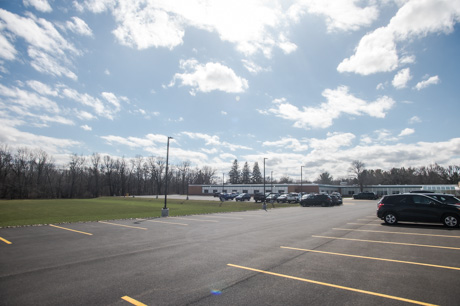 An expanded parking lot at the Middle-High School allows more room for visitors.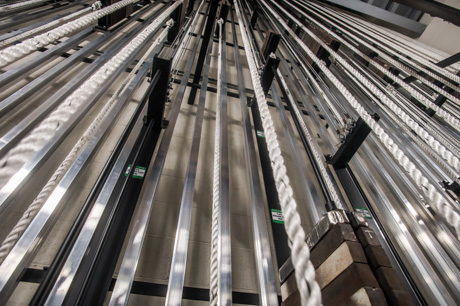 In addition to new stage lights in the auditorium, the rigging system has been upgraded.  Work will begin to replace the stage after the annual musical.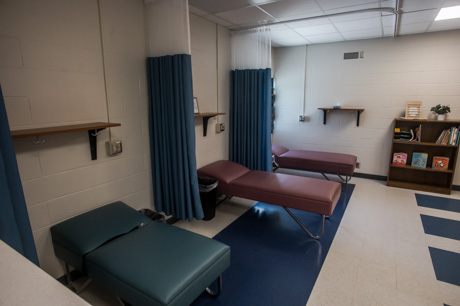 The new Nurse's Office in the elementary school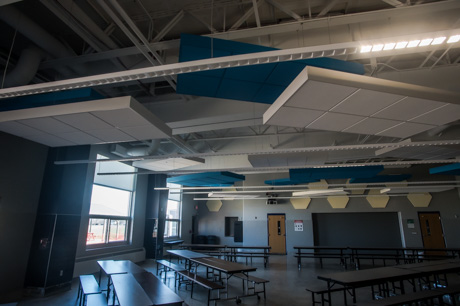 Acoustic tiles in the ceiling of the remodeled cafeteria in the elementary school will help dampen sound.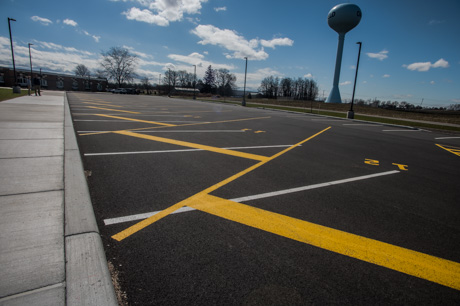 The new bus lot for pick-up and drop-off is exclusively for buses during those designated periods, and it also serves as an overflow lot for special events at the school when buses are not transporting students.
Oakfield-Alabama's $15.3 million capital project is in full swing, with a completion date by this fall.