a coastal outcropping in port de la selva
a new house has been unveiled by marià castelló, embedded into the seaside rocks of port de la selva. while the small coastal area is located in the northernmost region of spain's costa brava, the concrete dwelling is located in the 'la tamariua,' a small promontory that surrounds and protects the town's port.
the dramatically sloping topography leads down to the sea and is made up of 'pòrfit,' a dark and very hard rock that expresses the site's volcanic geologic origins. with weather conditions typical of the mediterranean climate, the winds can be frequent and extreme.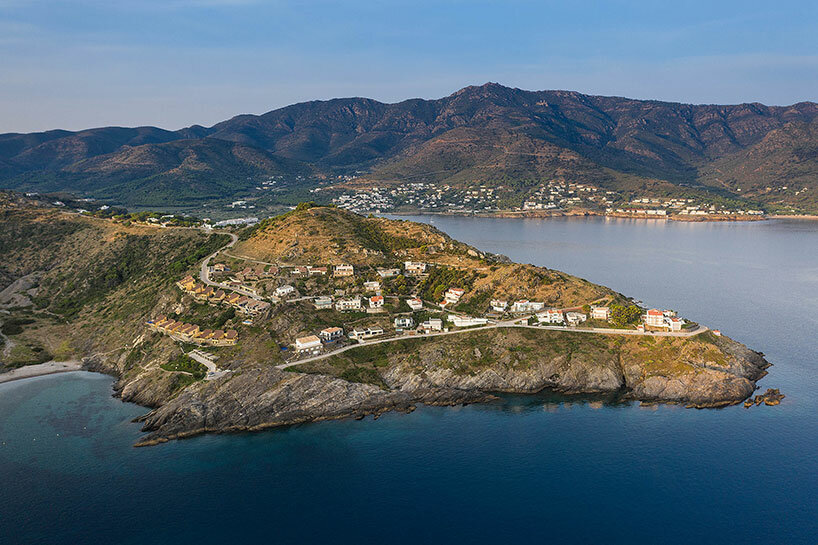 images © marià castelló | @mcastello_arch
a house of divided volumes
in designing the port de la selva project, marià castelló (see more here) and the design team considers optimal solar orientation, deep panoramic views, and a program for a family of four. ultimately, the house is compressed into two levels — the lower embedded in the bedrock and the upper fragmented into two volumes. these combined strategies, embedding in the ground and volumetric division, allows for a reduction of the intervention's apparent volume, and improve its integration into the landscape. further, a series of patios are generated which strategically provide warmth, lighting and ventilation.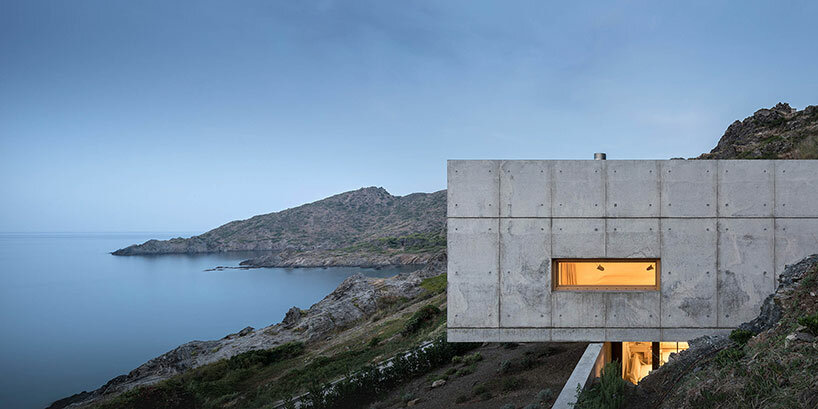 a dialogue between concrete and cliff by marià castelló
marià castelló notes that the most 'lyrical' moments of the port de la selva house are those where the built space and the natural 'pòrfit' rock meet. such intimate moments are clear at the lower level where smooth concrete nestles alongside the natural wall of rock. along the upper level, the two volumes open outward to the sea and the horizon beyond.
the top level also sees these introverted spaces generated between the volumes and the rocks. a glass volume, which connects the two concrete bodies and hosts the vertical circulation, encloses an exterior courtyard which is sheltered from the wind but maintains a visual connection to the sea. this south-facing courtyard further ensures natural sunlight during the winter months.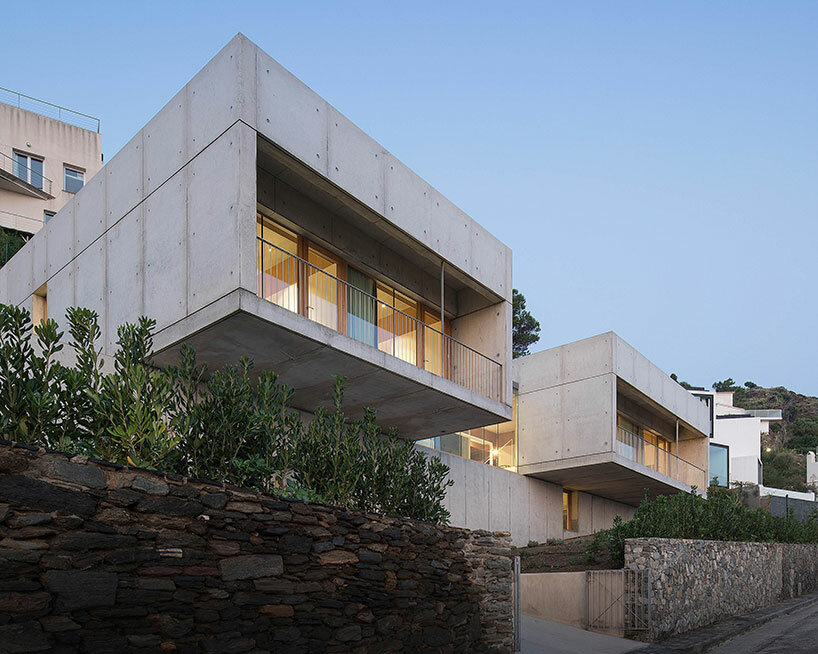 the lower level is embedded into the cliff, while the upper level is divided into two volumes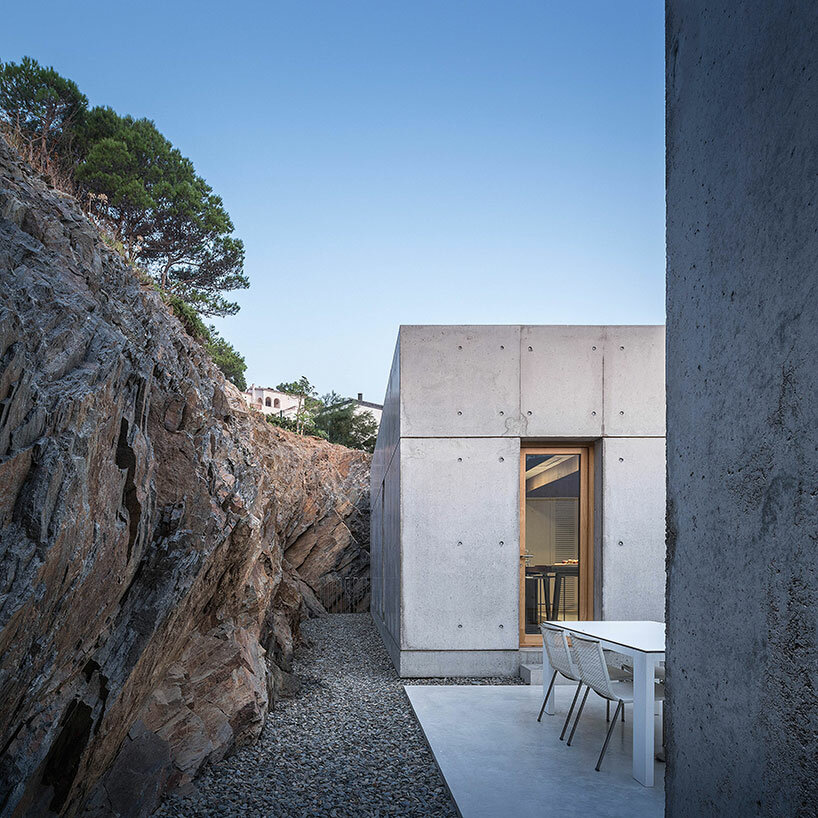 intimate moments see the meeting point of the cliff and the architecture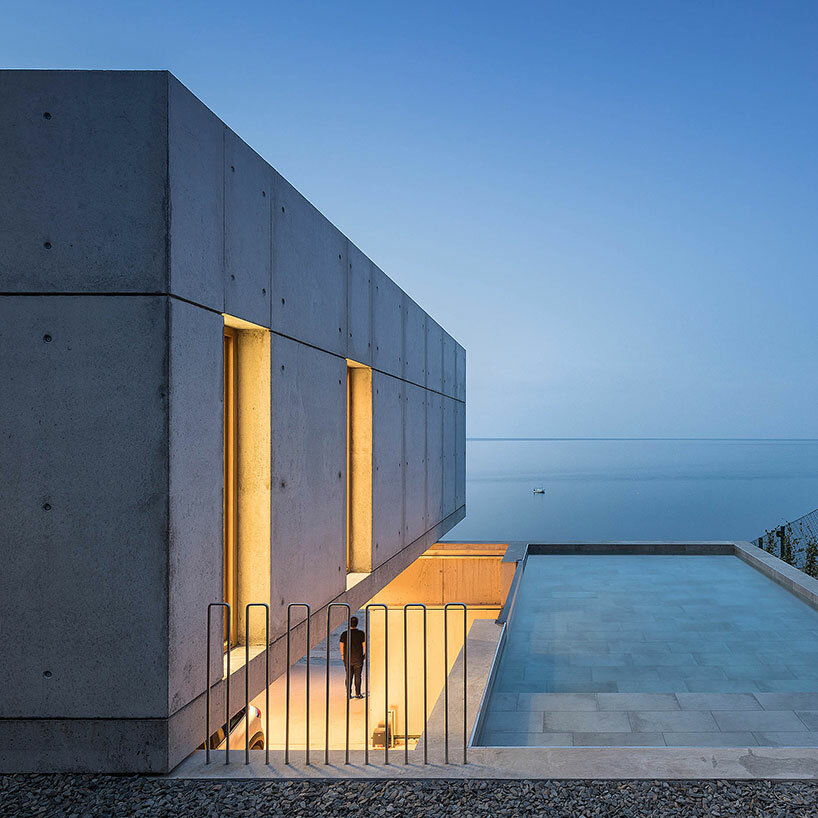 strategic patios and openings allow for natural sunlight and ventilation