the winning design by kengo kuma and cche
kengo kuma & associates and swiss architects CCHE have completed their grand morillon student dormitories, unveiling the design with photography by vincent hecht. the structure is the result of a winning competition entry announced in 2017, organized by the graduate institute of international and development studies (IHEID). located in geneva, switzerland, the light-filled project takes shape as a cluster of volumes which have been 'carved' away to reveal a continuous pedestrian promenade running throughout, and integrating shared community spaces along the way.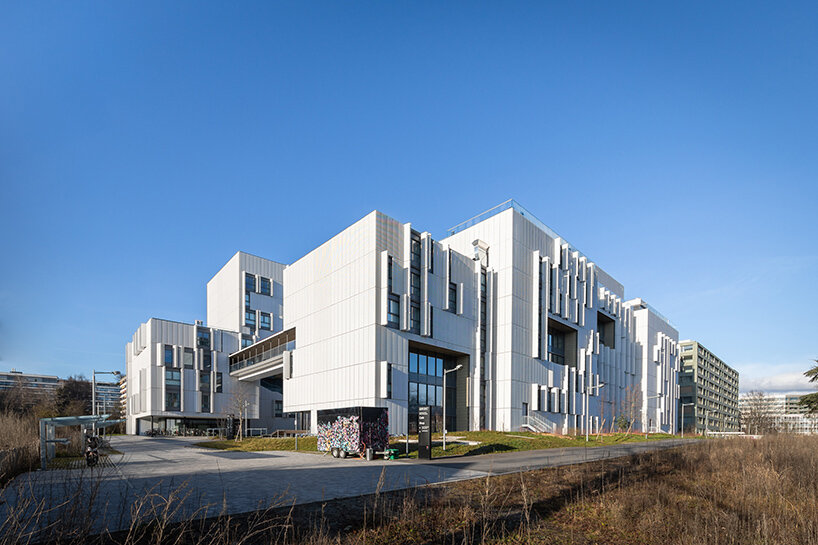 images © vincent hecht | @atelier.vincent.hecht
natural community through architecture
kengo kuma & associates (see more) and CCHE (see more) design the grand morillon student dormitories to emphasize the dialogue between community and moments of privacy. the project houses 700 beds for IHEID students. while offering these various apartment types for private times of retreat, the two teams understand the need for spontaneous interaction between students while traveling between the dorms and classes. 
rather than connect the building with vertical circulation, relying purely on elevators, the carved-out ribbon of promenade ensures that students will have these points of meeting and engaging along their way. a natural community is thus promoted alongside the private apartments so that students are not isolated.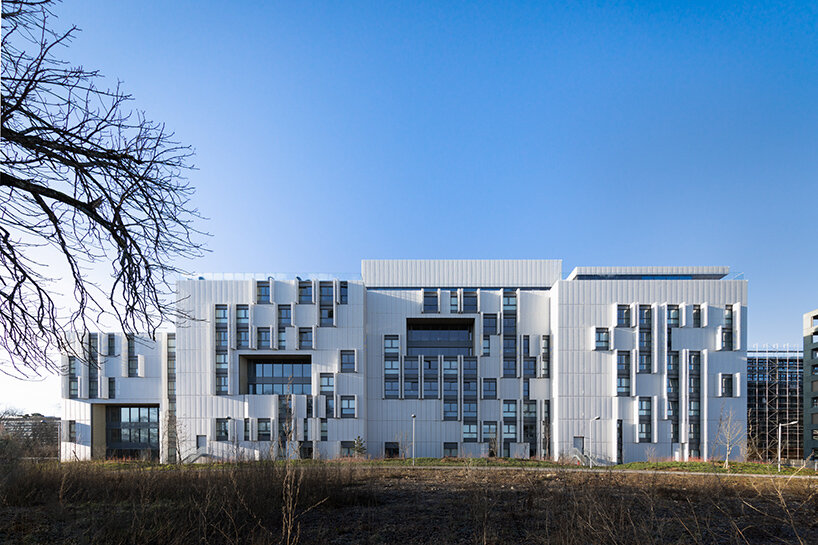 the metal facade opens outward with sliding shutters
living in the grand morillon student dormitories
the kengo kuma- and CCHE-designed grand morillon dormitories thus incorporate common spaces across all levels. the design team rejected the typical organization which sees shared areas on the bottom levels with apartments designated to the upper levels. this may lead to a sense of seclusion as the community spaces are not passed through naturally. instead, the common areas — including communal kitchens, laundry rooms, sport facilities, library, study areas, cafeteria — are scattered across the buildings, linked directly to the carved pedestrian promenade.
inside, the spaces are curated with warm wood to contrast the gray and white tones of the facade. the team at CCHE elaborates on the architecture: 'four strong architectural elements define the building: a gradual walk carved into the facade that links the buildings and their activities from bottom to top, a footbridge bringing together the two bodies of the building, a metal facade with sliding openings and aesthetic and functional interior spaces.'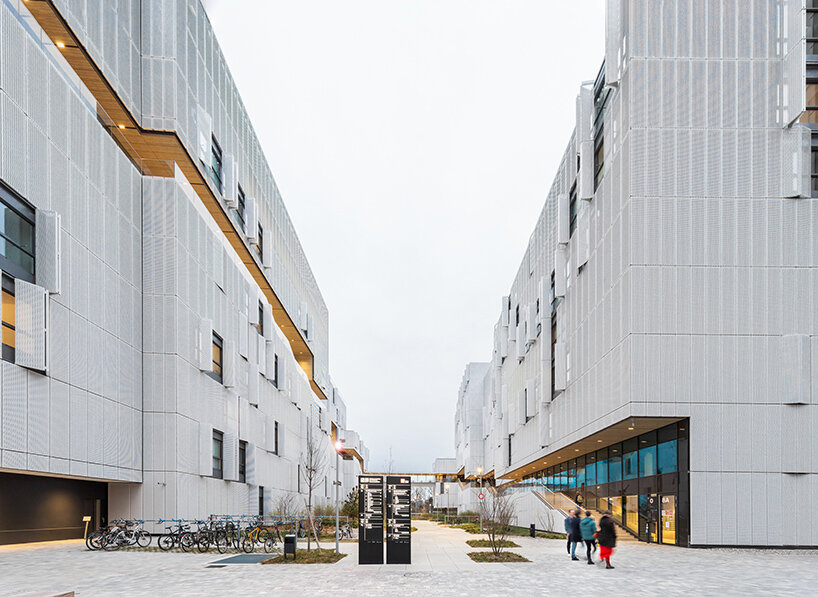 the warmth of the wood contrasts the light facade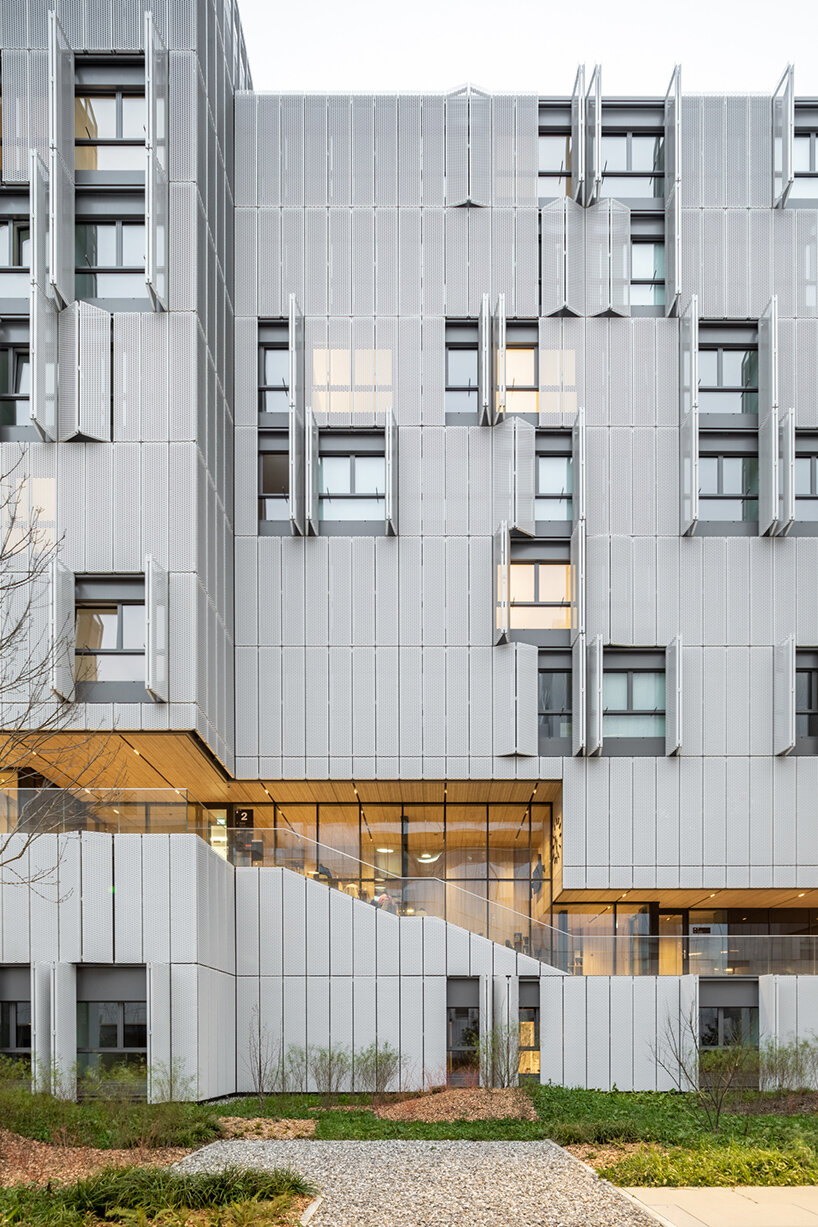 the carved-away promenade promotes a walking-conscious lifestyle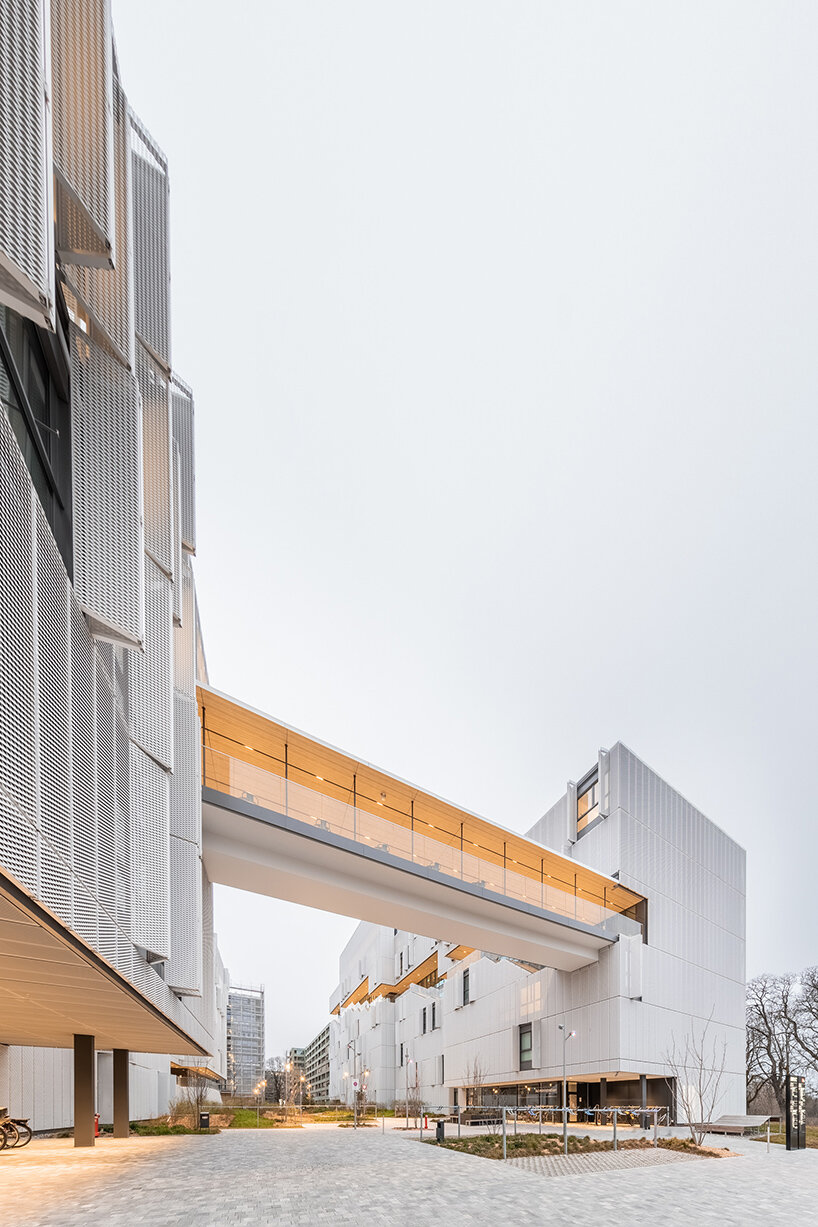 the cluster of buildings are connected by a footbridge, continuing the promenade