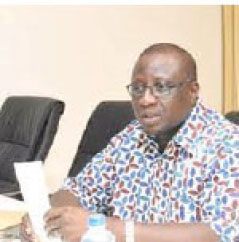 The director of Human Resources and Administration (HRA) Department at The Gambia Revenue Authority (GRA), has urged colleagues that integrity and professionalism are very important as revenue officers, further challenging staff to always treat people with respect.
Ernest Mendy was speaking recently at a two-day seminar convened by the Human Resources and Administration (HRA) department of The Gambia Revenue Authority (GRA).
The seminar basically, seeks to look at the challenges and shortfalls and to chart a way forward.
Consequently, this year's event, the fourth edition, was held under the leadership of the Commissioner General, Yankuba Darboe.
Mendy expressed optimism that the forum will no doubt create avenue for frank discussion among staff and to highlight concerns, challenges at their various work places.
"The two-day event would also avail the staff the opportunity to make suggestions, recommendations, observations which is all geared towards helping the department to work better to improve on the shortcoming."
He recalled that the event started way back in 2018 and since then every end of year they organize a convergence to both look at what is right and what went wrong and improve on those shortfalls.
This, he added, would motivate and boost staff morale to do better in the subsequent years.
Mendy noted that the move is within the authority's corporate strategic plans, saying HR and Administration department is implementing the human resources goal and in doing so, they plan what to implement.
According to him, they have 198 staff under the Human Resources and Admin Department across the country, out of which 30 staff were lucky to be selected to partake in the two-day convergence.
"The Department of HR and Admin manages all the staff of the Authority, therefore the issue of punctuality is important as it provides services to clients."
He equally urged staff to be focused and to always demonstrate high sense of commitment and dedication to their work.