frank lloyd wright designed a doghouse
69 years into his career as a revered architect, Frank Lloyd Wright designed a humble lodging that deviated from his usual oeuvre: a doghouse. The arc begins with Robert and Gloria Berger commissioning Wright to design their Usonian-style house between 1950 and 1951 in San Anselmo, California. A mechanical engineer and professor at the College of Marin, Robert wrote to the revered architect and asked him for a residential design, specifying that it should be expandable, inexpensive, and could be built by an individual. Wright agreed and asked Berger to send him photographs and the map of the site. Fast-forward to 1956, the Bergers had a Labrador Retriever named Eddie who would play in and out of their Frank Lloyd Wright home, but Jim, the eldest son of the family, shared that the dog was not allowed to sleep in the house.
Jim was upset about it, thinking it was not fair at all, and decided that if he could not sleep in the house, Eddie must, at least, have a doghouse where he could stay warm in the winter and sleep well. Jim asked his father to build him a doghouse for Eddie, but Robert suggested that his son write to Wright and ask him for a doghouse design. Jim penned Wright, who was then busy designing and building the Guggenheim Museum, and asked him if he could design a doghouse for him. He introduced himself as a twelve-year-old boy and mentioned how he designed a house for his father named Robert 'Bob' Berger.

images by County of Marin and Frank Lloyd Wright Foundation
frank lloyd wright designed the doghouse at no charge
'I would appreciate it if you would design me a dog house, which would be easy to build, but would go with our house. My dog's name is Edward, but we call him Eddie. He is four years old or in dog life 28 years. He is a Labrador retriever. He is two and a half feet high and three feet long. The reasons I would like this dog house is for the winters mainly. My dad said if you design the dog house he will help me build it,' Jim wrote.
Jim also wrote that he would pay for the blueprint and materials with the money he would earn from his paper route before signing off the letter with 'Respectfully yours, Jim Berger.'  Wright responded that since he was busy at the time working on the Guggenheim Museum, he would get back to Jim later that year. He might have forgotten to update Jim as the young boy sent him a follow-up letter. Wright, who had received the letter, turned over the envelope and sketched the four-square-foot, triangular doghouse for Jim at no charge.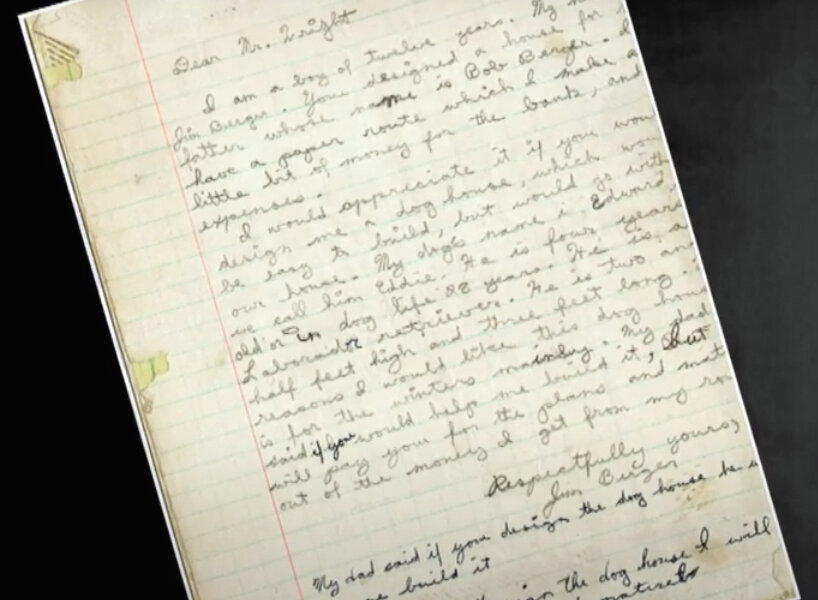 Frank Lloyd Wright once designed a doghouse for a 12-year-old and his labrador retriever
frank lloyd wright's doghouse for eddie
The triangular structure mirrored the rhythm of the main house and included Wright's signature by adorning the design with a low-pitched, overhanging roof topping the boxy foundation. Wright even suggested that Jim use the scrap pieces of Philippine mahogany and cedar left over from their home's construction. When Jim received the correspondence and blueprint, he said he could not build it on how own. He wanted the design to be easy, and what Wright gave him was too complex for him at the time. When Jim Berger joined the army in 1963, his father and brother Eric took on the project and built the doghouse that became 'Eddie's House.'  However, there was a problem: Eddie would not sleep in it, preferring to laze about and rest in the warmth of the main house. 
In 1970, Gloria Berger sent the unused doghouse to the dump. Yet Jim still believed in Wright's design, not to keep a living being warm, but as a communal relic to treasure the mastermind behind the design. In 2010, Jim and Eric Berger rebuilt the doghouse from the original plans for a documentary film about Wright, and the doghouse is dubbed to be the smallest structure Frank Lloyd Wright ever designed. Six years later after the rebuild, Jim donated the doghouse to the County of Marin in Northern California, his former residence, to be put on permanent display in the building's cafeteria.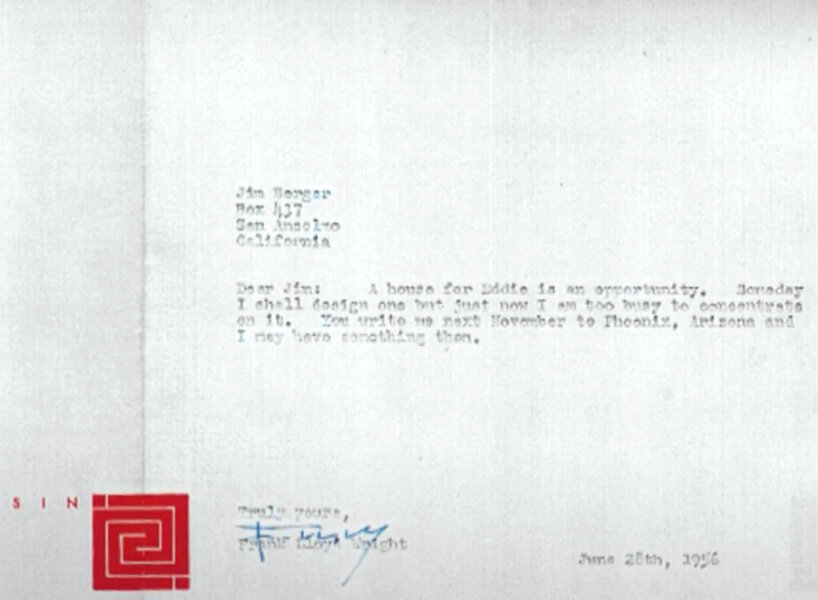 Wright's reply to Jim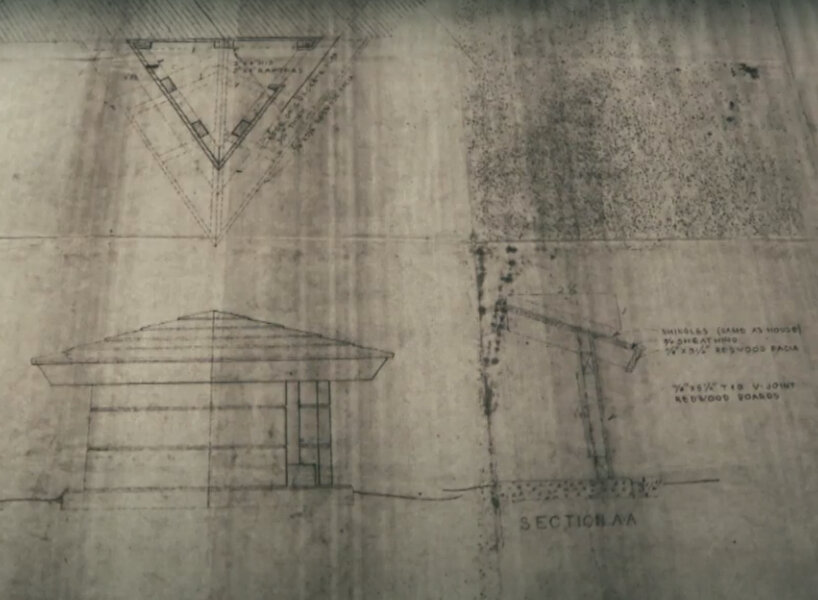 The sketch of the design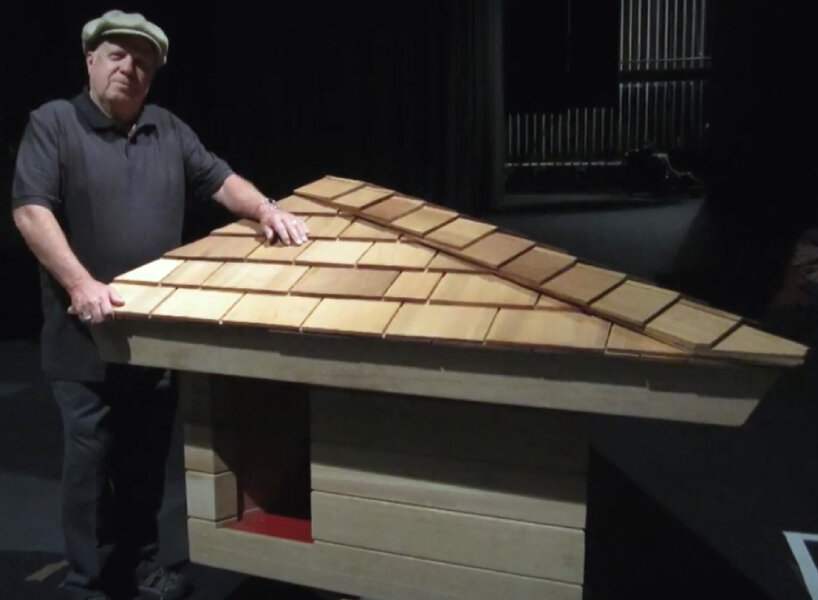 The rebuilt doghouse designed by Frank Lloyd Wright