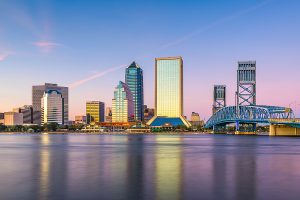 Contractors broke ground this month for the construction of Presidium Park, an upscale multi-family community in Jacksonville, Florida. The four-building complex will be located at 8181 AC Skinner Parkway in Jacksonville and is scheduled to be completed late 2023.
"It's great to continue our partnership with Presidium and we're excited to offer a beautiful, new development to the growing Jacksonville area," stated James Pyle, president and CEO of project developer LandSouth.
Presidium Park will be a four-building, midrise, five-story development featuring 33 different types of units. Future residents will have the choice of floor plans that range from 57 m2 (616 sf) to more than 158 m2 (1703 sf), both single and multi-bedroom. Presidium Park will offer residents a clubhouse, two-story amenity center, swimming pool with pavilion, car spa, and several high-end amenities. Presidium Park boasts proximity to area entertainment and restaurants, including St. Johns Town Center. In addition, Presidium Park is close to the University of North Florida.