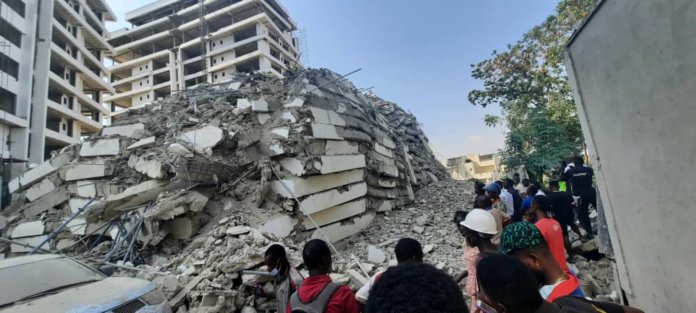 Ugo Aliogo
The Chief Executive Officer, Brandex Contractors Limited, Mr. Pelewura Omoniyi, has stated that the adoption of effective quality control by individual companies in the real estate business would address the issue of building collapse and unethical practices in the real estate sector.
Omoniyi, who disclosed this yesterday in Lagos during the launching of some their new projects, stated that there are players in this market who adhere to quality and standards in their building construction, while others prefer to cut corners, which he said is affecting the growth of the market.
Speaking on market growth projection for 2022, he stated that next year, investors would be more concerned about standard of materials being used, the finishing and quality being carried out at each stage of the building project.
He explained that the economic realities in the country have affected many real estate businesses, adding that as a strong player in the market, they had to re-strategize and diversify their skills to other areas to break even in the business.
"Beyond real estate business, we are into contracting, real estate is just one segment of our business. We work with the construction firms in terms of contracting. In the real estate world, we tend to manage ourselves around a project due to inflation of prices of materials and other things. Concerning how we broke even, I will say that 2021 is a preliminary project for 2022 because most of our projects are project we just started, so we have not finished. We have new projects such as the Kings' Court in Dideolu Estate Victoria Island, which we just resumed last
week."
We also have Akinadeshola which we just resumed last week also," he said.
He further remarked that for the year 2022, they already have committed off-takers for their next year projects.
"We also have our investors and we have all our project approvals from the state government,"he said.
Omoniyi expressed confidence that 2022 would be a great year for the real estate business in the country because many players in the market are ready to address the wrong building decisions and mistakes of 2021.
"For us, in January 2022, we will be looking at starting four projects because in 2021, we achieved 70 percent growth. Today, we are having projects in different parts of Lagos right now. We have two projects in Gbagada; one is eight units four-bedroom Terrace with attached BQ and DIG John Haruna Luxury Homes. We have projects in Agugi Lekki, already at roof level, four-bedroom terrace and two detached duplexes. We are launching our 18-floor projects at Akinadeshola opposite Nest Oil, Victoria Island. We are also launching our project at Dideolu Estate, Victoria Island 49 units, one bedroom, two-bedroom, three bedroom and a pent house," he stated.