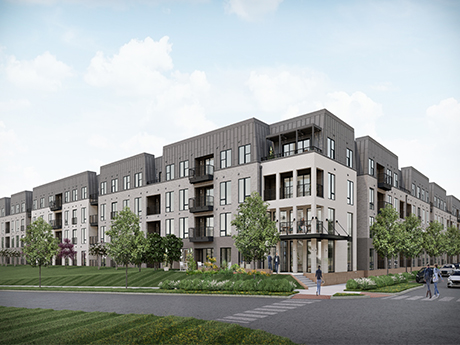 CHESTERFIELD, MO. — CRG has sold 4.9 acres within Wildhorse Village, a newly-built, 80-acre, $500 million mixed-use community in Chesterfield, about 22 miles west of St. Louis.
CRG sold the land to St. Louis-based developer Pier Property Group to build The Flats at Wildhorse Village, a four-story, 266-unit apartment building. Arcturis and LJC are the architects, while St. Louis-based Holland Construction Services will be the builder for the multifamily project. Construction will begin in the first quarter of 2022 and is slated for completion by the summer of 2023.
David Garfinkel of Northmarq secured a $46 million construction loan for The Flats at Wildhorse Village. UMB Bank provided the loan to the borrower, Pier Property Group. The loan terms were not disclosed.
Located at 350 Wildhorse Lake Blvd., The Flats at Wildhorse Village will feature studio, one-, two- and three-bedroom floorplans on four floors. The building's exterior will resemble townhomes, with balconies and open terraces. The units will feature quartz countertops, stainless steel appliances, glass shower doors and custom flooring.
Community amenities will include an interior courtyard, resort-style pool, deck with grilling stations, firepits, fitness center, dog park, dog spa, business center, resident lounges, bike storage and a 400-space parking structure.
When complete, Wildhorse Village will offer several different housing options, including 500 apartment units across two rental communities, 104 condominium residences, 72 townhomes and 35 single-family residences. The project will also include about one million square feet of commercial office, retail and restaurant space. The property's amenities will include a green space with trails and waterfront amenities, 15-acre lake at the project's center, terraced plaza, boardwalk with seating areas, amphitheater and a boat house.
Wildhorse Village is situated near some of Chesterfield's biggest employers, including Bayer, Mercy Healthcare, Pfizer Inc. and RGA. Additionally, the mixed-use project is located near the Samuel C. Sach's branch of the St. Louis County Library, the Chesterfield Family YMCA, The J Chesterfield Gym & Fitness Center, Faust Park and the Chesterfield Family Aquatic Center.
"Our vision for Wildhorse Village is to create a walkable, live/work/play community that reflects the best attributes of a dynamic urban center in a pastoral, waterfront setting," says Jeff Tegethoff, operating partner at CRG. "This transformative, sustainable development will comprise only 1 percent of Chesterfield's total land mass but will substantially increase property tax value and sales tax revenue for St. Louis County, while bringing additional investment, jobs and recreational amenities to Chesterfield."
Lamar Johnson Collaborative partnered with CRG to design Wildhorse Village. Lamar Johnson Collaborative is a subsidiary of CRG's parent company, Clayco, which is constructing the development's infrastructure. CRG will develop the residential offerings in partnership with other real estate development firms, while CRG will partner with Clayco on the commercial offerings.
In early 2021, Clayco began $40 million in infrastructure improvements on the Wildhorse Village site. The development's infrastructure improvements are scheduled for completion by the end of this month. The improvements include building 6.6 acres of roadways and 3.3 miles of sidewalks with lighting and landscaping; expanding public utilities; improving 8.3 acres of public green space with landscaping and pocket parks; and installing approximately 1.5 miles of bicycle lanes and 2.2 miles of walking paths that circle the lakefront and connect with the Riparian Trail, which runs along Chesterfield Creek.
— Julia Sanders