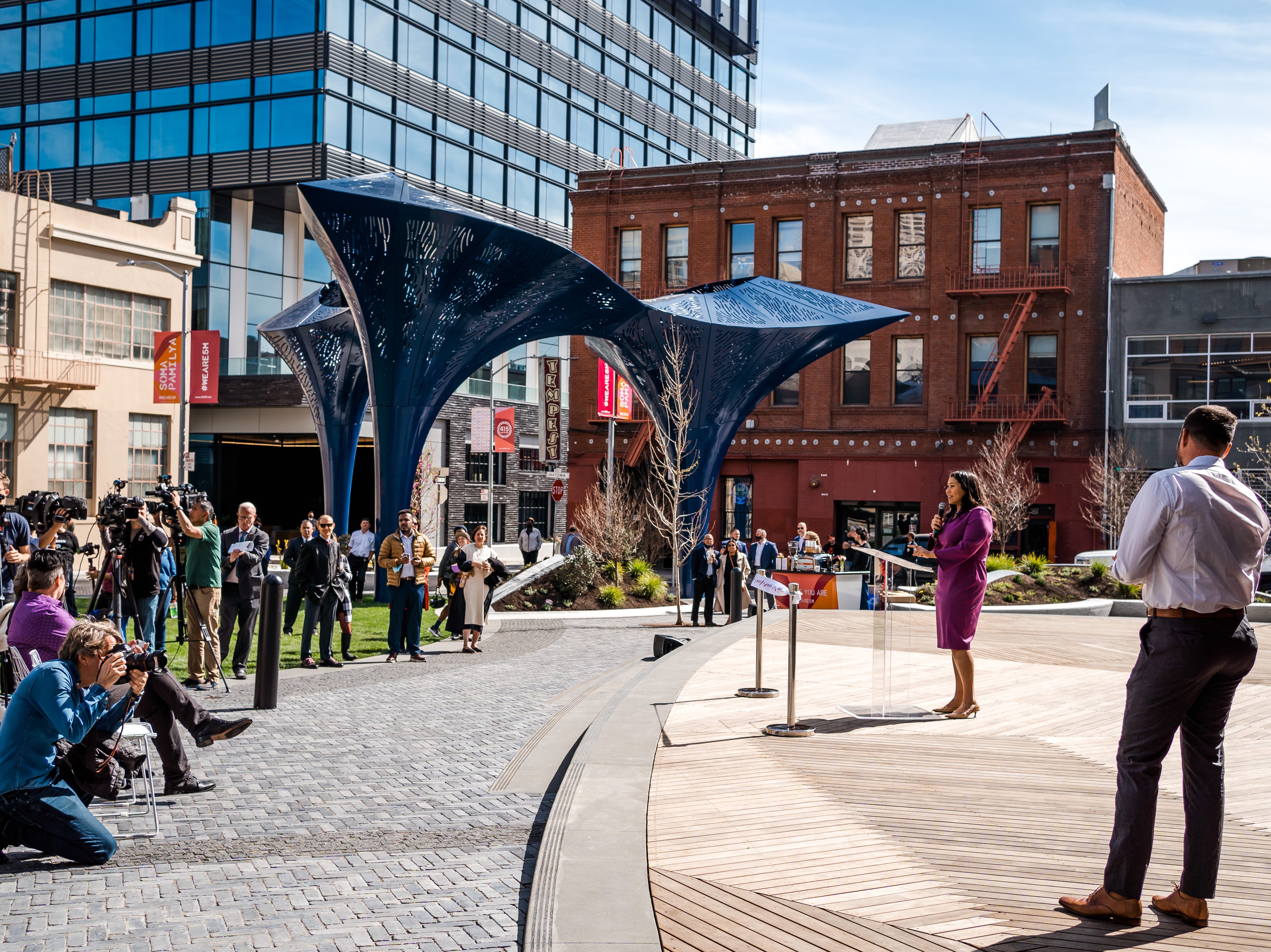 Brookfield Properties, in partnership with Hearst Corp., has finished construction work on 5M, a $1 billion mixed-use development in San Francisco's SoMa. An opening ceremony was held on March 1st, attended by city officials, arts organizations and community groups.
Commenced in 2019 and topped out in February of last year, 5M is heralded as a cultural arts district by the developers and comprises a 25-story office building, an apartment building, a park and three restored historic buildings. Spanning 4 acres, the project is bounded by Mission, Howard and 5th streets. In addition to office, multifamily and retail space, 5M also boasts a dedicated space for arts, cultural and educational uses.
---
READ ALSO: Brookfield Closes $4B CRE Debt Fund
---
"From affordable housing to new outdoor space and cultural programming, this community-led project addresses a wide range of neighborhood needs that for too long have been neglected," said San Francisco Mayor London Breed, addressing the crowd at the ribbon-cutting ceremony. The event also included a performance by PUSH Dance Co.
The project created 1,200 construction jobs, according to Brookfield. SITELAB Urban Studio developed the masterplan for 5M in partnership with Kohn Pedersen Fox.
SoMa's New Mixed-Use Destination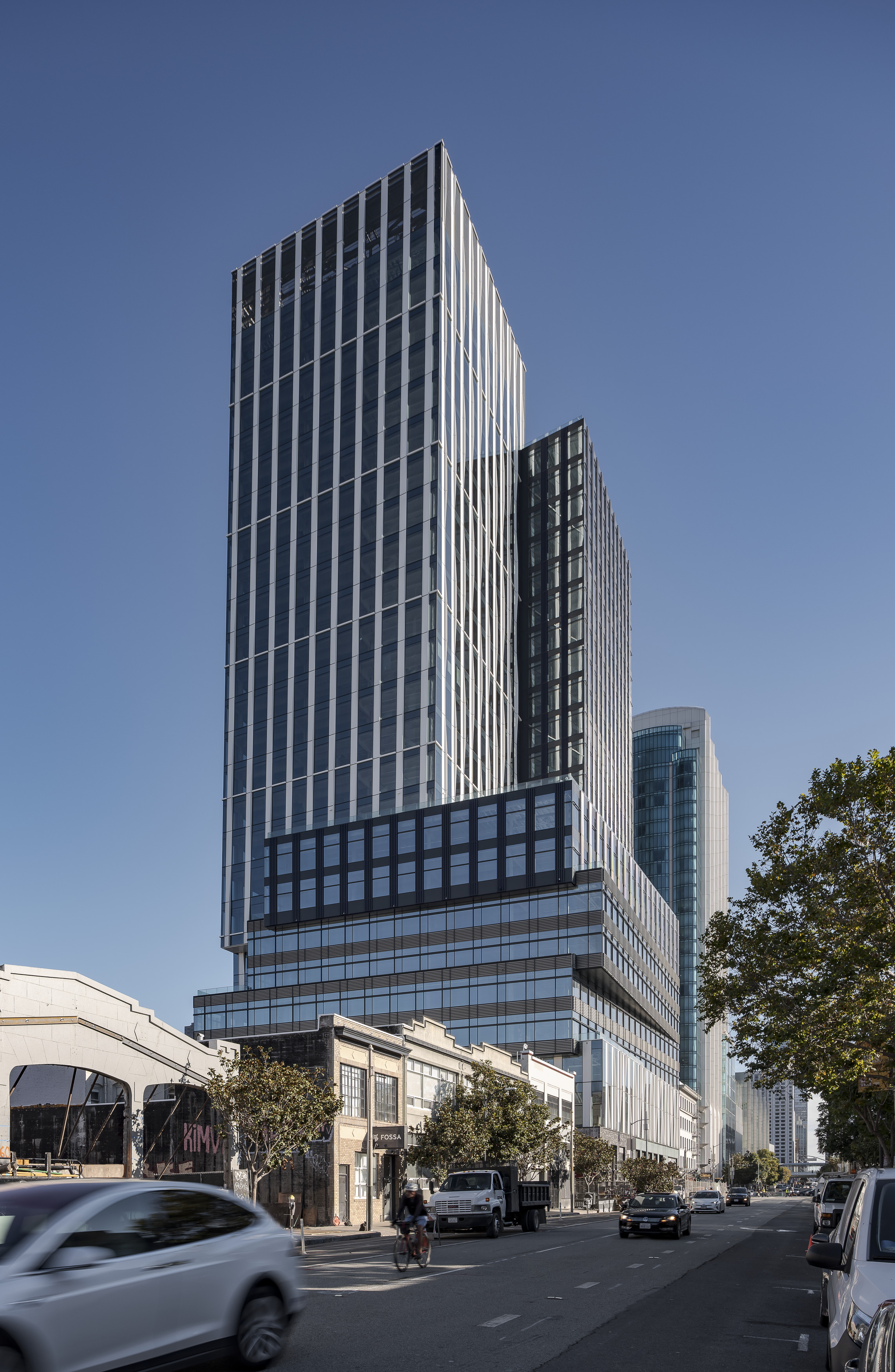 Developers constructed three new buildings at the site. One of them is the 415 Natoma office tower, offering 640,000 square feet of rentable space. Its first 10 floors offer 36,000 square feet per floor on average, with 14- and 15-foot ceiling heights. The Class A tower was designed by KPF together with House & Robertson Architects and includes features that promote street-level interaction. Its lobby will feature retail and restaurants. Developers are targeting LEED Gold certification for 415 Natoma. According to CommercialEdge data, the building became subject to a $393 million loan, provided by United Overseas Bank in 2020.
Home management platform Thumbtack announced last month that it signed a leasing agreement for an entire floor at 415 Natoma, totaling 20,000 square feet.
The partnership also redeveloped two buildings, which now offer an additional 200,000 square feet of office space. One of the structures is the historic San Francisco Chronicle building, where the media organization will maintain its presence.
The newly constructed park totals 26,100 square feet and includes a performance area, a children's playground and a dog run. Community programming is set to begin this spring, with events, performances, art and food, among many other activities. The Parks at 5M was estimated to cost $20 million in development. Cliff Lowe Associates and !melk provided landscape architecture services for the open spaces.
"The Parks at 5M help fulfill a civic need for more open spaces in the neighborhood for residents to play, socialize and celebrate," said San Francisco Supervisor Matt Haney.
5M will also include a total of 856 new residences, including 245 affordable units. A newly constructed, 20-story building called The George will include 302 of the total units constructed within 5M. The George offers studio, one- and two-bedroom floorplans, a double-height public lobby and an extensive amenity package, with several wellness and sustainability features.
Reactivating the urban core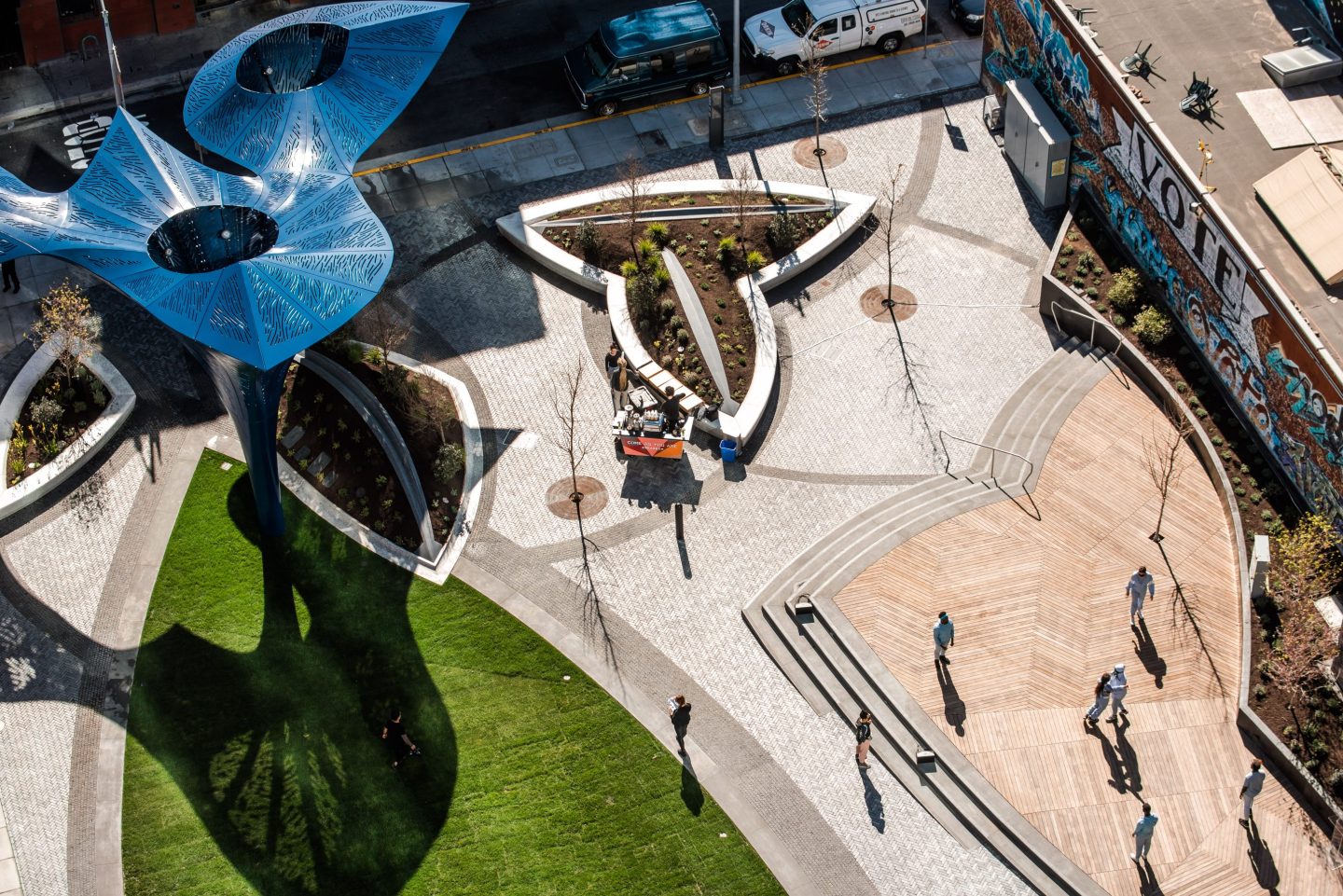 5M's restored Dempster building was donated by Brookfield Properties to Community Arts Stabilization Trust (CAST), for cultural, arts and educational uses and programming. Its tenants currently include Women's Audio Mission and Push Dance Co. The other restored historic building—the Camelline—is planned for retail use.
"Arts and culture organizations—groups like Women's Audio Mission and PUSH Dance—are so essential to our city because they're pushing the boundaries of creativity and equity while also creating community cohesion," said CAST CEO Moy Eng.
Brookfield announced it plans to continue working with local businesses, nonprofits and residents on further programming and neighborhood improvements. Among other benefits to the community, an arts and nonprofit endowment fund was created, with a $600,000 commitment.
San Francisco's office market continued to struggle as the new year began. Vacancy in the metro was at 15.9 percent as of January, according to CommercialEdge, down 410 basis points year-over-year. Urban submarkets like SoMa were strongly impacted, as companies made new plans for their workforce, downsized their footprint or relocated.
Brookfield is not the only developer that hopes to contribute to the metro's inevitable rebound. Less than 2 miles northeast, in the South Financial District, Hines is working on another mixed-use, city-block-sized project—the former Pacific Gas & Electric headquarters. In a similar move, the developer will construct an 85-story multifamily tower alongside the 1.6 million-square-foot office building. Construction is estimated to begin in 2023.