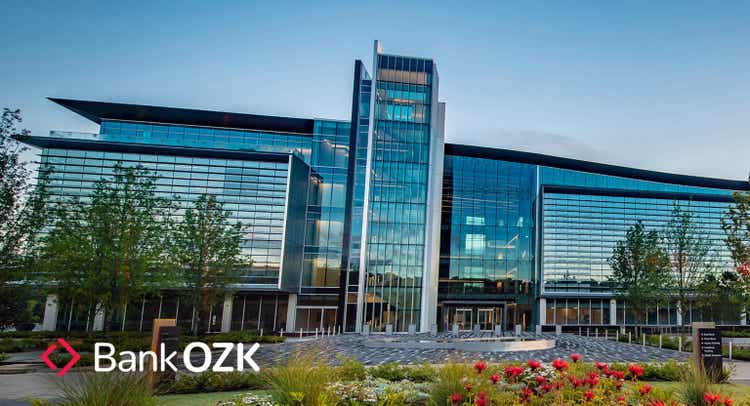 Given the prospect for numerous rate hikes over the next two years, not to mention improving loan growth, the over growth prospects for banks are looking better than they have in some time. Keys for this next part of the cycle will be the ability to grow loans, manage costs, and keep deposit costs low, and I think Bank OZK (NASDAQ:OZK) is well-placed to achieve two of the three, making it an above-average prospect at this point.
When I last wrote about Bank OZK a year or so ago, I thought the bank's near-term prospects were more modest than for other banks I preferred at the time, and the shares have modestly underperformed since then. At this phase of the cycle, though, I'm more bullish on Bank OZK, and I think this is a name worth considering again.
Lending Is Picking Up
Between intra-quarter updates from other banks and the Fed H.8 data, loan demand continues to pick up in commercial lending. While C&I lending wasn't as strong in the first quarter, that's not a major issue for Bank OZK given this bank's much heavier skew towards commercial real estate and construction/development lending.
Bank OZK saw a good pick up in loan originations within its Real Estate Specialties Group in the second half of 2021, and while I am concerned about elevated paydowns continuing into the first half of 2022, I think the bank should be able to manage high single-digit loan growth in 2022 and double-digit loan growth in 2023. This also coincides with a pickup in commercial construction activity; activity has tapered off as projects were cancelled or delayed in the pandemic, but projects are moving forward again.
I'm also bullish on the company's other lending operations, including its still relatively new Corporate and Business Specialties Group (or CBSG), which is doing asset-backed lending and other corporate specialty lending, and its RV/marine specialty consumer lending.
Sensitivity Is Mixed, And Deposit Costs Are A Key Item To Watch
Bank asset sensitivities (the extent to which net interest income grows relative to changes in interest rates) are always nuanced, but in Bank OZK's case there's a little more to the story than for the average back.
On one hand, the bank's loan book is close to 80% variable-rate, which would normally lead to above-average sensitivity. On the other hand, the company doesn't have as much under-utilized cash as other banks (around 9% of earning assets versus a peer average closer to 11%), the loan/deposit ratio is higher than average (around 90% versus 75%), and the large majority of the loan book has rate floors. In fact, it's going to take 75bp or more of rate hikes to move about 60% of that part of the loan book off their floors, so rate sensitivity won't be a major driver for Bank OZK in the near term.
One key watch-item as the cycle develops is Bank OZK's deposit beta and deposit costs. Deposit beta basically measures how quickly deposits leave a bank in response to higher rates, and Bank OZK's beta was quite high in the last cycle. Management has taken steps to improve growth in its core deposits, and I do believe this bank will show some of the best "cycle-versus-cycle" improvement in deposit beta, but it's still likely to be high relative to peers (I'm expecting something in the 40%'s).
Bank OZK has shrunk some of the gap with its peers in terms of funding costs as it has grown core deposits, but the bank still has above-average deposit costs (0.24% for interest-bearing deposits and about 0.19% for total deposits) and this is an area where further management focus could pay off down the road. Bank OZK already enjoys good spreads (a NIM above 4%) due to its well above-average loan yields, but improved deposit costs would drive even better profitability and would also increase its base of potential business (lower-yielding loan types would become profitable enough to be worthwhile, allowing more capital to be deployed here).
The Outlook
I don't have many operational concerns about Bank OZK going into 2022. There are certainly banks out there with more asset sensitivity, but I think this bank has above-average loan growth opportunities and one of the better efficiency ratios in the peer group. While inflation is a sector-wide threat, I'm not that concerned about opex here.
Bank OZK will see a step down in earnings in FY'22 on lowering provisioning benefits, but I expect mid-teens growth in FY'23 and possibly double-digit growth in FY'24, with a longer-term core earnings growth rate (relative to FY'19, before provisioning distorted results) in the high single-digits.
The Bottom Line
Between discounted core earnings, ROTCE-driven P/TBV, and P/E, I believe these shares are undervalued below the high-$40's, with a range from the mid-$40's (ROTCE) to the mid-$50's (P/E). I wish that OZK had a higher net promoter score (a measure of customer satisfaction), as that would place this bank in the upper echelon of bank stocks, but even as is, I think there are good reasons to want to own these shares now.