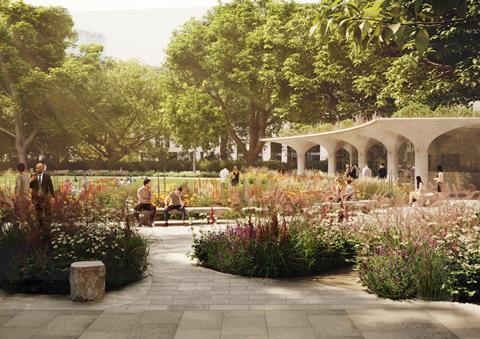 Plans for a "biodiverse" makeover of Finsbury Circus Gardens, drawn up by Architecture 00 and Studio Weave, have been given the go-ahead by City of London planners.
The Hackney-based practices – known collectively as 00SW – won a design competition for the project in 2020 and last week the corporation's planning and transportation committee approved their proposals to overhaul London's oldest public park.
A new 100-capacity pavilion café is at the heart of the plans. The structure will be constructed from low-carbon concrete, made from natural materials including Portland stone.
The single-storey café will sit within a re-landscaped garden, with an open frontage and terrace overlooking a lawn. Finsbury Circus Gardens' 120-year-old grade II-listed drinking fountain will be retained as part of the project.
The gardens date back to 1606 and are the largest park in the Square Mile. They only reopened last year after being closed for a decade to host a 42m access shaft for tunnel workers on the Crossrail project. The fountain had been removed and placed in storage while works by Laing O'Rourke were completed.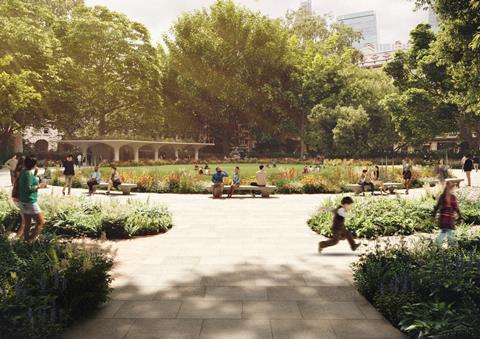 The park makeover will include the creation of a new "urban forest" in the west of the grounds. It will be delivered in conjunction with ReardonSmith Landscape.
00SW and ReardonSmith beat Alvisi Kirimoto & Partners, Feilden Fowles Architects with Tom Stuart-Smith, Hall McKnight and Paul Archer Design with Studio Ben Allen in a competition aimed at smaller firms.
A City of London spokesperson said the designs would transform Finsbury Circus Gardens into "a haven for people and wildlife" at the heart of the city.