McKinney, Texas —  Members of Anchor Church in McKinney have reason to celebrate Christmas a bit early. The nondenominational church was scheduled to begin dirt work Wednesday, Dec. 22, on its new home at the corner of Bloomdale Road and Community Avenue, part of an $11.5 million project in two phases.
Plans call for construction of a 26,200-square-foot church with 600 seats and capacity for 150 children to open sometime in late-2022 on land formerly owned by longtime Collin County residents Jim Jr. and Nedra Williams and A.J. and Gloria Reed. There also will be room for middle and high school students, college and adults to meet in small groups and host events and for administrative offices and a media and production studio.
The second phase, which could begin in 2022, will expand the church to 55,000 square feet with room to host more than 1,300 adults and 400 children per service. It will include a preschool for 270-300 students and more space for media and production. Church leaders hope to have it completed in mid-2024.
Anchor has more than 1,000 members, said Jeff Jenkins of McKinney, senior pastor.
"People are coming from as far away as Hopkins County, which is two hours away," he said. "We have members from McKinney, Sherman, Frisco, Little Elm, Sachse and even South Dallas. It is mainly people from Collin County."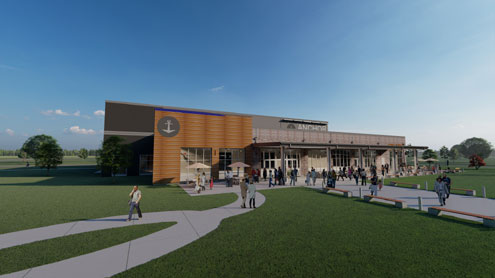 The church, which started in early 2015 with about 80 members meeting informally in Jenkins' home, began raising money for a permanent church home almost as soon as hosted its first official church service Sept. 27, 2015, where more than 400 members met at Sheraton Hotel in McKinney.
Members donated money for the church to purchase 8.2 acres in July 2019 and the Williams and Reed families donated 2.5 acres. Jim Williams Jr. is chairman of Plano-based LandPlan Development Corp, a land development company. Jenkins said the families want to see the Bloomdale area grow and help position Anchor to grow its ministry.
Church-provided documents show 7,000-10,000 new homes are expected to be built within a 6-mile radius of the church property. Anchor is said to be the first construction project to activate the expansion of Bloomdale toward the future McKinney 380 Bypass.
"We are delighted that the people of Anchor Church chose the corner of Bloomdale and Community for the new facility," Jim Williams Jr. said. "As this area grows, the church building will be at the center of Collin County in the midst of thousands of homes, retail, offices and apartments."
The church had a ceremonial groundbreaking Oct. 24.
Once the land was purchased, church members, who had been meeting at Faubion Middle School for several years until COVID restrictions forced them to stop, immediately began raising money for the building construction. More than $2.5 million was raised as of Dec. 7.
Members attend Sunday evening services at 5 p.m. at Hope Fellowship Church in McKinney now. Jenkins said a large number of members still attend the evening services despite the inconvenient time for those with even though the time is inconvenient for families with small children and for teens.
Anchor will restart Sunday morning services at 10:30 a.m. Jan. 9 at Cockrill Middle School, 1351 N. Hardin Blvd., in McKinney. Jenkins said he considers it a relaunch of the church and a testament to members' devotion.
"We have not met on Sunday mornings in 22 months, and the church is still growing," he said.
Anchor's teen membership is particularly strong, and it has been for several years. Several high school students and their coaches attend services.
"Ninety percent of people who make a decision to follow Christ do so before the age of 18," said Jenkins, a father of five. "The numbers drop off significantly past 30, 40 and 50 as people get set in their ways.
"The biggest challenge is most parents don't really know how to offer hope to their kids during this heavy information age. It's a really tough time for kids to develop a solid faith foundation, and we want to help with that."