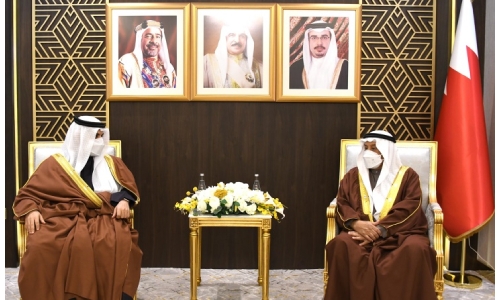 TDT | Manama
The Daily Tribune – www.newsofbahrain.com
Shura Council Chairman Ali bin Saleh Al Saleh has commended the important role of Bahraini ambassadors and diplomats in consolidating relations between Bahrain and other countries.
This came as Al Saleh received yesterday newly appointed Bahraini Ambassador to Saudi Arabia Shaikh Ali bin Abdulrahman Al Khalifa.
He congratulated Shaikh Ali bin Abdulrahman on obtaining the royal trust and wished him success in moving Bahraini-Saudi relations towards more prosperity and development in various fields.
Al Saleh affirmed the deep brotherly relations between the two kingdoms and pointed out that the high levels of partnership and strategic cooperation under the leadership of His Majesty King Hamad bin Isa Al Khalifa and the Custodian of the Two Holy Mosques King Salman bin Abdulaziz Al Saud.
The ambassador expressed his great pride in the royal trust and stressed the keenness to continue efforts to support the Bahraini-Saudi relations with further development and progress in all fields.
Al Saleh also received yesterday from Bahrain Society of Engineers (BSE) President Mazen Ahmed Al Omran.
He congratulated Al Omran and its members on their election for the current session 2022-2023.
The chairman affirmed the council's keenness to advance the laws regulating engineering professions and offices in Bahrain in a manner that enhances their role in the urban development in the Kingdom.
He explained that the engineering offices in the Kingdom play a major role in supporting the construction development of the real estate sector in Bahrain, praising the expertise and competencies possessed by Bahraini engineers, and their commitment to professional values and standards