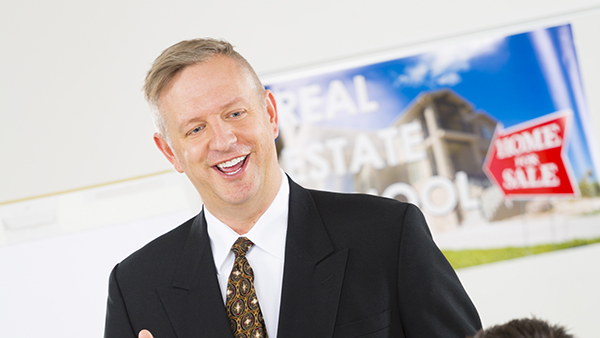 If you're determined to succeed in real estate, make education an ongoing priority.
If long-term success is your goal as a real estate investor, it's imperative to maintain your hunger for knowledge. One of the biggest mistakes an investor can make is assuming they've learned everything they need to know. Complacency will crush you in this industry.
The two things you'll need to get started in real estate are education and experience. Education is the first step, serving as the foundation on which you'll build your career. At the same time, however, it's a step that's never truly completed.
Of course, in your quest for knowledge, it's important to be selective with your sources. Make sure you're getting your information from credible educators who have earned their leadership platform through successful track records in real estate.
Here are five key resources you can tap into right now to keep your mind sharp and your business growing.
1. Listen to Real Estate Podcasts.
The most successful real estate investors tend to listen to multiple podcasts to stay up to speed and competitive in the ever-changing landscape. However, it's important to listen to real estate podcasts hosted by reputable leaders in the industry.
How do you know whether a podcast is reputable?
Find hosts who ask the hard questions, who get to the numbers, and who leave you with actionable advice. Look for shows that have guests with real experiences and mistakes that you can learn from so you don't have to make those same mistakes yourself.
If you don't know what to listen to first, here are a few titles to get you started:
Financial Freedom with Real Estate Investing with Michael Blank
Target Market Insights with John Casmon
Before the Millions
The BiggerPockets Podcast
The Best Real Estate Investing Advice Ever Show
2. Hire a Mentor.
Whatever your level of expertise, hiring a mentor is one of the best actions you can take to step up your game. There is always more to learn, and there will always be someone with more experience than you to learn from.
Your mentor should be a paid consultant who can provide you with guidance along your investing journey. Although spending money on coaching may seem like a risk, neglecting to find a mentor at all is the biggest risk you can take, regardless of your goals or level of expertise.
Before hiring a mentor, define exactly what you want to get out of the relationship. Don't expect your mentor to be the answer to all your problems or to do the hard work for you.
Your chosen mentor should be an expert at doing what you want to do, and they should be able to explain in detail the actions they took that led them to success. A good mentor will also serve as an ally who can impart wisdom that helps you problem-solve. Perhaps most important, a good mentor will have a network of valuable contacts to whom they can connect you.
3. Start a Local Meetup.
One of the best ways to stay up to date on all things real estate is to start a local investor meetup in your area.  It might sound like a daunting task, but starting a meetup is simpler than you think. The benefits you'll reap will be well worth the work you'll initially have to put in.
Here is one example of how you might structure your meetup:
A short presentation from a professional or attendee
Time for attendees to share opportunities with the group
Business updates from each attendee
An open floor for networking, closing deals, sharing information, and forming partnerships
Meetups range in style and structure. In fact, some have very little structure at all. Your meetup could be organized into segments as in the example above, or it could consist of drinking beer and chatting. Networking can take many forms. As long as you're learning from other investors and forming valuable connections, you're doing it right.
4. Attend Investment Conferences Regularly.
You won't be able to take advantage of the ever-changing real estate market without the foundational knowledge and experience needed to make it happen. That's where investment conferences can help.
These events can provide access to nationwide thought leadership across markets, while putting you in the right place at the right time to make deals and form relationships with key players you won't meet anywhere else.
Like any investment, however, make sure to do your due diligence before shelling out your hard-earned cash for just any event. The best investment conferences should provide you with ample opportunities to engage with experienced professionals who are active in real estate.
In addition to soaking up knowledge, you'll find that conferences are the ideal place to focus on scaling your business and building your network by connecting with experts from a multitude of backgrounds.
For all these reasons, regularly attending investment conferences is one of the best ways to ensure continued growth for yourself and your business.
5. Read as Much and as Often as Possible.
Every successful real estate investor has at least one book they recommend to everyone they know. A huge chunk of any entrepreneur's education can often be accredited to the hours they've spent reading books written by experts in their field.
If you're serious about succeeding in real estate, make it a priority to devour every investing book you can get your hands on—and then use the knowledge you acquire.
---
Joe Fairless is the co-founder of Ashcroft Capital, which has more than $1.5 billion in assets under management. Fairless created the Best Real Estate Investing Advice Ever Show podcast, which is the longest-running daily real estate podcast in the world, generating more than 500,000 monthly downloads.
Fairless is also a proud member of the Texas Tech Alumni Advisory Board for the College of Media and Communication and is recognized as an Outstanding Alumni at Texas Tech University, where he is a former adjunct professor. He is currently a Junior Achievement board member and volunteer for the Cincinnati chapter, and he has been recognized by the Junior Achievement's Free Enterprise Society. Joe volunteers at Crossroads Hospice and was recognized as Multifamily Investor of the Year by Think Realty Magazine.
---